Juhi Parmar stars in a saas-bahu soap with a twist
She talks of the Zee TV show, premiering on October 20 at 7.30pm, that adds a whole new progressive dimension to television's saas-bahu equation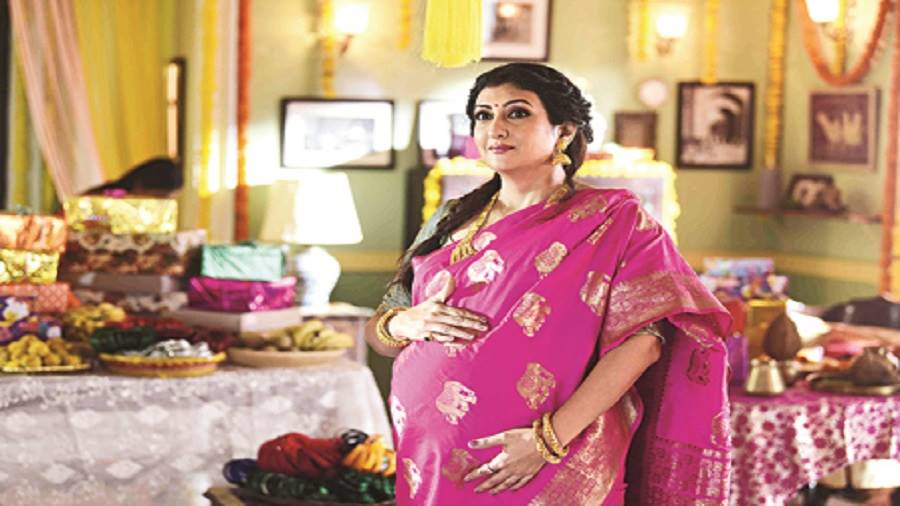 Juhi Parmar in a scene from the Zee TV serial Hamari Wali Good News
Sourced by the Telegraph
---
Published 05.10.20, 09:21 PM
|
---
Juhi Parmar, fondly remembered by the audience as the face of the serial Kumkum — Ek Pyara Sa Bandhan that ran for seven years, and the winner of Bigg Boss in 2011, is pregnant for a cause in her upcoming small screen outing Hamari Wali Good News. She talks of the Zee TV show, premiering on October 20 at 7.30pm, that adds a whole new progressive dimension to television's saas-bahu equation.

The show seems to be quite different from the usual saas-bahu drama seen on TV. Tell us about the premise.
After marriage, barely does a year pass when pressure starts building  on the daughter-in-law to deliver "good news". But if perchance she is unable to give the "good news", all hell breaks loose. In the Tewari family, they deal with the situation in a unique manner. Instead of finding fault with Navya, the bahu, Renuka, offers to conceive a child with her husband to hand over to her daughter-in-law to raise, without caring for what people will say.

Is the Indian TV audience ready for such a bold concept?
Even if the audience is not ready, we can influence them by making such progressive shows. I am not saying every household needs a mother-in-law to bear a child for her daughter-in-law, but the thought is liberating. After all, it is the saas who usually taunts the bahu in case she cannot bear a child. Here she shields the bahu from such comments. Every day, a mother-in-law gets several chances to choose whether she wants to support her daughter-in-law or attack her. Why can't the saas treat the bahu as a daughter? The concept itself has a positive message. The show is setting an example of how the relation should be between saas and bahu so that the bahu feels as safe and protected at her in-laws' place as she is at her parents'.

Instead of natural conception by the in-laws, would the mother-in-law bearing a surrogate child for the son and daughter-in-law have been an even bigger risk in terms of audience acceptance?
The decision to keep the story this way has nothing to do with whether it would be acceptable to the audience. The makers have not tried to play safe at all. There is a beautiful reason given in the story why it has not been done through surrogacy. I cannot reveal it.

What age are the mother-in-law and the daughter-in-law?
Renuka had got married as a teenager. She was already a mother before she was 20. So now she is in her early 40s when she can give birth.  

With the OTT platforms providing interesting content as alternative, is it throwing a challenge to television to think out of the box?
We do not need a new medium to throw a challenge. Having diverse channels is a challenge in itself. I don't think TV's loyal audience is going anywhere. It's just that people have a lot of choices now. But we have such a big population that we don't have to worry. The new medium is just an addition to the options they have.

Is the increased brainstorming for TV shows leading to path-breaking ideas like in this show?
It will be unfair to take the credit away from television by saying that they are thinking of courageous themes only because web has come. There were some brilliant shows made in the past also when web did not exist. Back then, we did a show like Kumkum where a young woman becomes a widow and her own brother-in-law marries her. It was shown so convincingly that not only did the audience accept them but they became the most loved couple on television who are remembered even 10-11 years after the show ended. That was also bold back then. The makers have done something different because they wanted to, not because they were challenged.

When did you start shooting?
About three days back. We shot the promo about 10 days ago.

How different was the experience?
Totally different. I am used to working with a unit that has fun together, especially in the evenings when we have tea and snacks. But that is not happening. Everybody is confined in his own space. When we do a show, the unit becomes our family as we meet every day and spend so much time together. It is difficult to work when there is so little interaction. But we all know that this is the need of the hour.

Is fear of infection making actors curb their natural instincts regarding proximity to fellow actors when the camera is rolling?
That cannot be compromised. If a scene requires us to get close to a colleague, we have to do it. We are auto tuned. We hear "action" and we forget everything else and get into the character. The makers are doing everything possible to keep us safe — our temperatures and oxygen levels are checked daily.

How did you spend time with little Samaira (daughter with actor Sachin Shroff) during the lockdown?
Oh, my lockdown was a homeschooling period, from teaching her her school things to creating masks at home to explaining the importance of sanitisation to making her learn Hanumanchalisa... My lockdown was a mini vacation with my daughter (laughs). My friends complained that they were bored. I had no time to get bored. I was reading to her, playing with her, cooking for her, feeding her… I could hardly make out when it was another day already. A mother is never free!