Juhi Babbar Soni on why she left Hindi films and the success of her new play With Love Aap Ki Saiyaara
The daughter of actors Raj Babbar and Nadira Babbar, Juhi was recently seen in Hansal Mehta's film Faraaz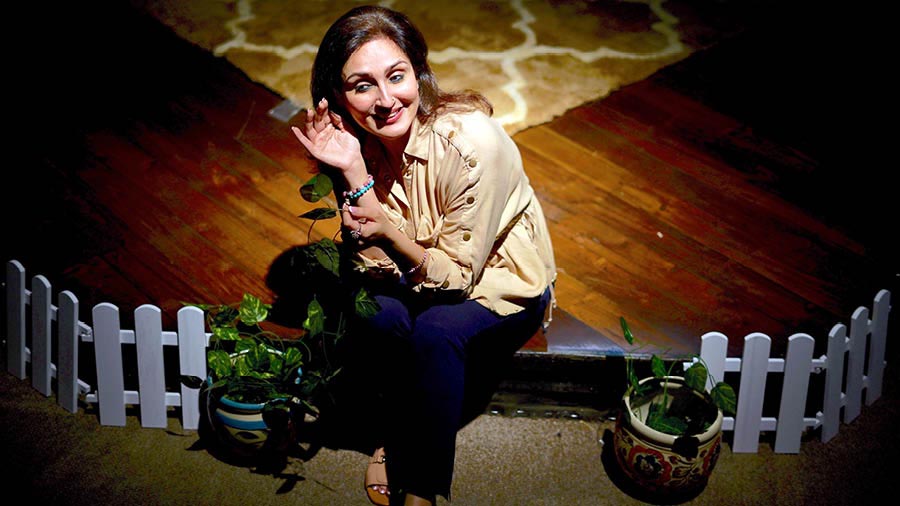 ---
Calcutta
|
Published 18.03.23, 11:12 AM
|
---
Juhi Babbar Soni's moving performance in Hansal Mehta's Faraaz has left many wondering why she had disappeared from Bollywood films. In reality, the actress consciously moved away from masala movies to carve a niche for herself in the Mumbai theatre circuit. Her decision has paid off as she got a standing ovation from the audience on the 50th show night of her play With Love Aap Ki Saiyaara at Prithvi Theatre last Sunday.
In a chat with us, Juhi talked about her play, mused on the meaning of motherhood and family, and shared why she chose to stay away from movies.
Please take us through the journey of With Love Aap Ki Saiyaara.
Juhi Babbar Soni: It's been a fascinating journey. Actually, the play was supposed to come out in April 2021. But owing to the second wave of Covid-19, it got pushed to October-November and then the third wave hit the country. When we were finally able to premiere the play at the end of 2021, the theatres were running with only 50 per cent capacity. You rarely see a play touching the 50-show milestone these days. We've been blessed that way —  the audience and God have been very kind to us. That's why we thought that we should do something from our end. The entire collection of Sunday will go into educating one girl studying at the Aditya Academy High School & Junior College in Mumbai.
You have written, directed and acted in this play. Could you tell us something about what it is all about?
Juhi Babbar Soni: The play is about how modern Indian society looks at modern Indian women. No matter how privileged you are, you'll end up being sucked into some blackholes like societal norms or religion. Admittedly, the subject sounds really grave but I have tried to keep a balance to give my audience some relief between serious episodes. It's not a preachy, tragic play. Although Saiyaara is a sad story, it's a feel-good play. I really think that my pen somehow got blessed when I was writing the play during the pandemic. Oh, I write, literally write and don't type out words. I'm pretty old school that way [chuckles].
What was the initial idea or emotion that gave rise to With Love Aap Ki Saiyaara? And how did it take the final shape?
Juhi Babbar Soni: Actually, the character was conceived by my mother (Nadira Babbar). I cannot take credit for that. We had a play titled Kiske Roke Ruke Hai Sawera? with three characters in 2013-14. One of them was Saiyaara. During the lockdown in 2020, Mumbai Theatre Guide started online performances and they connected with me. I discussed the matter with my husband (actor Anup Soni) and he said, "Juhi, the way this pandemic is going, we don't know what we're heading towards. Maybe this is a new way. Something might come out of this." Mumbai Theatre Guide is run by two gentlemen — Bhavik Shah and Ravi Mishra. Ravi Mishraji happens to be very close to me and our Ekjute theatre group. He encouraged me to do online performances and insisted that I play Saiyaara. But I had forgotten all about it by then. Also the things that were being talked about in the earlier play were based on the socio-political situation of the country at that time. After Raviji's insistence, I rewrote the whole thing and made it a 45-minute online performance. 
Cut to Kunal Kapoor telling me that theatres are opening up but the shows will be on a smaller level. He suggested that I turn Saiyaara into a one-and-a-half-hour play. So, I rewrote the whole play again and added two characters. So, that's how the play finally happened. You delivered a moving performance in Faraaz. But why did you disappear from films before that?
Juhi Babbar Soni: Honestly, I disappeared because I was not getting good work. I was getting crap. Fortunately, I was wise enough to know that being known for a good but flop film is better than being known for crap hits. I feel so proud about my decision that there's no work of mine that I need to hide from my son. I was blessed enough to have understanding parents (Nadira and Raj Babbar) and an understanding husband. I am ambitious but not at the cost of my morals. I think it was a good decision.
Do you want to do more films and web shows now that OTT has opened up many possibilities?
Juhi Babbar Soni: After watching Faraaz, a lot of people wondered why I haven't been working in films. I got so much love for that role. New offers are coming in. I would love to work more as no artiste wants to be backstage. But again, I feel that I am blessed. People don't get a chance to make a comeback. I got a chance to act in a good film with such a good director.
I'll tell you something funny. People have not recognised me in the film, including some prominent people from the industry. They waited for the end credits to see my name. Neetu Kapoor told me that she thought some Pakistani actress was playing Faraaz's mother. She told me, "Mujhse bardasht nahin ho raha tha. Toh maine chalti film mein kisi se poochha yeh kaun hai?"
You played a real-life mother in Faraaz, you're a mother to a 10-year-old boy, and you've been working with your mother for a long time. How would you describe these 'mothers'?
Juhi Babbar Soni: My mother has had a huge impact on my life. I can proudly say that I am from the Nadira Babbar school of acting. My nuances, performance style, poise, and pauses are all hers. About myself, I am a committed mother. I chose not to work all these years. Because there was no good work coming my way, I thought what better work than investing all my energies in bringing up my baby? He has been my priority completely. Hats off to women who can work right after their kid is born. For some it's a necessity, for others it's their choice. But I couldn't do it. I still can't. Every time I have to travel for six to seven days, I start doubting whether I should be doing this. Am I being a good mother?
As for Faraaz's mother Simin Rehman, I have my video calls with her. I got goosebumps every time I spoke to her. All artistes are emotional. But she was telling me her son's story with a stone face. Just imagine, her pain has reached such a pinnacle that she's become devoid of expressions. I had to control my emotions while interacting with her. Those calls helped me understand her mindset and character.
And that moving speech at the end of Faraaz…
Juhi Babbar Soni: That speech was my first day of the shoot. I was shooting after a gap of five to seven years after Aiyaari (2018). And Hansal sir told me that we're shooting the speech first. I told him, "If you don't want me to do the film then tell me directly." He was like, "No, no. We have got the banquet hall after a lot of difficulties because of the pandemic. We have to shoot."
I was wondering how I was going to do it. There was no rehearsal. Hansal sir told me, "Just go with it the way you want to." It was a one-take shot. I couldn't even see the camera.
After the pandemic, what has changed for your theatre group, Ekjute? What's the vision for the next few years?
Juhi Babbar Soni: We would like to do more experimental work, more modern work. We will carry my mom's classics with us of course. But we need to change a bit too, right? There's a lot of use of technology in Saiyaara. It's a story set during the pandemic when we were so dependent on mobile phones and laptops.
Theatres are back in action, so we are doing plays. We have done 47 shows of Saiyaara. We have a line-up of shows in different cities coming up. We're going to Kolkata in May. There are also shows in Bengaluru and Jaipur. Right now, talks are also going on for international shows of the play.