Joi Baba Felunath completes 44 years: Revisit 6 iconic scenes from Satyajit Ray's Feluda classic
Veteran actor Utpal Dutt played Feluda's nemesis Maganlal Meghraj in the movie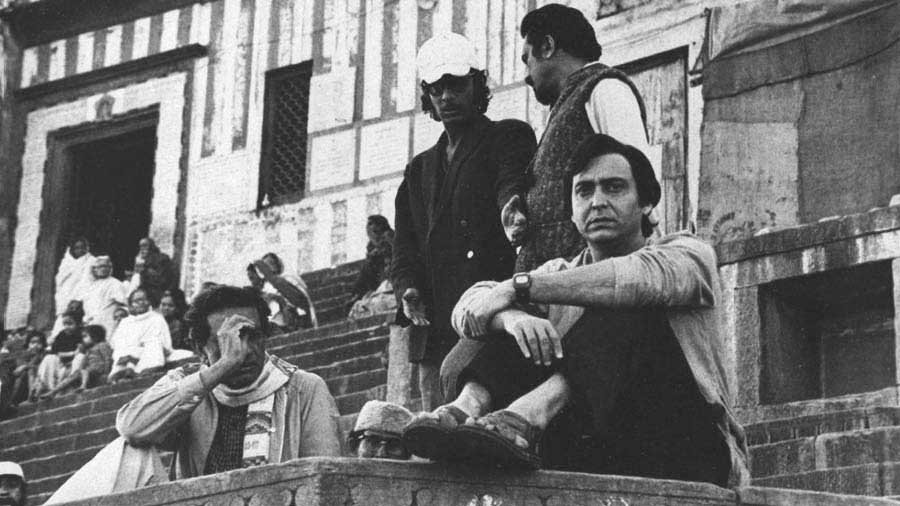 Satyajit Ray and Soumitra Chatterjee shooting Joi Baba Felunath in Benaras
IMDb
---
Published 05.01.23, 05:13 PM
|
---
Satyajit Ray's Joi Baba Felunath presents a battle of wits between Feluda (Soumitra Chattopadhyay) and his arch-enemy Maganlal Meghraj (Utpal Dutt) in the city of Benaras. As the Feluda classic completes 44 years today, we pick six unforgettable scenes from the detective thriller.
Machhli Baba's first appearance
Feluda, Topshe (Siddhartha Chatterjee) and Lalmohan Ganguly aka Jatayu (Santosh Dutta) visit Benaras for a vacation. They soon come to know about the appearance of a mysterious sadhu — Machhli Baba (Manu Mukhopadhyay) — in the city. When we first get to see Machhli Baba on one of the famous ghats of Beneras, the godman, who would later turn out to be a henchman of Maganlal, flaunts his 'holiness' before an assembly of the city's who's who. Maganlal Meghraj arrives on a barge
Maganlal Meghraj (Utpal Dutt) arrives at the ghat on a sprawling pleasure boat. This is the first time Feluda catches a glimpse of the notorious criminal via binoculars. This still of Feluda watching Maganlal with his binoculars has been a fodder of a number of memes on social media. Feluda's 'Magajastra'
Feluda meets young Ruku at the ancestral residence of Umanath Ghoshal (Haradhan Bandyopadhyay) when he goes there to investigate the case of a missing Ganesha idol. Ruku, a fan of detective thrillers, asks Feluda whether he uses any weapon. In reply, Feluda points at his own head and refers to 'Magajastra' (intelligence). 'Porshu toh Sashthi'
A Durga idol is being made at the Ghoshal household. Feluda observes the elderly idol-maker, Shashi Babu (Santosh Sinha), putting layers of colour on the idol. Feluda asks him whether he would be able to finish his work by the day after tomorrow, which would be Maha Sashthi. This quip has also found a place in pop culture of Bengal and appears in memes before Durga Puja every year. Maganlal's prank and Arjun's knife-throwing skills
When Maganlal finds out that Feluda is investigating the case of the missing Ganesha idol, he invites the sleuth to his residence. Feluda visits him with his sidekick Topshe and writer friend Lamohan Babu. Unable to instil fear in Feluda with his threats, Maganlal turns his attention to the dhoti-clad Jatayu. The infamous smuggler calls in a knife-thrower and makes him take aim at Jatayu, who is made to stand in front of a wooden plank. 'The body is a temple'
Feluda, Topshe and Jatayu are allotted a four-bedded room in their lodge in Benaras. The fourth occupant is a famous body-builder, Gunamoy Bagchi aka Biswashree. Lalmohan Babu is fascinated by Bagchi's muscles, and animatedly asks him about his body. Jatayu's expressions when he touches his triceps is priceless.