John Krasinski gives us something to smile about in these trying times. The 'Good News' is that it's gone viral!
'No matter how tough things get, there's always good news in the world'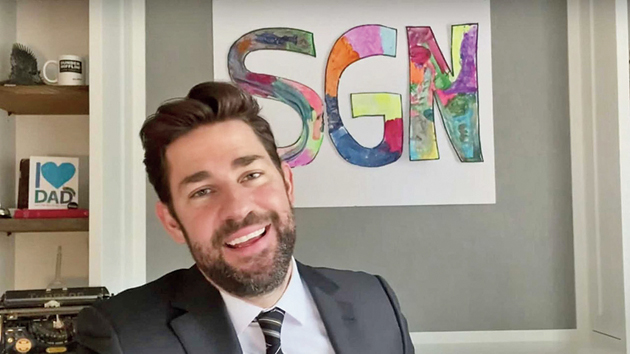 ---
---
Steve Carell as 'entertainment correspondent'. Robert De Niro and Brad Pitt popping in with weather updates. Lin-Manuel Miranda "Zoom-bombing" an episode. The Jonas Brothers and Billie Eilish staging 'concerts'. Emily Blunt pitching in with a cameo in almost all episodes. And yet, it's the common folk who are the source of much-needed joy and cheer on Some Good News aka SGN, that's gone viral for all the right reasons.
The brainchild of actor John Krasinski, SGN streams on YouTube and with only four episodes down, has a whopping 2.07 million subscribers already. "No matter how tough things get, there's always good news in the world," says Krasinski, whose regular updates about acts of human kindness in the middle of the unprecedented situation that the world currently finds itself in — peppered with appearances by some of his famous friends — has ensured that the Internet is no longer 'a quiet place'.
Wearing a coat and tie ("and jammies below"), Krasinski plays news anchor from his home. Plastered behind him is a chart paper with SGN painted on it, the handiwork of his six-year-old daughter Hazel. In every episode, the 40-year-old actor-director relays heartwarming, inspiring and uplifting stories from all over the world — some of which you may have read online but most that you may not have heard of — to illustrate how the world is getting together to stand by each other in this crisis.
"I am only delivering the good news... you are the good news," says Krasinski as he unveils stories that will make you wet your eyelashes as often as they will prompt you to break into a smile. From a teacher parking himself outside his student's door and giving her lessons on a white board so that she doesn't fall behind in school to a man in Ireland entertaining his neighbours during lockdown by projecting Hollywood classics on a nearby building; from a 90-plus World War II pilot breaking into a jig at his front door to Justin Timberlake's Can't Stop The Feeling to a group of nuns headbanging to We Will Rock You; from a grocery delivery man serenading a 94-year-old on her front lawn after he learns she's spending her birthday alone to sanitation workers dressing up as Spiderman to disinfect a neighbourhood... there's a lot on SGN that will make you believe that the world is still a good place to be in. That's further corroborated by a trio of astronauts who, in Episode 3, make an appearance on Some Good News from the International Space Station and sign off with, "The earth still looks beautiful and worth returning to".
What makes SGN one of the best things to tune in to this season is the fact that Krasinski puts his money where his mouth is. Not content with just delivering good news, the man pulls out all the stops to create some good news. So in Episode 1, we have his Office co-star Steve Carell popping in to commemorate 15 years of their smash-hit sitcom. In Episode 2, he brings cheer (and a whole lot of jaw drops) to nine-year-old Florida resident Aubrey, who was disappointed after the pandemic forced her to cancel a trip to New York to watch the hit musical Hamilton at Broadway. Not only does the show's star Lin Manuel-Miranda appear through a Zoom call, Krasinski's wife Emily Blunt walks in after Aubrey says that she's a big fan of Mary Poppins (that starred Blunt in the title role). The icing on the cake is a performance on the show by the cast of Hamilton just for Aubrey. "John Krasinski, a celebrity who knows how to use his influence the right way," commented a viewer. Our sentiments exactly.
In Episode 3, Krasinski doffs his hat to the millions of healthcare heroes around the world, but takes it a step further. A group of nurses in a Boston hospital,who are huge baseball fans, not only get to virtually exchange a 'hi' and 'hello' with Red Sox giant David Ortiz, but are also driven to a baseball stadium and given a standing ovation on an audio-visual projector by common folk and celebrities alike.
In Episode 4, Krasinski does his bit for young adults in the US missing out on the chance to attend prom by inviting them to dress up and show up for a virtual prom, with the Jonas Brothers popping in to sing their popular hit Sucker and Chance the Rapper and current sensation Billie Eilish making it one hell of a 'concert'. Don't miss Krasinski trading his sedate shirt and tie for a pink dress!
As we wait for the next episode of Some Good News to drop, we just hope the show continues even after this crisis blows over. After all, the world is always in need for something that will make us smile.