Jeetu Kumar on 'Chaman Bahaar, and moulding characters
'Talent is god-gifted, but skills can be acquired'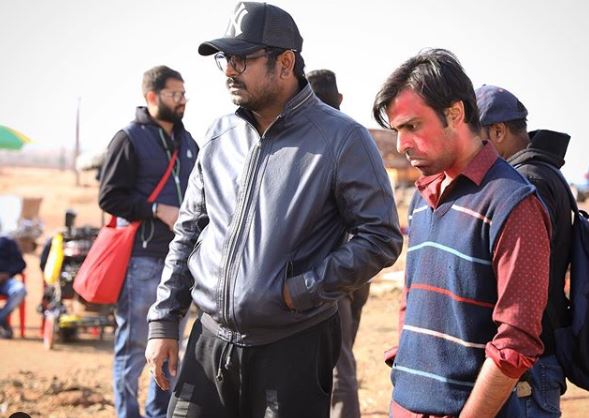 ---
---
Jitendra Kumar aka Jeetu is the Everyman on the web who has scripted a dream run. Earlier this year, he made his film debut, co-starring Ayushmann Khurrana, in Shubh Mangal Zyada Saavdhan and then followed it up with the heart-warming Panchayat on Amazon Prime Video. Jeetu now plays a small-town paan seller in Chaman Bahaar, currently streaming on Netflix.
First Panchayat and now Chaman Bahaar. At a time when the lockdown has halted production and shoots, it's commendable that you have been able to churn out a series and a film in the space of two months...
(Laughs) I am thankful that even in the lockdown, I am being able to deliver entertainment. Of course, all of this was shot much before the virus came calling.
When we had spoken before Panchayat, you had told us that your characters, real and rooted, may be in more or less the same mould but you always ensure that the set-up is different. What's different about Chaman Bahaar?
The character is different here. His passion is to run a paan shop. He has a Chhatisgarhi accent. It's a one-sided love story. My character, Billu, is an introvert... zyada kuch keh nahin paata hain.
This was actually the first film I had signed. Till then, I had played urban, middle-class characters. Apurva (Dhar Badgaiyann, director) was always very passionate about this character. A lot of details have gone into constructing Billu, emotion-wise and visually. I have always played honest, real, slice-of-life characters... this guy is slightly different... he's greyish. His moral compass doesn't remain consistent through the film. I liked all these shades to him.
The only thing I was apprehensive about was how I would look sitting in a paan shop... aisa naa ho ki zabardasti kisi ko bitha diya (laughs). To ensure I got into the skin of the character and acclimatised myself to the milieu, I parked myself in Raipur five days before we started shooting. There was a paanwala bhaiya called Raju bhaiya and I actually spent five days with him in his shop.
Are you a pro at making paan now?
(Laughs) I had to learn because Billu is known for making paan very well. It was very interesting sitting in that shop... observing the people who came in, befriending them... it was a process I enjoyed because I hadn't ever prepared for a character this way.
Such exercises always help an actor to get rid of inhibitions, especially in the case of someone like me who sometimes feels that I may be doing the same kind of things on screen. Aisa karna variety laata hain performance mein and also helps in confidence-building as an actor. Plus, any experience in the life of an actor always contributes in some way or the other. Talent is god-gifted, but skills can be acquired.
Is there a wishlist of skills that you want to acquire to help you as an actor?
When I started acting in college, I never played any characters that were close to my age. I have even played the parts of a kid and a woman. Perfecting the body language and getting the nuances right of such people who I can never be in life always excites me.
I started watching a lot of regional cinema during the lockdown... Malayalam, Telugu, Tamil.... The actors in those industries are experimenting a lot. Someone like Fahadh Faasil is a huge inspiration. He does the kind of things that we have seen in the performances of Irrfan Sir (Khan) and Naseer Sir (Naseeruddin Shah)....
You have a degree in engineering from IIT Kharagpur. Do those skills benefit the actor in you in any way?
When we started making shows at TVF (The Viral Fever), I would invariably end up playing an engineer. So, the experiences shown in those sketches, not technical experiences, but those of the character with his father and friends, were pretty helpful because they had happened in my life. The makers also gained from my experiences as an engineer when they sat down to write those sketches. In Pitchers, I played a coder who started off in a corporate set-up and shifted to a start-up. I have some experience of working in a corporate job, and I drew on the experiences of friends who worked in start-ups and knew coding... I spent days talking to them and would then pass on those inputs to the writers. The makers were, themselves, engineers and the authenticity we brought in worked a lot with the audience.
We've all experienced one-sided love. How much of your real-life experiences did you draw on for this aspect of Chaman Bahaar?
We've all been through it, you are right. Sometimes, that person we can't express our real feelings to ends up becoming a good friend (laughs). I discussed a lot of things with the writer and director and told them about my experiences with love — as in whatever I could reveal (laughs) — and a lot of it has made its way into the film.
You are an inspiration for many who have no connections in the industry and want to be where you are. What's your message for them?
Honestly, I never realised I was an inspiration till recently. Thoda sa pressure aata hain, kabhi kabhi (laughs), especially when I choose the characters that I play. All I can say is that there is no substitute for hard work. And keep believing in your dreams.