Jeet, Abir Chatterjee and Nusrat Jahan share memorable moments from the sets of Asur
Friendship, Durga Puja and a love saga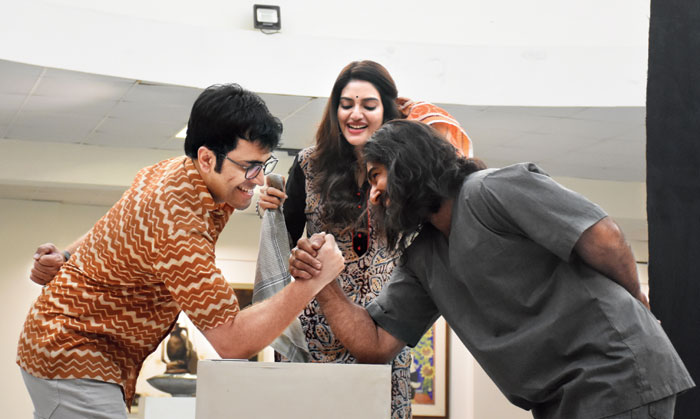 ---
---
It was 12.30pm on Saturday and Arts Acre Foundation in New Town throbbed with activity. The shoot of the film Asur starring Jeet, Nusrat Jahan and Abir Chatterjee, was underway. Abir and Nusrat were busy shooting for a song sequence on the stairs, against the brick walls. Jeet was all serious and focused for his next shot. Soon after the shot, the actors gathered around Pavel, the director, and all four got talking about the scene. As Pavel was setting up his angles for the next scene, Abir took over the director's mic and started giving out instructions, leaving everyone in splits. Words like "camera, action and cut" swirled around till evening. The Telegraph chats...
Tell us about the scenes you shot today?
Jeet: We had some montage sequences today. There is a sequence where I feel a bit guilty about certain acts that I did so I react to those sequences.
Abir: We shot mostly song montages and flashback sequences. The film revolves around three college friends so these are the college sequences. It's about their friendship dynamics. The scenes show the emotional aspects too. Like in our college days we have our share of heartbreaks and friendships so these are the sequences we are shooting right now.
Nusrat: The entire film is totally based on acting, story and characters. We have shot all around Calcutta, which I feel very good about. It is the first time we are shooting here. It has a nice touch of tradition and art and the film deals with the same. The characters in the film are from art schools, so it has been very different and it has been very exciting... there's a lot of space to act and lot of shades in the characters.
What is your most memorable moment from the shoot?
Jeet: This is a very different kind of cinema, and the entire process has been very memorable. I liked the film on the whole — the idea, my character and the way the script is written. There are certain elements in the film that have a deep Bengal and Calcutta connect.
Abir: There are many. This is a very emotionally high film. The most memorable part is getting back with Jeet after almost six years. In 2013, I shot with him for The Royal Bengal Tiger. It feels good to come back on screen with Jeet and we share a good rapport. I have worked with Nusrat before but not as a pair. We know that expectations are high.
Nusrat: Every film that you do gives you different kinds of memories. For this film, we had a sequence to shoot right after Diwali. I hardly had any sleep. We had two consecutive night shoots, so I was awake for four days straight and appeared like a zombie almost! We knew the director had planned to shoot a rain sequence with water previously stored in the tank. Abirda had warned me but I didn't realise it would be so chilly. The weather was slowly turning cold and soon water was being sprinkled all around. It was really cold, but at the end we all had fun. These small memories will stay with me forever.
What are some of the most interesting things you got to learn about each other during the shoot?
Jeet: I have worked with them before and they have not changed much. Both of them are very grounded and humble, they are good colleagues and co-actors to work with. They are very professional. I am absolutely enjoying working with them.
Abir: As professional actors I would rank them very high and both of them are huge superstars and they know the kind of expectation the audience has from them. Filmmaking is a collaborative art form and you have to work as a team. My kind of cinema is slightly on the urban side. And in this film an emotional connect has been established.
Nusrat: I have always shared my thoughts with Jeetda... we have similar wavelength and we discuss a lot of things, from cinema to current affairs. These two boys have been pulling my leg all the time. But Pavel is on my side! There is nothing new to be discovered about these two men! The industry knows them, the audience loves them and they are really cool to work with!
Who are you playing?
Jeet: I play an artist, Kigan Mandi, a little mad creative person.
Abir: I play Bodhi, who is now a corporate guy. He used to be a literature student. Bodhi is from a very well-to-do family and is very smart. He knows his job well... is bossy and confident as a corporate guy. But if you see his personal side there are things that are always under wraps. So he is not a person who will reveal his emotions. He is also arrogant and stubborn, sometimes very friendly and approachable. He is a very caring dad too. He is very selfish also.
Nusrat: I play Aditi, who is an art student and Aditi, Kigan and Bodhi are all friends from college. And the film goes on to show how our lives are tied together and what crisis we face emotionally and professionally. It is a film about art, colour and culture .
Who is the prankster on the set?
Abir: All of us I think... Jeet definitely (laughs). Nusrat and Pavel are on the receiving end most of the time.
Jeet: Yeah. But Nusrat is also pretty witty, she also has her kind of jokes. She is very reciprocal in terms of cracking jokes.
Nusrat: It is Jeetda. But I think he is so immersed in his character that he is not playing too many pranks!
Who is the foodie in the group?
Jeet: All of us are foodies but all of us are keeping a check!
Abir: We talk about food a lot on set but sadly can't indulge in it (smiles). Jeet is very disciplined about food and lifestyle. I am a big-time foodie but have to restrict myself as my profession demands that from me.
Nusrat: I am a foodie. Abirda used to eat a lot. Lately I think he is on a diet.
Abir: I am always on diet but on occasions like the Pujas I give in to my cravings.
Nusrat: So this man is now eating healthy. Jeetda is always eating healthy and I am the only person who loves eating production food (laughs).
Did you get any time for adda during the shoot?
Jeet: Oh yeah, a lot, on all sorts of topics, with Abir and Pavel.
Abir: Ya we did. We gossiped a lot!
Nusrat: A shoot can never go on without adda and chai (sips on her evening tea).
Nusrat, your first film Shotru was with Jeet in 2011. How has the journey been?
Nusrat: We were doing one scene recently, a very intense one... and it felt good when Jeetda complimented me on my performance. My first film after marriage is also with Jeetda.... so it is like another new beginning with Jeetda.
Jeet: See there is something really interesting about her and no matter what, her equation with me has remained the same ever since her first film. The only difference is that she is an MP now and a big name nationally and is a person with more responsibilities.
Nusrat, Asur is your first film after becoming an MP...
Nusrat: Yes. Earlier, I would only be busy with shoots. But now I sit with more work once I return home. There is so much work, and people have lots of expectations from me.
What are your expectations from the film?
Jeet: When you are working genuinely you always put in your best. But I believe in not thinking about the results, just do your karma.
Abir: This film will actually remind people of their college days. Such middle-of-the-road films I personally believe will make a change.
Nusrat: It should go well with the audience because they can relate to it, they can relate to the culture and art that Bengal has. Also, Jeetda is looking so different in the film... and it has a great storyline. Overall I think it should be a good watch.