Javed Akhtar: Amitabh Bachchans are not created, they are born
The writer-poet was talking at the 16th edition of the Jaipur Literature Festival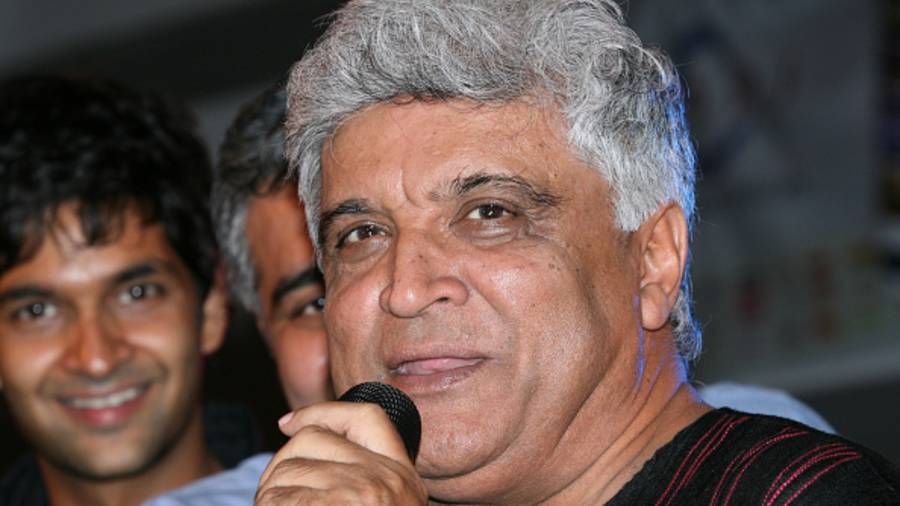 Javed Akhter.
TT archives.
---
Jaipur
|
Published 21.01.23, 09:30 AM
|
---
Writer-poet Javed Akhtar, who has never shied away from admitting his admiration for Bollywood's original 'angry young man', on Friday said stars like Amitabh Bachchan are not created, they are born.
During a conversation around his new book "Talking Life" with documentary filmmaker Nasreen Munni Kabir at the 16th edition of the Jaipur Literature Festival, Akhtar said actors like Bachchan are great because of their talent and not because somebody created them.
He was responding to a question about the popular belief that it was the former writer duo Salim-Javed (Salim Khan and Javed Akhtar) that made Bachchan popular through the characters they created, including the actor's roles in "Zanjeer" (1973), "Sholay" (1975) and "Trishul" (1978).
"As far as the 'angry young man' is concerned, the image, that character came through films like 'Zanjeer', 'Deewar', 'Trishul' and all but I will not say that I have created Amitabh Bachchan. You don't create Amitabh Bachchan, they are born and they are great because of their talent, not because somebody has created them," the 78-year-old said.
Terming Bachchan an "exceptional actor", the screenwriter said he is "one of the three best actors Hindi cinema has seen". The other two, according to him, were Dilip Kumar and Balraj Sahni.
Talking about Bachchan's earlier failures at the box office, Akhtar noted that even though he was working in films, the films were not working for him.
"Anybody who has any understanding of acting could see that he is an exceptional actor working in a wrong film. The screenplay is bad, or the direction is poor and so on… Look at the kind of performance he has given in 'Zanjeer', 'Deewar', 'Sholay' or 'Trishul'. Who could do that?" the Padma Shri awardee said.
Akhtar, who along with his former writing partner Salim Khan, created popular villains such as Gabbar from "Sholay" or Mogambo of "Mr India", also made an "honest confession".
"I thoroughly enjoy writing villain's dialogues, whether it's Gabbar, Mogambo or any other villain," the multiple National Award-winner said.
According to the veteran writer, children fell in love with Gabbar, a character memorably essayed on screen by Amjad Khan in the 1975 Ramesh Sippy blockbuster, because he was a "free" person. "What we admire about these villains is their total lack of guilty conscience. We all have a little villain somewhere inside our mind, but we have a conscience that says 'this is bad'. He (Gabbar) had no such problem, he was a free person. He was law unto himself," he said.
He also said writing such characters makes him feel "lighter" as he is not carrying "the burden of morality or decency". "I'm only looking at how cruel or perverted he could be, so that you enjoy it. As a writer, you share that freedom with the character and that is very pleasurable," he added.
Akhtar, also an acclaimed poet and political activist, shed some light on why he chose to be an atheist. "They ask me why are you an atheist. I say, 'It's very simple. I am an atheist because I think. If you will think, you will be an atheist. But you don't think that's the problem.' Most of the people die in the religion they were born in. There is no development at all. These are the opinions that have been given to him/her," he said.
If given a choice to choose from a range of religions when they come of age, the writer claimed a child would opt to pick no religion. "Do one thing, don't give any kind of religious education to a child. When they turn 18, ask them to choose from 10 religions after they read their holy books.Should I tell you which religion the child will pick? None. You brainwash them when they don't have a choice. It goes into their bones. It's not easy to become an atheist. It takes at least three generations to get cured," he explained.
In another session today, Akhtar also discussed "Daaera" and "Dhanak", collection of verses by poet Kaifi Azmi and his father, Jan Nisar Akhtar, respectively.
The JLF will come to an end on January 23.
Except for the headline, this story has not been edited by The Telegraph Online staff and has been published from a syndicated feed.