He was the original breakdancer-cum-funny man on screen in the '90s, a motormouth with a gift of the Hinglish gab. Jaaved Jaaferi opens up to The Telegraph about his career, his favourite films and co-stars, his regrets and his father, the comedian Jagdeep, on the eve of the television premiere of the Varun Dhawan-starrer Coolie No. 1 (on April 25 at noon on Zee Cinema).

Coolie No. 1 was synonymous with Govinda. How difficult is it to reprise a hit film?
I agreed to do it because of David Dhawan (the director). He is a great guy. I had seen Coolie No. 1 (the 1995 original) and enjoyed it. It's a fun film. So I thought: "Let's see how we reprise it."

It's been four months since the new film's release (on OTT).What for you is its high point?
It didn't disappoint me as such. I don't want to get into a comparison (with the original film). A whole generation had not seen the earlier film. It's a fun story and good family entertainment. It's not one particular aspect, like the relation between the boy and the girl or the father and the daughter or Jackson (the role he played in the film). For me it works as an entertainment package.

Varun often says how much he admires Govinda. You have worked with both. How would you compare the two?
I worked with Govinda much later in his career. It was a film called Loot. Varun has just started out. It would be unfair to compare with so much experience. Varun has a bit of both Govinda and Salman in him. Growing up, he saw them work with his father. Subconsciously perhaps there was absorption from these two. It is a potent mixture that he has imbibed.

Coolie No. 1 has already released on OTT. How much of an impact can a TV release have now?
Any OTT platform has a subscription base of at best three to four million. A TV channel like Zee Cinema would reach 300-500 million. There is a huge difference. This would reach the mass audience. This kind of a film is meant for the masses. When you are locked down at home, it would act as a stressbuster.

You are also doing a horror comedy, Bhoot Police.
Bhoot Police is supposed to release in September. Stree, in recent times, was in that space. There was also an old classic called Bhoot Bangla with Mehmood and R.D. Burman (as composer) — that was also a kind of a horror comedy. We shot this in Dharamshala, Dalhousie and Jaisalmer.

What news of Sooryavanshi, the Rohit Shetty film?
It is a very expensive film. It was supposed to release just before the lockdown in March. They spent a lot of money on the pre-publicity. Just a week before the release they had to drop it. It got delayed by a year. They were supposed to release in April. Even that has got postponed. When push comes to shove, I don't know if they will opt for an OTT combined with satellite channel release or wait for theatrical release.

How did you enter the profession?
I was in my final year in college. My subject was psychology. I was already doing ads as a model. I had won an all-India dance contest. But I didn't know where I was heading. There was a call from Mr (Subhas) Ghai's office. They had seen a video sent by a friend. They were looking for a good dancer for a particular character (in Meri Jung, also starring Anil Kapoor). He asked me if I would do it. That's how it was. The career dropped into my lap. And it had nothing to do with my father speaking about me.

It was a villain's role, though of a cool villain. Did that bother you?
At that point, no. In retrospect, I feel that was a wrong move. If I was launched as a lead at that point, it would have made more sense for me because it is the hero who dances. Villains do not. It was a one-off thing. It was an A-grade film. My father said it was a solid team. So I went for it. May be it was a wrong decision.

Which co-stars have impressed you the most down the years?
I like working with Shah Rukh (Khan). We did a film called Oh Darling! Yeh Hai India. He is an intuitive, improvising actor. I loved working with Naseer (Naseeruddin Shah) bhai although it was a commercial masala film called Tehelka. I enjoyed working with Shabana Azmi and Nandita Das in Fire. I quite like Saif Ali Khan. He remains within the parameters of the script and the character. He does not think: "Oh, I am a star". We worked together in Salaam Namaste, Tar Ra Rum Pum, an animated film called Roadside Romeo… and now Bhoot Police. I did Loot with Govinda and enjoyed myself. It didn't do too well but I was looking forward to doing more with him but it did not happen. From the discipline perspective, I enjoyed working with Akshay Kumar. I have done two-three films with him.

You were a part of several advertisements in the '90s, like that spin-off on Jumma chumma de de with Anu Agarwal.
That was for Tata Salt. My most famous endorsement is Maggi Hot and Sweet Tomato Chilli Sauce. There must have 15 or 20 of these ads. I am one of the few people who has been associated with a brand for 30 years, starting with Pankaj Kapoor in the mid-80s to Nawazuddin Siddiqui in 2017. The tagline was "It's different" and I used to write most of them. The (advertising) agency used to get certain situations. Prahlad Kakkar, the ad film-maker, used to sit with me and I used to write the dialogues — 'Boss has gone for a toss', 'Lilly don't be silly', 'Ghar mein ho TV toh kisse chahiye biwi/ Channel 1 London, Channel 2 Raveena Tandon'… it was mad stuff like that.

Your lost your father Jagdeep last year.
He had covered more than 70 years as an actor. He came from a well-to-do family in Datiya, Madhya Pradesh and suddenly they were on the streets in Mumbai. My grandfather, who was a lawyer for a local maharaja, passed away when my father was seven. Then they went to Karachi where his two uncles stayed. When the Partition happened, my grandmother decided that we had to go back to our land. So when the Muslims were travelling across the border, we actually travelled in the opposite direction. My forefathers chose to be in India.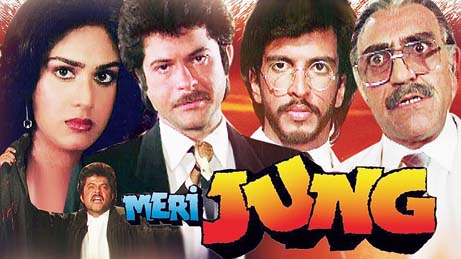 A young Jaaved Jaaferi on the poster of his debut film Meri Jung
What kind of influence did your father have on you?
A lot. Look at his performances as a child actor in the films of Bimal Roy, Guru Dutt.... I have not seen a child actor with that kind of emotional range and natural acting ability in those times. He became a comedian and got into an original style. Scripts were not always well-written and there was no time to rehearse. So you had to improvise on the sets. The audience did not know the constraints. They just expected you to make them laugh. Most of the audience then was illiterate. So it had to be simple comedy that they could understand, with a physical aspect. He helped me know the real India, which was not someone sitting in an ivory tower writing a review.

Was he happy to be remembered as Soorma Bhopali of Sholay or did he lament not having a wider body of work?
He never lamented. From a child actor to a hero to a comedian… he had seen actors open the door for him or stand up when he walked in. When they became bigger stars, some kept their humility but some didn't. If people remembered him as Soorma Bhopali, he was fine with it.

You hosted Boogie Woogie, which perhaps was India's first dance reality show.
There was no show like that in the world. It was an original Indian concept. So You Think You Can Dance came eight years after Boogie Woogie. It went on from 1996 to 2010, then it took a break for two years. Eighty per cent of it was improvised. We played with what was happening. It was very interactive. I had started doing TV in 1994 with Channel [V]. I was warned that it was professional suicide and people would think I had no work in films. It was a leap of faith. I gave it an Indian twist and was a pioneer in using Hinglish. So I was already in that zone when I signed Boogie Woogie. It became huge! In 17 years, we had participants coming from the remotest corners, with their different idiosyncracies, value systems, cultures…

What's coming next from you?
I am enjoying OTT. My first project was The Final Call for Zee5. It was a spiritual thriller. Now I am doing Escape Life with Hotstar and another with Amazon. I am also doing Jaadugar, a Netflix original film, which should come at the year-end.
Pick of Films on JJ's CV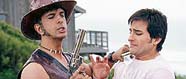 Meri Jung
Oh Darling! Yeh Hai India
Fire
Jajantaram Mamantaram
Shaurya
Salaam
Namaste
Forest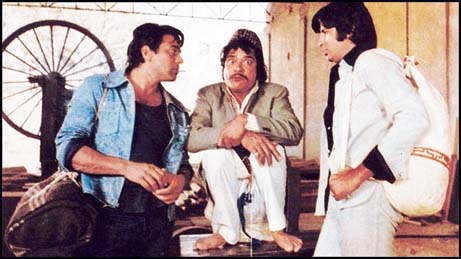 Jaaved Jaaferi's father Jagdeep as Soorma Bhopali in Sholay
JJ's comedy watchlist
Chalti ka Naam Gaadi
Half Ticket
Hera Pheri
Welcome
Dhamaal
Chupke Chupke
Golmaal
It's A Mad Mad Mad Mad World
Rat Race
Pink Panther series
Death at a Funeral
The Cannonball Run