Shruti Haasan on completing 11 years in the entertainment industry
The actress features in 'Yaara', with Vidyut Jammwal, now streaming on Zee5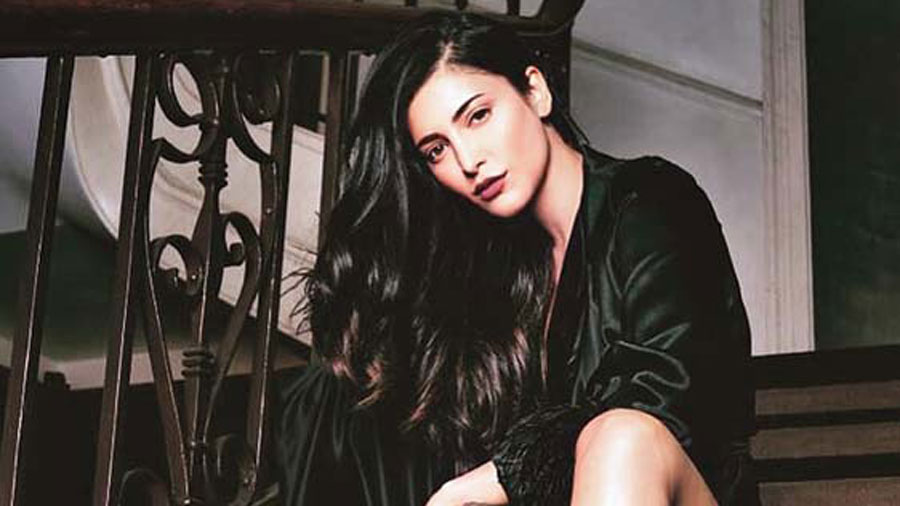 Shruti Haasan
Sourced by The Telegraph
---
Published 04.08.20, 09:10 PM
|
---
Shruti Haasan has just completed 11 years in the acting business and also has a film (Yaara, co-starring Vidyut Jammwal and streaming on Zee5) that's just released. We caught up with the actress on being 'different', her coping mechanism and what social media means to her.

Congratulations for completing 11 years as an actor. How do you pick and choose your films now and how has that changed from the initial years in the business?
Honestly, it did take me some years to figure out what I wanted to do, what kind of an actor I wanted to be... I was constantly being told that I was too different, that I needed to fit in, that I wasn't desi enough.... So I made a lot of choices based on what I was being told. But at the end of the day, I have to say that except one or two films that shall not be named (laughs), I've never really regretted the choices I've made. I trusted my instincts to pick roles that are different from each other. But today, the roles I choose are more emotionally courageous... I am willing to do things and take myself out of my comfort zone much more.

So what were your reasons to pick Yaara?
I have always admired Mr Tigmanshu Dhulia's work. I think he creates a different kind of world in his films, and the women in his films have a different kind of tonality and flavour. And then, of course, I really, really loved the character... having the chance to play someone who lives in the late-1970s and then playing her as an older woman really appealed to me.

How do you fight being stereotyped?
That's a constant struggle. Even my voice sounds different (laughs). I've always heard, 'She's different, she looks a bit different'. Over time and age, I have realised that I need to personally celebrate my differences and use them intelligently. But I don't think that I had that ability before.

Have there been moments of self-doubt?
A hundred per cent. Personally, I am an extremely spiritual person. It may not make sense to a lot of people, but I like to surrender to a higher power and it works for me. I just keep my head down and keep working. The other thing is maintaining a constant dialogue with myself. Time and again, I like to reassess my life and have an honest conversation with myself about what I want to do and not do. In times of doubt, we all have a voice inside our head that works as a compass or a navigator and more often than not, we are more comfortable ignoring it because listening to it would invariably mean facing some hard truths about yourself. I think now, when people have the time to sit down and assess life, is the best time to listen to that inner voice.

What's been your coping mechanism in these trying times?
To be as positive and productive as possible. One practice that I have always followed at the end of the day, irrespective of the pandemic, is to have gratitude. Just make a small list of everything that you are thankful for before you go to sleep... I can't tell you what a difference it makes in valuing the life that you have been given and the things that you have. When the pandemic happened, in the face of what our migrant labourers were going through or even the workers in our film industry, I was thankful to have sustainability and comfort.

You are as much a musician as an actor. Has any music been made in the lockdown?
Yes. I have been working long-distance with my producers in the UK. In the lockdown, I also did one song for my dad (Kamal Haasan), a song for Covid, and one for A.R. Rahman Sir as well. I have also done some of my own stuff which is going to be coming out soon. More than an actor or musician, I am a creative being first. I feel a dire need to express myself creatively, and I have the outlets of music, acting, writing and dance to do that.

You are pretty active on social media. How do you view and leverage it?
It's not a place where I choose to argue with other people's opinions. For those who do it, it's fine... that's the way they want to operate on social media. But for me, it's a wonderful way to connect with my virtual family. I don't think I would be here without the love of my fans on social media. They celebrate my quirkiness and it means a lot to me because I am able to show them a side to me that enables me to be myself and not be seen through someone else's perspective.