Rasika Dugal on her recent work
She has shot a short during lockdown and discovered the world of podcasts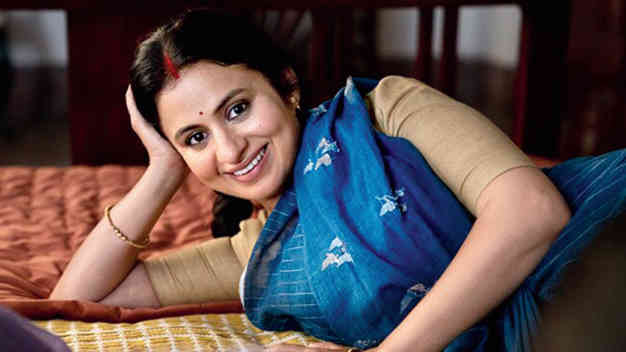 Rasika Dugal in 'A Suitable Boy'.
Arpit Rungta
---
Published 29.07.20, 12:12 AM
|
---
Any conversation with Rasika Dugal is both educative and entertaining. The actor, who has slowly but surely carved a niche for herself in terms of quality content, is awaiting the release of her comedy caper Lootcase this Friday, that streams on Disney+Hotstar and co-stars Kunal Kemmu. That apart, Rasika also features in Mira Nair's adaptation of A Suitable Boy, that aired its first episode in the UK last Sunday. A Telegraph chat with Rasika, who's currently bingeing on podcasts!

Lootcase arrives on Friday. Are the nerves and the excitement the same as it would be for a film releasing in theatres?
I am happy that I can contribute to this gloomy environment with some cheer that Lootcase might bring in. It's a little different from the kind of content that I usually get to be a part of. It's in the comic space, which is not something I get to do too often, apart from Humorously Yours, a show that I did with The Viral Fever.
I am quite excited about Lootcase. Anyway, what other option do we have at a time like this? (Laughs) I can't be complaining about anything. My film releasing on an OTT platform as opposed to releasing in the theatre is a very small thing when compared to the bigger issues that we are all facing in a pandemic situation. While the romantic idea of having a film playing in a dark theatre and on the big screen is magical, I do feel that there are advantages to films releasing on streaming platforms. It's been a space where I've had a lot of releases and it's helped me access a much wider audience than what I had earlier. I also feel it's a more healthy environment because of their policy of not releasing numbers. That encourages people to compete with content, rather than chasing a particular number. No longer does a weekend determine the fate of your film. So a Friday, in this case, doesn't come with the nervousness that a theatrical release would bring. Also, it isn't competing with the other films releasing on the same Friday because there are no longer a fixed number of screens that we are fighting for. The film can rest on the platform for a while and people can watch it at their leisure. These are positive signs that I am celebrating at the moment.

What made you sign on Lootcase and A Suitable Boy?
Lootcase was offered to me at the time I was shooting for Delhi Crime. Delhi Crime was an emotionally intense experience and at that time, consciously or subconsciously, I was seeking something that was in the lighter space. I didn't know whether it would come in the form of work... I just thought I would take some time off, watch some sitcoms, engage myself differently.... Lootcase came along and I was happy that the light-heartedness came from work rather than anywhere else. It's got a very intelligent and quirky sense of humour, written almost like a humorous novel. It has a lot of Bollywood tropes in it, but they have been interestingly used to make a very quirky comic caper.
As far as A Suitable Boy is concerned, working with Mira Nair was on my bucket list. I had a lot of expectations from the experience because I was so much in awe of her. I really enjoyed working with the talented ensemble cast, that hailed from everywhere, and I can only be grateful for that experience. There was Ranvir (Shorey), Vijay Varma, Tanya Maniktala, who is relatively new and so lovely... there's Mahira Kakkar who's done some great theatre work in New York, there's Shubham Saraf who is an actor from London... such a variety of actors. We all lived and worked together for three-and-a-half months and it felt like I was back in college and living in a hostel (laughs). But there was a certain like-mindedness among all of us, which either came from the common awe we had for Mira or our collective dedication to our work, or from both.
I enjoyed watching Mira work. She's so spunky and so energetic even after so many years of work, that it's really inspiring as well as fascinating. I really enjoyed the conversations we had in between shots, which were about life, education, economics, the idea of pregnancy... Mira and I can chat endlessly! (Laughs) She's great fun and I love hanging out with her.

While other couples have been dividing up housework over the last few months, you and your husband went ahead and shot a short film in the lockdown. What was the idea behind Banana Bread?
(Laughs) I think we needed a break from washing dishes, so we decided to make a film! Banana Bread came from the need to respond to a really strange time in a light-hearted way. I told Mukul (Chadda, husband) that, 'Let's write something'. He's always been wanting to write more and he didn't have time for it. So I was like, 'Chalo ab karte hain. Ab nahin hoga toh kabhi bhi nahin hoga' (laughs).
I've always wanted to generate content of my own. As actors, one is an important part of a project, but one doesn't really have much agency in it... you are heavily dependent on the writing and the director. If you believe otherwise, then you are delusional as an actor. I wanted to be part of an idea right from its inception, but I don't think I could have done it if it wasn't for Mukul. He has experience in writing, me not at all. So it was my need to create, his need to write and our collective need to make something light-hearted that created Banana Bread. And, of course, wanting a break from housework! (Laughs)  

What's it been like otherwise?
I am actually quite amazed by how I have managed to keep myself busy (laughs). I've always been very prone to doing things in a far more detailed way than most people do. You give me one shelf to clean and I can spend the whole day doing that! (Laughs)
I've found some interesting things to do during this time. If you consciously don't introduce new things in your life, then it can be limiting as an actor. During this lockdown, I have discovered the world of podcasts. You can do housework listening to it, and it actually makes doing housework easier. It started off with me wanting to do something with my mind while doing housework, and now I do housework because I want to listen to a podcast! (Laughs) Most of what I listen to is largely academic... a lot from economists, and that has led me to other podcasts and books. It's been fascinating. They've introduced me to looking at a situation through an economic lens. That's my current obsession, if I may say so.

Any podcasts you want to recommend?
The Seen and the Unseen. You have to listen to it! It's got varied topics... I listened to one on the India-China stand-off and also one on the history of desire... their content is that diverse. They have in-depth conversations, and in this age of absolutely sub-standard conversations generated on social media, I think we could all do with quality conversations like these.
I've also watched a couple of shows. I loved Succession, which is a 'healthy' binge-watch, unlike Money Heist which, I think, is an 'unhealthy' binge-watch! (Laughs)