A chat with three Serious Men
Actors Nawazuddin Siddiqui, Nassar and director Sudhir Mishra let us into the world of their film, dropping on Netflix this Friday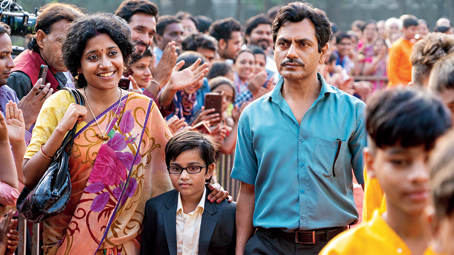 A still from the film.
Sourced by The Telegraph
---
Published 30.09.20, 12:23 AM
|
---
Nawazuddin Siddiqui had always nurtured the dream of working with director Sudhir Mishra. That happened with Serious Men. Based on Manu Joseph's novel of the same name, Serious Men focuses on Ayyan Mani (Nawaz), who, determined to rise above the vagaries of non-privilege, uses his street-smart skills to not only get by in life but also, in a moment of weakness, concoct a story that his knee-high son is a math prodigy. Serious Men, also starring veteran actor Nassar, streams on Netflix this Friday onwards.
Over a Zoom call, we caught up with Nawazuddin, Nassar and Sudhir Mishra to chat about the world of their film, its relevance and exploration of caste and privilege and how Ayyan Mani's struggle mirrors Nawaz's own triumph-against-all-odds story.
Sudhir, what is it about Manu Joseph's Serious Men that made you want to adapt it into a film?
Sudhir Mishra: It's an irreverent take on life, on privilege and non-privilege. It's also a fascinating character, this man Ayyan Mani. There are lots of things in the book, we've just taken out one strand, played with it and evolved it on our own. There are a lot of things in the film we had to concoct, in order to explain and tell the story of the book.
I basically loved the mind of Ayyan Mani and his various viewpoints. He is someone with a lot of determination. He's just taken it upon himself to ensure that his son will get everything that he didn't in life. The way he does it is fascinating. His relationship with his son and his world, his attitude to his so-called lower station in life and the way he takes on his life is very interesting. He's a guy who doesn't play victim. That's what drew me towards the book and made me make it into a film.
Nawaz and Nassar, had the two of you read the book before doing the film?
Nassar: I read the script first and later I read the novel. The script itself was very interesting. In a way, it's good I read the novel later, because if I had read it first, my approach to and acceptance of the script would have been different. I had watched Sudhir Mishra's earlier films and I know what his views on society are.
Nawazuddin Siddiqui: Pehle maine script padhi aur phir uske baad maine novel padhna shuru kiya dictionary leke! (Laughs) After reading just two pages, I got massively bored and I knew I wouldn't be able to finish the book. Finally, maine socha ki script pe hi rehte hain and I did everything according to what Sudhir Sir instructed me to do.
Ayyan Mani is a resourceful, street-smart man who thinks on his feet and knows how to convert the opportunities that life lays out for him. He's also very gutsy. Would you say this is the most audacious character you have played so far?
Nawaz: Yeh character bahut atrangi type hain. Ayyan Mani works out of the box, he's very smart. He's put up with a lot in life... I can connect with that aspect of him a lot. He's very clear about the fact that he doesn't want his son to be subjected to all that he's faced in his life. There is a dialogue in the film where he talks about making the jump from a '2G life' to a '3G life' and he dreams of that day when his son can just sit by the swimming pool and not have to work a day in his life. Every parent dreams of a life like that for their children. Of course, Ayyan Mani's mind starts working in the wrong way but his intentions for his son are honest. It's been my lifelong dream to work with Sudhir Sir. Even if I was offered anything else other than Serious Men, I would have done it, just to work with him.
Sudhir: It's a film where the central character takes the predicament that he finds himself in by the scruff of its neck. He confronts life and plays a game on it... the game also turns on him. Ayyan Mani goes through so much but he never becomes despondent... he moves on. His attitude towards life is so fascinating... it's something that even I can learn from. I found this character to be so inspiring, he even pulled me out of my own depression and morass.  
The film touches upon caste and privilege through various subtexts. Sudhir, do you think the themes of Serious Men are now more than ever relevant?
Sudhir: I feel it's always relevant. A good story becomes like a metaphor. Why does Hazaaron (Khwaishein Aisi, directed by him) still work? Because it's a film that reflects all periods of time. It's a film about people and the passion of youth, how it fades and then how you confront it, it's about duty and friendship... that's why it remains relevant. If it was only limited to the period of the Emergency, it would have faded out by now. I feel that a story can be specific but its emotions make it universal.
Serious Men, at the end of it, is about a father doing something for his son. A man taking the hand that life has dealt him and playing with it. It's a fascinating attitude and a great character. And it's a very engrossing, emotional journey. There's a sense of beauty and grace in it, there's softness in it, as manifested by the child (Adi, played by Aakshath Das). This is a film not only about the hardness of the world, it's also the softness of a father for his son. The Acharya character (played by Nasser) is very arrogant but you also see a soft side to him. You get to see all aspects, that's the interesting thing about this film. I also think the characters are very well etched and the journey of the film per se is very beautiful. 
Both Ayyan Mani and Acharya are men of grey. How do you think Nawaz and Nassar made them leap out of paper and converted them into the compelling flesh-and-blood men we see on screen?
Sudhir: The advantage of working with consummate actors like them is that you don't have to work on the basics at all. They have the skill set, so as a director, you don't discuss the nitty-gritty of a scene, you just discuss the idea behind it. I think Serious Men is one of Nawaz's best performances, and a totally different side of him. Every time I was directing him for this film, I was reminded of Om Puri. Nassar saab is a legend. And he lent so much dignity to the character. You just put a camera on him, and his face tells a story. He brings such grace and depth to the character. Acharya is a very complex character... he's wrong and he's right and he knows that at this point of time he may be wrong but ultimately he will do something right or wrong to be proved right (laughs). I am honoured that he accepted the part.
Nawaz, you had shared a beautiful note when the trailer dropped, talking about how many years ago you unsuccessfully hung around the set of Sudhir Mishra's Calcutta Mail for an entire day just to speak to him for a minute. That didn't happen. Now you are the leading man in his film. How much do you think life has come full circle for you?
Nawaz: My dream was to work with him, especially after I graduated from NSD (National School of Drama). After that, I even tried to meet him a couple of times. I even went with Swanand (Kirkire, lyricist and actor) once to meet him. I am so happy that I eventually got to work with him, so many years later. Life has definitely come full circle.
Sudhir, do you find a parallel between Ayyan Mani's struggle to rise above caste prejudice and non-privilege and Nawaz's well-documented struggle to make it as an actor against all odds?
Sudhir: Yes, and it's a lesson that if you work on your craft and hone your skills, you will eventually make it. Nawaz struggled for 12 years, doing bit parts here and there. He is a student of the National School of Drama, he had done theatre and so the amount of thought and craft he brings to a part is huge, it's not easy. Aap sirf barah saal struggle karoge toh yeh nahin hoga achanak se. It's his life experiences, much like Ayyan Mani, that make Nawaz who he is. The kind of tenacity Nawaz has is remarkable. So also is his amazing sense of humour. He has about 50 stories to tell at any point in time (laughs). He has the ability to tell a story, even if it's his own, from a humorous point of view, even when he can jolly well approach it from a pessimistic point of view. It shows what sort of a man he is. He hasn't allowed life to break him, much like Ayyan Mani. Nawaz has the same view of life as Ayyan Mani. He laughs at life and its many problems.