Monami Ghosh started her acting career with the Bengali television serial Shyola in 1999. After delivering many critically acclaimed performances in serials and films and winning awards, Monami makes her web debut with Mouchaak on Hoichoi today. In the web series, Monami plays Mou Boudi, who is the cynosure of all eyes. But everything changes on a fateful night, as accidental deaths take place and a lottery ticket heightens the level of intrigue in director Sayantan Ghosal's dark comedy. A chat with Monami...
How is the feedback from the trailer and the new song Aajkey raate?
It is amazing. In fact, all of this started with the poster of Mouchaak, which had created a huge buzz. And once the trailer dropped, it went viral. People are showering us with compliments... and we are all soaking it in. This kind of feedback is really encouraging and motivates you to push the envelope. The song is a favourite right now, and I love the way it has been sung in that old-world style... the way it has been picturised.
Why did you say yes to Mouchaak?
I'm making my web debut with Mouchaak and I wanted it to really make an impact. This show has all those qualities. The character I play; Sayantan Ghosal is directing it; Sahanadi has written the script, and it will be streaming on Hoichoi. All this put together it has everything to create that dhamaka.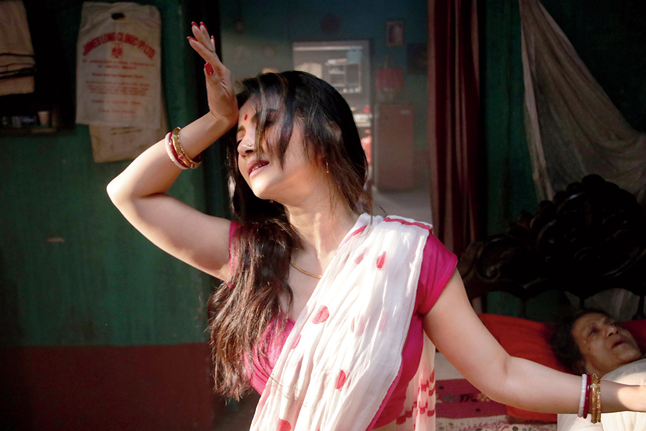 Monami in Mouchaak streaming on Hoichoi from today Sourced by the correspondent
Tell us about your character in Mouchaak?
I play Mou Boudi who is an extremely intelligent woman. She can wiggle out of any sticky situation... Mou can lie through her teeth but no one is good enough to figure it out. She has a ready wit and is sharp with repartees. She thinks on her feet. Her character is very unique. People often associate a certain kind of coquettish charm with an on-screen character referred to as Boudi. Mou is far from it. But she indulges in it only when she feels that she needs something from someone. She is sensuous and very straightforward.
How did you prepare to play this character?
I really didn't have time to prepare for this one. I was shooting continuously at that time. But yes, I had read the script very carefully and I had planned how to play the character. I had figured her out; how Mou should talk, walk, or get angry. I had put a lot of thought into the character graph... and once I got into her look, the get-up, it became smooth for me. The look of the character motivated me and once I landed on the sets, everything turned out to be quite spontaneous.
You are called Mou Boudi in Mouchaak. How do you view this term Boudi? What does the word mean to you?
Hahahaha! The term has various meanings! Boudi can be someone like Mou. Or she can be a sweet, warm-hearted person too. She can be someone who is not at all like Mou. One cannot categorise her or mark her as something different. The girl will take on the characteristics of that person. Boudi bibhinno rokom hotey parey!
Mou Boudi's image is quite different from the characters you have played on television. Did you have thoughts on the change of image?
Not really... I have never really thought about intentionally changing my image. In fact, I have always felt that the audience will get to see me in new ways through my characters. In that way I'll always get to do something new. The fun of doing web shows is that I can explore all kinds of characters and never get typecast in one image. After all, it is acting. I can easily play a sweet, innocent woman the next time.
How was it like being directed by Sayantan?
The experience was really very good. This was a new space for both of us. He is a really good director and understands the humour really well. He was perfect for directing a show that combines thrilling elements and comedy.
How different is it to shoot for web?
I knew the arc of my character from the beginning. And it was picturised realistically. In terms of tone or mood, we shot for whatever was necessary and required. Elements of high drama were never required. Since I knew from the beginning how my character would shape up it was easier for me to figure out how I would play it. One also had the opportunity to improve on a performance during dubbing.
How has the last couple of months been for you?
The last one month was very difficult for me. My mother was Covid positive and was very, very critical. She was hospitalised and in the ICU. I was completely off social media then. Now, my mother has come back home and is getting better gradually.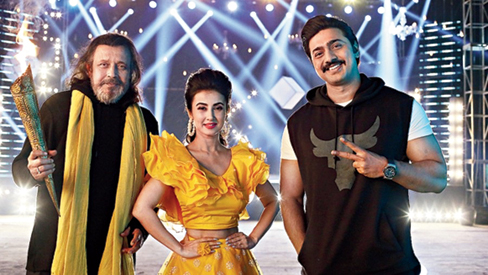 Mithun Chakraborty, Monami Ghosh and Dev on Dance Dance Junior Season 2 on Star Jalsha Sourced by the correspondent
You are also a judge on Dance Dance Junior Season 2. How is your experience shooting with Dev and Mithun?
The experience is amazing. It is about dance, which is something I love. And whatever you see on screen here, is the real me. I am not acting there. And that itself is a great feeling, that I can present my true self. Lots of emotions work for me on the show. It is a reality show, and I have had great fun.... I have laughed and cried too.
Dev is a superstar and he is so humble. Dev is so real on the show.... Dev is being himself on the show. Like he is in real life. Mithunda makes everyone a part of his life so easily. Mithunda shohoj kore nen. He is always ready to discuss things and open to improvisation. All of us understand the craft of dance really well.