Almost a decade-and-a-half ago, Abhishek Banerjee started off as an actor with a blink-and-you-miss appearance in Aamir Khan's Rang De Basanti. Over the last few years, the actor has made a name for himself with small but significant parts in films like Stree, Bala and Dream Girl. Abhishek, however, wears another hat… he's the co-founder of Casting Bay, a prominent Mumbai-based audition set-up that has handpicked and given the industry some stellar talents.
The multi-hyphenate talent, who has 'always been an actor', plays Vishal 'Hathoda' Tyagi, the dark and deeply unsettling antagonist in Paatal Lok. The nine-episode Amazon Prime Video series, that marks actress Anushka Sharma's debut as producer in the digital space, drops on the streaming platform today. The Telegraph caught up with Abhishek on being Hathoda Tyagi and managing the dual roles of actor and casting director.
A man who pummels his victims to death with his hammer and is wanted for 45 murders. 'Hathoda' Tyagi is not a very sunny character, is he?
(Laughs) I have played dark characters before, in Ajji and partly, in Mirzapur. But this required a lot of hard work… it was physically and mentally draining. I had to live with the character of Hathoda Tyagi, whose name is actually Vishal, for some time in order to understand him better. I asked a lot of questions while playing him, and I felt his anger, his pain, his brutality, everything. So ya, it was very tiring emotionally and physically.
What did you have to do to get into his mind space?
I found my answers in a dark room during the workshop. I think I was only looking for a certain emptiness when I was prepping for this character and also while I was playing him. I found it in that room where I was alone and I couldn't see anything. And after a point, I started feeling what he feels. And that would make me very, very emotional. While the shoot was on, I broke down in front of my wife. We had gone out one evening and while driving back, I started crying in the car. And she was really scared and worried because that had never happened with me. And I told her, 'No, no, no… it's not me… it's my character!' (Laughs) She had freaked out completely.
Even in the workshop, we did a kind of a question-answer thing to understand the character better. And I broke down there again. I still feel him within me.
At any point, did you have second thoughts about playing a part so dark?
No, never. The only second thought in my head was whether I could do justice to it. But I knew that this is a part that I had to do… I had to take this risk. Sometimes, actors get a little scared about certain characters thinking, 'Yaar, iss mein zyada ghusna padega'. They don't want to do that. But for me, getting into the skin of Hathoda Tyagi was a learning experience, from Day One to day last. I completely internalised him.
Has playing him changed you in any way?
It definitely has. This is one of those characters where I can actually go back and ask questions about my own life. And somehow, I have got those answers through the scenes I have performed. Sometimes, you fall in love with a particular book or character and that's happened to me. Sudip Sharma (the creator of the show) has written the script so brilliantly that I keep going back to it to get my answers. The only thing I don't go back to, of course, is Hathoda Tyagi's anger and his violence (laughs).
Are you an actor by default or a casting director by default?
An actor by default, for sure. Casting director was a part-time thing, which later became a full-time job because there was a lack of casting directors in our industry and people were looking for professionals to do it. And yes, I started enjoying it after a point because I am driven by the same passion in both my jobs… jab ek actor achha audition deta hai toh I get the same happiness that I get when I ace an audition or hit a high mark as an actor. I started enjoying that a lot.
Also, in the casting room I started learning a lot from other actors. Like Jaideep Ahlawat (who plays the central role of Hathiram Chaudhary in Paatal Lok). He and I know each other for a long, long time and I had auditioned him for Once Upon a Time in Mumbaai. Since then, I have been watching him and wondering, 'Yaar, itni achchi acting koi kaise kar sakta hai?' He's someone who can switch on and switch off from his characters. I need to stay with the characters I play. He is someone who has both skill and craft, and a good actor will make you believe he's in that zone even when he isn't physically. That's what auditions are. And I started learning that from the auditions of these wonderful actors.
But I was always an actor, and I kept telling myself that there will be a day when I will become a good actor. The day will come when people will start selecting me and not rejecting, because I got rejected many times… by my own bosses, by my own team! (Laughs) Then finally, one day they started selecting me. Once I did a few roles that became successful, they started casting me more.
Bala (co-starring Ayushmann Khurrana) and Paatal Lok are the only two projects in which I have both acted in and done the job of a casting director. In both cases, I never went to the director and told him I wanted to play those parts. In Bala, in fact, I didn't feel I fit in anywhere, but Amar Kaushik (the film's director) felt I did and he convinced me.
Similarly, I never asked anyone to audition me for Paatal Lok… in fact, I never even thought of playing Hathoda Tyagi… I actually wanted to play Ishwak's (Singh, who stars as a cop called Ansari) role. But they didn't consider me for that part (laughs). But I think they felt bad ki, 'Abhishek aaya toh hai, ab kya kare?' And that's when Sudip Sharma came up with the idea that I should audition for Hathoda Tyagi. I auditioned in my own office, in front of my team and sent the tape… and they selected me. So, that's the story (laughs).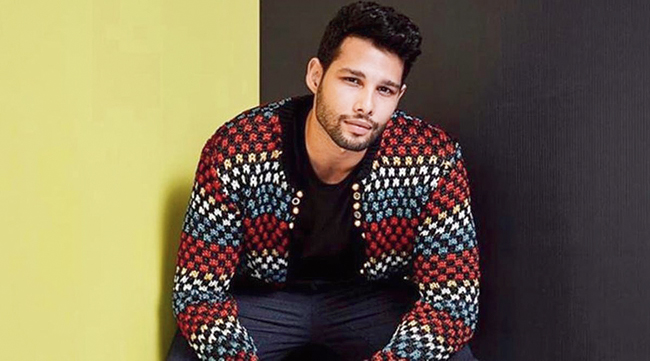 Mohd Zeeshan Ayyub, Priyanshu Painyuli and Siddhant Chaturvedi (in picture) are the ones I am most proud of (among the talents he's spotted). They are very good actors and they will have a long run Sourced by the Telegraph
Among all the talents you have spotted and handpicked as a casting director, who are you most proud of?
I am proud of everyone I have given a break to. Of course, some have reached miles ahead and some are still not quite there, but they are all trying and working very hard. Mohd Zeeshan Ayyub, Priyanshu Painyuli and Siddhant Chaturvedi are the ones I am most proud of. They are very good actors and they will have a long run.
Even someone like Virendra Gautam, who played Ayushmann's brother in Bala. We aren't talking about him now but once he grows up and gets proper training, he will be someone to watch out for. Toh aise bahut saare actors hain jinki shuruaat hui hain, lekin abhi limelight mein nahin aaye hain. As long as people write authentic scripts that demand actors and not stars, I think we will keep getting new talent. The culture of theatre or nautanki is deep-rooted in rural and small-town India and there is so much talent there that remains untapped. Casting depends on content and what our writers come up with.
Will you concentrate more on acting now?
I think that journey has to be organic for me. I am not planning anything, neither have I given myself any goals. I love both acting and casting, and the idea will be to pursue both.
Going forward, will we see you doing work in Bangla?
For sure. In fact, just before the lockdown happened, I was supposed to be in Calcutta to shoot my first feature film (Abar Bochchor Kuri Pore) in Bangla. Abir Chatterjee and Arpita Chatterjee are my co-stars, but we had to cancel the shoot. I have got a lot of offers from the Bangla industry and I am actually considering two of them. Whenever things get back to normal, I will be back at shoot.