International web series that rocked
Spotlight on the top 15 international shows on the web in 2020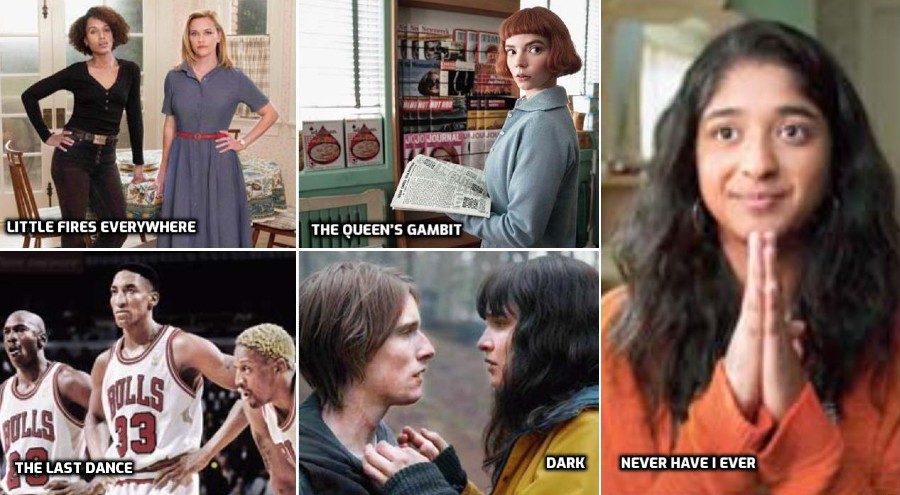 Top web shows that kept us entertained in the year 2020
Sourced by the correspondent
---
Published 28.12.20, 12:32 AM
|
---
Little Fires Everywhere
The simmering tension brought on by the schisms of race and privilege was at the heart of this Hulu show, seen here on Disney+Hotstar, and based on Celeste Ng's bestseller of the same name. Functioning as a social commentary on petty suburban class dynamics, Little Fires Everywhere pitted Reese Witherspoon and Kerry Washington as mothers on opposite sides of the race-privilege-wealth divide, and the two were dynamite together on screen, with their blow-hot blow-cold equation giving the show its heft and heart. Another winner? Its angsty '90s dream of a soundtrack.
The Queen's Gambit
An underdog story, a tale of the triumph of the human spirit, a shero saga, a film centred on a sport that rarely attracts the limelight... The Queen's Gambit was all this and more. Tracing the ups and downs in the life of a mercurial chess prodigy, The Queen's Gambit remains firmly perched on Netflix's Top 10 list even two months after its release. Anya Taylor-Joy brought alive the protagonist Beth Harmon through a winning mix of nuance and nonchalance, with The Queen's Gambit proving to be the streaming giant's most successful scripted limited series yet. With online chess sites registering their highest sign-ups in years, Google searches for "chess" hitting a 14-year-high and chess sets flying off the shelves, The Queen's Gambit (which also gets its period aesthetics spot on) is a rare show that's firmly entrenched itself in pop culture.
The Last Dance
Ten episodes give us a ringside view into the life and career of basketball legend Michael Jordan and his team Chicago Bulls during the 1997-98 season as they prepared to win the NBA championship for the sixth time. Holding the viewer's attention through a blend of archival footage and candid interviews, The Last Dance makes for gripping television as it explores the mind behind the genius called Jordan. The winner of the Primetime Emmy Award for Outstanding Documentary or Nonfiction Series, The Last Dance stands out for its ability to seamlessly segue between varied tones and has been praised for its intimate and detailed portrait of a legendary sports team and its most representative figure, giving a shot in the arm to the sports documentary genre. 
Never Have I Ever
Newcomer Maitreyi Ramakrishnan put in a winning turn in this coming-of-age comedy co-created by Mindy Kaling. This Netflix show suffered from the exploitation of genre tropes like fraught teen relationships and parental conflicts, but what set it apart was its sensitive exploration of grief, even while it operated within the tenets of comedy. This big nod to diversity is increasingly being looked at as a watershed moment for South Asian representation in Hollywood. Plus, what's not to love about a show that stars the dishy Sendhil Ramamurthy?
Dark
The final season of the seminal Netflix German drama had the responsibility of bringing it all together, and it did so successfully, acting as the perfect endgame to a brilliant show. Juggling a bewildering number of concurrent timelines and causal loops, alternate universes and multiple avatars of the same characters, it managed the feat of bowing out on a high and living up to its reputation of being one of the most mind-bending shows ever. Exploring everything from sci-fi tropes and themes to Biblical allusions and philosophical arguments, Season 3 of Dark had its players reckoning with emotional and metaphysical conflicts, its narrative ultimately doing justice to its larger ideas of love, loss and betrayal. The Morning Show
Apple TV made a big entry into the world of streaming with this big-ticket show that starred heavyweights like Jennifer Aniston, Reese Witherspoon and Steve Carell, with Aniston and Witherspoon also functioning as executive producers. Inspired by Brian Stelter's book Top of the Morning: Inside the Cutthroat World of Morning TV, The Morning Show, despite its flaws, was compulsively watchable, with the two women being electric in their scenes together.
Homemade
The constant emotional yo-yo in a pandemic-filled year has given rise to a variety of content, some praiseworthy and some pedestrian. Falling into the former category was Homemade, with 17 prolific film-makers from around the world using the uncertain times and new normal as creative ground to take an intensely personal look at life here and now. The Netflix series worked both as a peek into life in the lockdown as well as showcased the soaring heights that the human imagination can travel to. 'Our lives were familiar, and now they must be reconstructed. We must find a way to look at our lives in a new perspective. And that is why art is a way of surviving'. Never before have these words have had so much feel.
The Crown
Covering the time period between 1979 and 1990, Season 4 of the smash-hit Netflix series is set during Margaret Thatcher's premiership and introduces Lady Diana. With Olivia Colman leading the cast as Queen Elizabeth II and Gillian Anderson putting in a compelling performance as Thatcher, the new season of The Crown benefited from the introduction of Diana, played superbly by Emma Corrin. Season 4 scored on high drama and political intrigue, managing to grab eyeballs once again with its picturesque locations, opulent sets, well-researched costumes and a moving score.
Tiger King
Its tag line 'murder, mayhem and madness' summed it up aptly. Dropping on Netflix in March, this true-crime docu made for some jaw-dropping viewing, exploring the grimy underbelly of the business of big cats — tigers, lions, panthers, et al — but was actually an exploration of the depths that the human mind and intent can plunge to, with obsession and power gone terribly wrong. Filmed like a thriller over seven episodes, Tiger King gave us, in Joe Exotic and Carole Baskin, the two most bizarre (and intriguing) characters on screen this year.
Schitt$ Creek
At the 72nd Primetime Emmy Awards, the final season of Schitt$ Creek, aired earlier this year on Netflix, swept all seven major comedy awards. And with good reason. Created by Dan Levy and Eugene Levy and playing out over six seasons, Schitt$ Creek explored the ups and downs of a wealthy family forced to relocate to Schitt's Creek, a small town they once purchased as a joke. In Season 6, the show effortlessly maintained its balance of breeziness and sincerity, of zany comedy and nuance, striking the tricky balance between being queer, silly, crazy, but ultimately very warm.
I Know This Much is True
Mark Ruffalo's phenomenal turns as twins Dominick and Thomas in this relentlessly dark tale of betrayal, sacrifice and forgiveness was the centre piece of I Know This Much Is True, showing on Disney+Hotstar. Not an easy watch, the six-episode series was grim and gut-wrenching, albeit cathartic in parts. Its tendency to find poetry in misery may not have been an ideal watch for many in a gloomy year like this, but I Know This Much Is True does go down as one of 2020's most affecting and thought-provoking, solely on the strength of what is perhaps Ruffalo's career-best act(s), making you often forget that you were watching the same actor playing the two parts.
The Undoing
Seamlessly oscillating between emotional family drama and suspenseful psychological thriller, The Undoing brought to life the story of a seemingly perfect family tumbling into free fall, benefiting from Nicole Kidman's strong, statuesque act and a poker-faced Hugh Grant cracking some pretty good one-liners. The Undoing, streaming on Disney+Hotstar, worked as a social commentary, asking stinging questions about fidelity and marriage and examining the insularity of extreme wealth. All the good work, however was (almost) undone by that overdramatic, Bollywood-styled climax.
Zero Zero Zero
The Italian crime drama, streaming on Amazon Prime Video, was a compelling, and very violent, look at the cocaine trade. Bouncing between Italy, Mexico and New Orleans as we follow a large shipment of cocaine, the limited series skillfully melded a Mafioso family drama, high-stakes chase scenes and a dramatic shoot-out in the climax to make for an addictive thriller, uniting three gripping individual stories into one massive saga.
The Haunting of Bly Manor
Designed to both scare and deliver an emotional sucker punch, The Haunting of Bly Manor came in with huge expectations, being as it were a follow-up to the hugely impactful The Haunting of Hill House. Bly Manor, streaming on Netflix, took forward the franchise trademarks of tempering terror with tears and looking at the long-term effects of grief and childhood trauma, but it didn't soar to the heights it could have, choosing to crank up the drama and dial down the horror. It did stand out for its ambitious blend of genres, but the payoff for one's patience through nine episode wasn't always satisfactory.
Money Heist
Granted that Season 4 didn't throw up much that was novel and ennui is gradually setting in, but Money Heist is well, Money Heist. The audacious Netflix series, centred on two long-prepared heists led by the Professor (Alvaro Morte), continued to both thrill and test us on the moral question of who we should be rooting for, with the new season of La casa de papel (yes, that's what it's called in Spanish) picking up pace and ending with an explosive climax. And as we head towards its fifth and final season, so much of Money Heist continues to be cult — from its Dali masks to its Italian anti-fascist anthem Bella Ciao.