Inside his mind
You find me vibrant today morning because I wrote a poem last night — Soumitra Chatterjee, who turns 83 today, opens up to Suman Ghosh for a t2 chat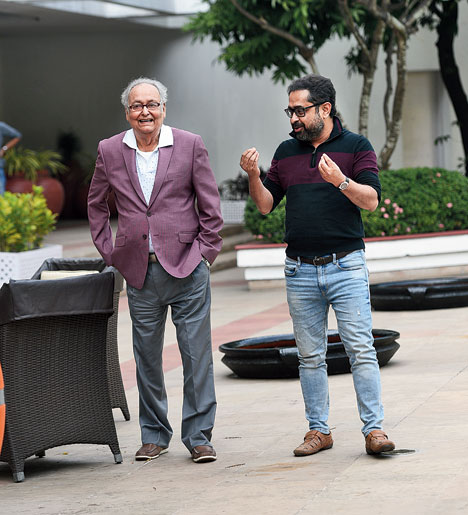 ---
---
I was born on January 19, 1935 — that's how he started the chat when I asked him his age. Soumitra Chatterjee belongs to that class of Bengali intellectuals that includes the likes of Amartya Sen, who might rightly be called the last of the Renaissance Men. Last year has been the most traumatic year of his life with his grandson Rono's accident. At the same time, he starred in one of the biggest commercial successes in Bengali films (Posto); his performance as a patient of dementia in Mayurakshi was critically acclaimed. When I asked him how he keeps on performing like this when his mind is drained after such a damning incident, he said: "The mind is not drained, it is blocked; there are barriers. We need to remind ourselves that behind these barriers are a flood of performances, creative aspirations and the need to thrive through our acting. And at times like these, we need to relax the barriers and open the floodgates for the performances to flow like a deluge of a waterfall."
This is Soumitra Chatterjee. The man with whom I had the privilege of working in five films. Here he opens up in a freewheeling chat about his initiation into acting, his craft and other life matters, at Taj Bengal, for t2...
Suman: Over the 60 years of your acting career, you have perhaps achieved everything. Looking back, are you satisfied as an actor? What is it that you still look for?
Soumitra: Well! Not that I know clearly what I am looking for, but I have a constant feeling that I could have done so many other things. Though I don't know what those other things are. Maybe the lack of good writing and content in Bengali cinema, which is pretty hackneyed, precludes me from exploring many roles. Yet sometimes, even within such confines I come across one good story which energises me and kindles my interest in acting itself.
Suman: Hindi films, on the other hand, have much better content coming out, not only now but over the years. You have had offers from many established directors in Bombay — Hrishikesh Mukherjee offered you Anand, Shashi Kapoor offered you Junoon… you refused them. Do you regret not taking those up as you could have explored much more?
Soumitra: No, not really. You see even if I tried in Hindi cinema, one couldn't guarantee that I would have been successful. There is a kind of chemistry that clicks in one kind of cinema and does not in another kind of cinema. I am sure I would have clicked in mostly dramatic and family stories but not in all kinds of films. I was not of that mettle. And the second reason is that when you work in the film industry of a particular place, you have to embrace the culture. There I would have been a failure. And not only a failure, I would not have been satisfied either. I wanted to be what my inner self wanted to be. My soul would not have been happy outside Bengal. If I had been a successful film actor in Bombay, I would not have got time to pursue my other interests — say in theatre.
BOYHOOD
Suman: Do you remember what made you choose this career in the first place?
Soumitra: You know, I was attracted to histrionics from a very early age. It was in the family. None of them were professional actors but some of them, particularly my father and grandfather, had acting talent. They used to take part in amateur theatre. My father used to recite poetry very well. So it was all in the family. We used to stage children's plays in the courtyard of our ancestral house in Krishnanagar. Mattresses were brought out for the stage, bedsheets were used for the curtains, and with the aluminum foil in cigarette packets my parents used to make crowns for us to be used in the plays.
And then as soon as I started going to school, I found another opportunity to act. Just before the winter holidays or during Saraswati puja, the plays were held in which I took part and I started receiving prizes.
Let me tell you a funny incident. In those days after a play, some members in the audience would announce a prize on the spot and shout out — 'I declare a medal for so and so…' — even if they had not come with a medal... but since it was declared, they would make sure to deliver a medal to my house if I got one.
I started getting them so often that it was one of the main reasons I became an actor. That was the initial spur. Those medals were so attractive for me. I was a very ordinary student in school. I would never read textbooks but I was extremely attracted to books outside the curriculum. Thank god for that!
Suman: What kinds of books did you read then?
Soumitra: All kinds of books. I read Resurrection by Tolstoy when I was 13 or 14.
Suman: Was there a culture of reading in your family?
Soumitra: Oh yes. Very much. There was a small room in our house which had almirahs stacked with books. When we were growing up, my parents used to constantly buy books. Though financially we were not in a good shape, they never compromised on buying books. I still remember my parents reading Tarashankar's Hashuli Baanker Upokatha and discussing it. I got exposed to those discussions.
And at that time I was a very naughty child. I was almost uncontrollable — breaking things, hitting other kids and everything else you can think of. My parents were fed up with me but they knew how to calm me down — by giving me a book to read. Like Pavlov's Dog, books used to make me forget everything else. My sister was married to Ramaprasad Mukherjee, son of Ashutosh Mukherjee. He had a huge library... he was famous for his voracious reading, which had all kinds of books from mathematics to travelogue. As children we used to go and play in the library amidst those books. That left a huge impression on me.
Apart from books, I remember watching movies in Krishnanagar. My parents did not approve of me going to the movies at such an age, so I had to bunk classes and see films. I was also caught doing so sometimes! Someone would spot me and report it to my parents.
Once my parents had gone to see a film which was not meant for children. Of course I had already seen it on my own. At home, when my parents were discussing a particular scene from the film, I butted in, pointing out another scene. I got caught. Later, I realised that those years of watching Hollywood movies in Krishnanagar had seeped into my subconscious and probably influenced me to become a film actor.
THE RAY FACTOR
Suman: I want to know how you prepare for a role. Can you explain citing one of your roles?
Soumitra: My first film, Apur Sansar, might be quite instructive. Of course Satyajit Ray had thought of me for the title role in Aparajito, too, but found me too grown up for it.
Afterwards when he went to Venice with Aparajito, where it got the Golden Lion, he declared that he would make the third part of the trilogy. When he came back from Venice, he sent for me to his house. When I met him, he asked whether I was still interested in acting and if I still went to Sishir Bhaduri for theatre acting.
I never realised that he was making me talk all the time since he wanted to find out about my Bengali diction. He was very particular about it. He just mentioned that he was going to make the third part of the Apu trilogy and might need me. He never mentioned it was for the main role. He asked me to read the novel once more and to visit his shoot one day.
He was shooting Parash Pathar and I remember he took me on the day when he was shooting for the party scene. All the famous Bengali actors were there in that scene and it helped me gather confidence.
Then I went for his Jalshaghar shoot. One day after the end of the shoot, he introduced me to Chhabi Biswas and said that I would do the main role in Apur Sansar. It was the first time I heard that. I could not believe what had just happened! I was ecstatic. I remember the shoot was taking place in Arora Studio in Maniktala and I took a bus from there to Dalhousie, where I was working in radio as an announcer. I will never forget that bus ride. I wanted it to go faster, keeping pace with my excitement.
Suman: Not many know that before your job as a radio announcer, you were an LIC agent and you were a complete failure at that!
Soumitra: (Laughs) Yes, in one year I got only one client and that too was my elder brother. I could not convince anyone else in the whole year.
Suman: So what was the next thing Ray asked you to do for your role as Apu?
Soumitra: He gave me a draft of the script. After a few days, he gave me a brief synopsis on Apu. And I started preparing certain things on my own, drawing from the script.
You see, in a standard screenplay, there is a time lapse between scenes. So I started asking what Apu was doing in the interim period. I started writing a diary of Apu and then from that brought out Apu's characteristics. I took it to Satyajit Ray. I thought he would laugh at me, but he encouraged me instead. He said, 'Soumitra, you have written here that Apu went to his friend's hostel and spent time discussing literature. How about they go to watch a film instead?' He was egging me on. Unfortunately, I have lost those notes of his and my diary.
Suman: What else did you do with him as preparation?
Soumitra: Of course there was a general preparation. During that time, I had a distaste for cinema. I was more into theatre. I had the typical snobbery of a theatre actor that theatre was a superior platform than cinema. But I was totally bowled over after watching Pather Panchali... that this could come out of Bengal. So after being chosen as Apu, that became my benchmark for film acting. Satyajit Ray would take me to watch Hollywood movies with him on Sunday mornings. That was my grooming.
Suman: Do you remember which films you saw then with him?
Soumitra: Yes. We saw The Lost Weekend by Billy Wilder and he pointed out what to watch in Ray Milland's performance. According to him, Ray Milland was the last word in film acting. After coming out of the hall, he asked me what exactly I had liked about the acting. That was education for me.
Suman: Your role in Abhijaan was diametrically opposite to your image of a Bengali bhadralok. How did you prepare?
Soumitra: I can tell you that I have gone through all things 'abhadro' too. When I lived in Howrah, I used to spend time with bus drivers and taxi drivers. So the body language and the dialect came from my experience of those days. Do you know that Abhijaan was not supposed to be directed by Ray? He was just supposed to write the script. But then all of us coaxed him to direct it. I am grateful to him that he agreed to change the language in the script with inputs from me after I told him I had experience living with such people.
LESSONS FROM LIFE
Suman: I was enthralled by your performance in Mayurakshi where you play a patient suffering from dementia. How did you prepare for that?
Soumitra: You see I had enough preparation for it much before Mayurakshi. Many years back I made a telefilm called Asamapto, which was also directed by Atanu Ghosh. Around that time I had read many books on Alzheimer's patients. My uncle was diagnosed with Alzheimer's around that time, and my elder brother was diagnosed with dementia. So I had lots of reference points, but the most crucial thing was that one should have the ability to empathise. Only information through books is not enough. You should have such a mind such that the patient's sufferings should bring tears to your eyes. Only then you can represent the truth.
Suman: So you draw from your experiences and reading when you need to play a particular role... what people call emotional memory...
Soumitra: You know in one of my first writings on cinema acting (for a journal edited by Satyajit Ray), I had given an example from my growing up years. During summer, when the water level in the river is low, villagers would keep their boats immersed in water until the water level was up post-summer, so that the boats didn't dry out and remained ready for operation during season.
I find this analogy holds true for actors as well. I think we should keep absorbing all the experiences and anecdotes around us all the time — even when we are waiting for the acting 'season' to open up. We need to use this latent learning when the next suitable role comes up. This is the essence of my philosophy, like the boat in summer time, I keep myself immersed, learning from the people and events around me, all the time.
THEATRE VS CINEMA
Suman: Do you think theatre acting and film acting are complementary?
Soumitra: I would describe them as sister art forms. You can always recall your experiences in both. Often when I am doing theatre, I think of using my film acting craft somewhere, and vice versa.
Suman: You have often told me how impressed you are by the acting talent of Irrfan Khan, Nawazuddin Siddiqui and Manoj Bajpayee. What do you find so admirable?
Soumitra: Brevity. The essential aspect of an actor's weapon is brevity. With so little effort, they express so much. This is not only true of this current lot but also of other great actors like Naseer (Naseeruddin Shah) or Om (Puri). This comes from training and thought.
Suman: Can you give an example of brevity from a performance?
Soumitra: Let me take the example of one of the greatest actors in Indian cinema and my idol — Balraj Sahni. When you see him as a cobbler in Garam Hawa, just observe the way he enacts it. Such simplicity in how he works on a shoe... it is as if he is doing nothing. He is exerting so little. Similarly when he climbs down from the tonga to take possession in the last scene, does he do it with a flourish? No! He could do it because his political faith and his appreciation of Indian history gave him a certain sensibility.
Suman: You have lived your life amidst such quality people. There has been a cultural degradation in Bengal and we have talked about it. But I always see you vivacious amidst all this.
Soumitra: My sustenance comes from literature. You find me vibrant today morning because I wrote a poem last night. It is not poetry of the highest level, but that does not matter. It is very important for me, personally. By loving literature, I have loved the essence of art.
Which is your favourite Soumitra Chatterjee film?
Tell t2@abp.in