In conversation with the maverick Gulshan Devaiah
'I have the same kind of hunger and enthusiasm, paired with a better understanding of the craft and the business'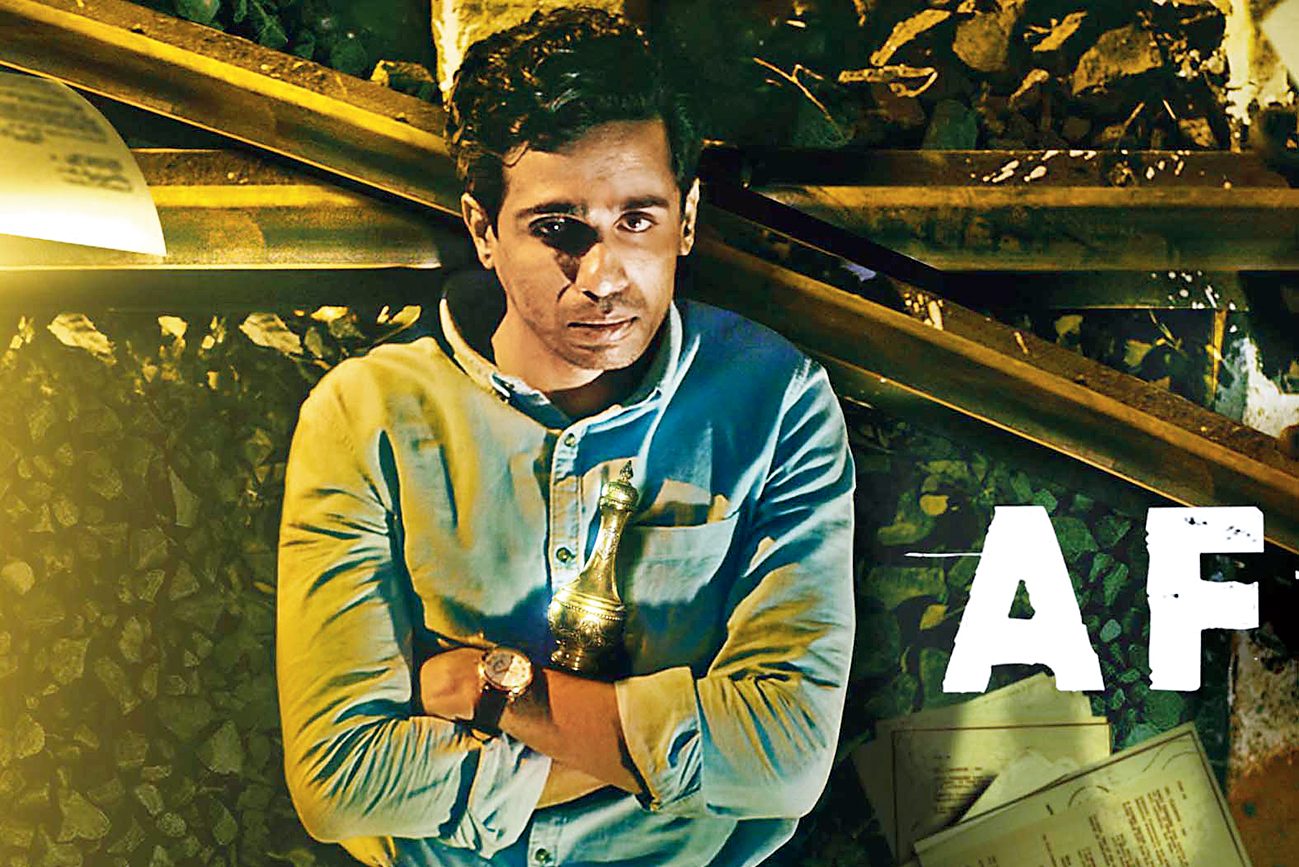 ---
---
Gulshan Devaiah has been having a good run. First was the praise — and a few awards — for his fun twin act in Mard Ko Dard Nahi Hota. That was followed by his turn as a monster in Dibakar Banerjee's segment in Ghost Stories, which was easily the best thing about an otherwise disappointing series. And now the actor is winning accolades for playing a man who contracts his own murder in the black comedy Afsos, streaming on Amazon Prime Video.
With Afsos coming in for quite a bit of praise, it's been a good run for you over the last few months…
We put in a lot of hard work into the show and also had a lot of fun making it. And with the rest of the team, I was curious to know how the audience would receive it. I must say that I am a bit surprised… people are really liking it! (Laughs) Honestly, I don't like any of my work… I have always had a problem with everything I have done, except for A Death in the Gunj, in which I anyway had very little to do (laughs). But for the last few months, people have had pretty good things to say about my performances, whether it's been Mard Ko Dard Nahi Hota, Ghost Stories and now Afsos.
With Afsos, I honestly didn't know what to expect. But if social media is a barometer of success, then I get tons and tons of messages about the show every day… hundreds and hundreds of them in the first few days. I have a fuzzy, warm feeling inside every time I read all these messages. It makes me feel like, 'Okay, I did good'.
Afsos is a kind of genre-bender and yet unique in the sense that you can't slot it into a particular genre. Plus, it's a funny show about death. What is it that hooked you?
Multiple things, actually. I really liked the three writers — Anirban (Dasgupta), Dibya (Chatterjee) and Sourav (Ghosh). They really saw me as Nakul. I wasn't sure about wanting to do this in the beginning because they came in only with a concept, there wasn't any kind of script. I told them that a concept like this — a black comedy that delves into so many other sub-genres — would be very tough to pull off. The show goes into a fantastical zone and becomes much more than just the story of a man trying to kill himself. The concept, per se, interested me.
All three of them being Bengalis, they came in with a kind of laidback enthusiasm that intrigued me (laughs). But there was something positive about them. They kept getting back to me as and when they would flesh out some episodes, and the show gradually started building. Every time we spoke, we discovered more about the show. The fantastic thing is that they got Anubhuti (Kashyap) attached as director, who I have known for a while now. I was excited to see what kind of work she would do in the long-form format, given that she had only directed a short before this.
The most challenging thing about this show was to make a loser interesting. Nakul is a total loser, maybe not so much in reality, but clearly in his head. He's made up his mind that he's destined to suffer. His suffering is more self-induced than anything else. How do you make that interesting? He's the protagonist after all and nobody wants to watch a loser across eight long episodes. The story was so quirky that anyone in that situation becomes interesting.
My challenge was to keep Nakul consistently intriguing. Amazon (Prime Video) being attached to the show was also a major factor in making me want to do the show.
Before Afsos, you came in for a lot of praise for Ghost Stories and Mard Ko Dard Nahi Hota. As an actor, are you having the most fun right now?
Acting is always fun for me, I would rather do nothing else. I am transported to a different world when I am on set, my sense of fun lies in preparing for a character. I do what I do because it's fun. Acting is fun and easy… being an actor is tough (laughs). That needs some figuring out and learning. The fact that people want to see me and appreciate me is what keeps me going. I have the same kind of hunger and enthusiasm like I always did, paired with a better understanding of the craft and the business. I am trying to be as academic as possible as far as the business aspect is concerned, so that I understand how things work. That's also a lot of fun… just understanding the nuances of hustling.
Over the years, is there anything about the craft that you have had to unlearn?
I learn by watching people. During my theatre days, my learnings would come from reading books, watching movies and talking to filmmakers. Now, I try and interact with a lot of people to enhance my craft. Sometimes, I watch a good performance in a film and I make a mental note to myself… 'I will steal that sometime!' (Laughs) I steal from everyone I work with. On the sets of Mard Ko Dard Nahi Hota, I learnt so much from Radhika Madan, who was a relative newcomer. She has such a great work ethic, such a great attitude. She has the right amount of detachment. Sometimes, I get too attached to my work and I saw her give 100 per cent to her part and yet she had an easy detachment from her role that I always struggle to have. I barely chatted with her, this came from just observing her on set. I steal a lot from actors I like… I steal a lot from actors I don't like also! (laughs)
Have you set any goals for the next few years?
I do. They are not very rigid goals and I don't talk about them (smiles). No particular reason, but I don't like to even talk about my craft… there are some things that I like to keep to myself.
Is there a part you haven't played yet that's on your wishlist?
Not really. I did have a wishlist before I joined the industry but once I came here, I realised that I was limiting myself by doing so. I like doing slightly oddball stuff… that seems to be organically becoming my style, though I am open to doing all kinds of roles. Of course, I have admired some people on screen and wanted to play some roles that they played. But once I met them, somehow that experience has always come up short. Sometimes I don't look forward to meeting people I really admire… I am a little scared the experience won't match up. It's happened to me a few times and I have been like, 'I don't like them any more!'