In Bollywood: Old films cast long shadows
There'll be interesting history if Sunny Deol's son Rocky and Amrita Singh's daughter Sara sign a film together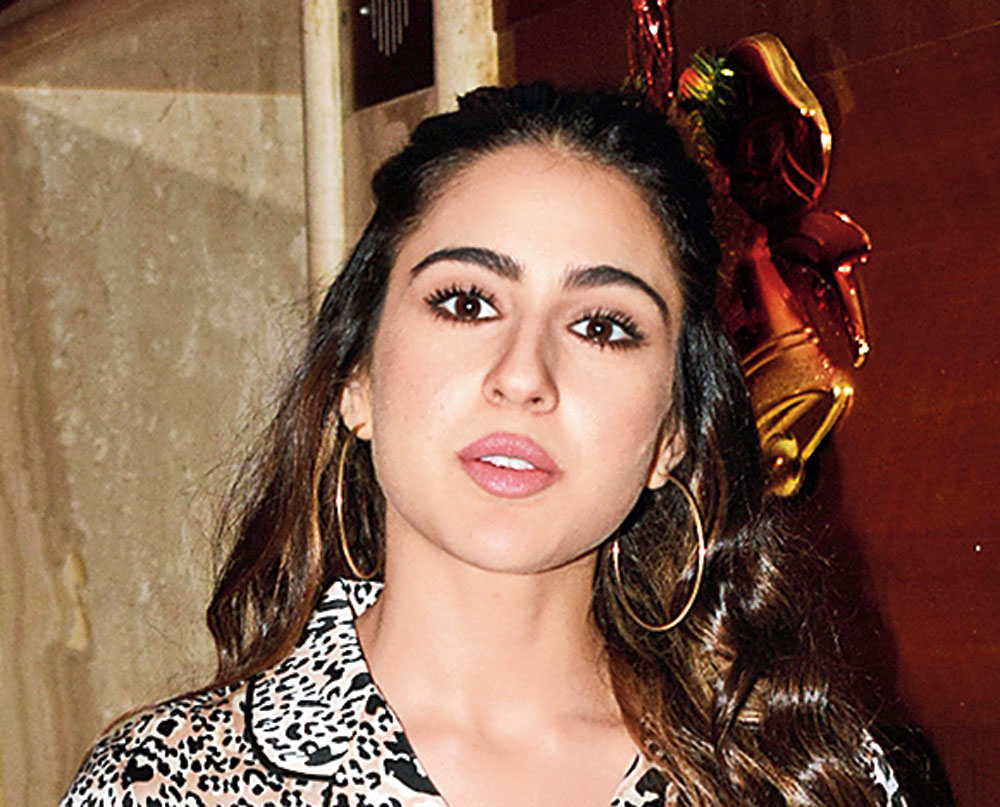 ---
---
Bharathi S. Pradhan is a senior journalist and author
Grandpa twice over, Jeetendra revels in the role. Met him outside the Sun-n-Sand, son Tusshar by his side, grandson Lakshya in his arms. "Jai jai karo, Aunty ko," said Jeetu to the tot who happily obliged. "See? Hum bhi sanskari hain," joked Jeetu. With daughter Ekta adding her baby boy to the family, Jeetendra's cup of joy overflows.
It was an "old is gold week" when I bumped into Javed Akhtar at Sunny Sound for the sneak preview of a Tamil musical titled Sarwam Thaala Mayam (with English subtitles). It was an evening awash with super talents. Embellished with A.R. Rahman's pulsating percussion music (back to Carnatic classical after ages), the aesthetics came from Rahman's close friend and director, Rajiv Menon. The Maestro from Madras was Dileep Kumar before he converted to Islam, when Rajiv and he would collaborate on jingles and ad films. The friendship spilled over into films like Bombay and Guru, which had Mani Ratnam at the helm, Rajiv behind the camera and Rahman in the recording rooms. Despite turning director himself with award-winning Tamil films that starred our very own Kajol, Tabu and Aishwarya Rai, Rajiv would happily go back to being Mani's cinematographer.
Music and movies bond Madras and Mumbai. Rajiv was also the cinematographer of Shabana Azmi's Morning Raga. So there are a whole lot of heavyweights from Hindi cinema who're acquainted with Rajiv's sensitive work.
While chatting, Javed talked about the musical show, Main Koi Aisa Geet Gaoon (also the number penned by him for Shah Rukh Khan in Yes Boss), which he hosted from coast to coast in the US last year. A four-hour show with an interval, all it had was Javed and a live band. He would talk to the audience about one of the many lyrical gems he had penned, add an informative nugget here and there on its making, and the band would take over and break into the song.
From the romance of Silsila (1981) and the raunchiness of Ek, do, teen made famous by Madhuri Dixit in Tezaab (1998) to R.D. Burman's swan song, Ek ladki ko dekha to aisa laga (1942: A Love Story in 1994), and the stirring title song of Kal Ho Naa Ho for Karan Johar (2003), Javed has written a feast of chartbusters. Add to that his gift of the gab and Main Koi Aisa Geet Gaoon turns into a pleasurable treat for the audience.
Javed, who has lost weight, is looking better than before at age 74, and when he's got the floor, you keep wanting more.
I was on the first step going up to the theatre when owner Sunny Deol drove up, looking all beefy and beatific. He still has that combination of a tough exterior and a warm, shy smile. In a relaxed, chatty mood, Sunny talked of how his son, Karan, alias Rocky's debut film, Pal Pal Dil Ke Paas (inspired by his own father Dharmendra's number from Blackmail), was a double whammy for him because he was both dad and director on the sets of the film. "You want everything to go right," he said.
He hopes to wrap it up in two months before he hands over Rocky to the public.
"Rocky's very much like me," he smiled. "We want to be actors and stars but quietly, not with all that loud showing off, you know what I mean."
Yes, we did. Because that's precisely what his dad Dharmendra had said when he was launching Sunny with Betaab way back in 1983. Thirty-six years later, Sunny echoing his dad's words was like déjà vu.
For all his shyness, I can't ever forget the first schedule of Sunny's Betaab. At the once-busy Rajkamal Studio which V. Shantaram owned, Sunny's make-up room door was ajar when I knocked and walked in, surprising the new hero and his heroine, Amrita Singh, who had got rather cosy. I remember him jumping up and blushing. Today, his son and her daughter, Sara Ali Khan, have both become actors. There'll be interesting history if Rocky and Sara sign a film together.