In Attack part 1, John Abraham's fists do all the talking, but his face says nothing
There's only that much of blinding action that one can take, accompanied as it is with laughable lines and poor characterisation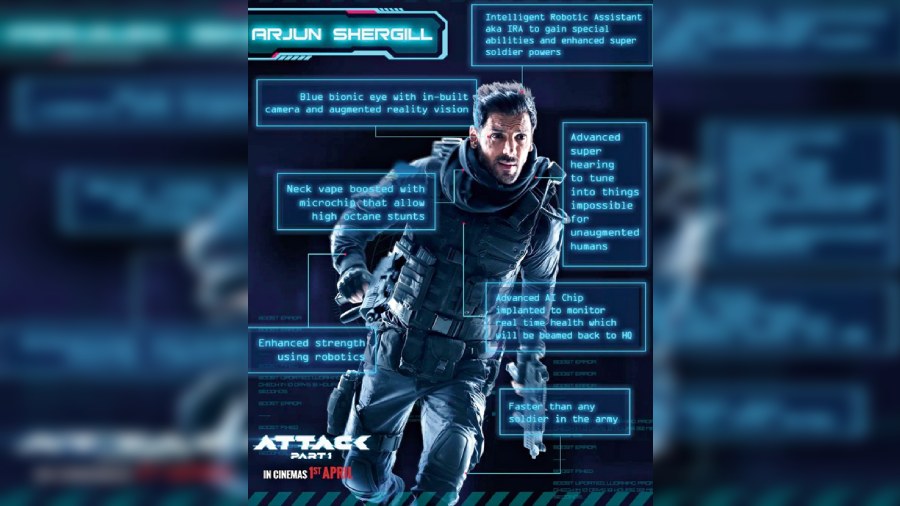 ---
Published 02.04.22, 06:18 AM
|
---
In his last film Satyameva Jayate 2, aka a downright assault on the senses, John Abraham played three characters. In Attack — that comes with the warning of Part 1, which means there will be at least one more, if not many more — John plays one man who alone can take on an army of 300. But then, in this film, John — as a wise man said many, many years ago in his 'apna andaz' — is not a purush... he is a mahapurush. In other words, he is a humanoid with superhuman abilities. Attack's story is credited to Abraham himself, but the obvious references are RoboCop and Blade Runner, both seminal films in the genre.
An out and out actioner, Attack attempts to mesh thrill with science, but apart from a promising idea and a few stunningly shot adrenaline-pumping sequences, the 123-minute experience, owing to genre cliches and unnecessary melodrama, comes up short.
Directed by Lakshya Raj Anand with John as one of the producers, Attack kicks off with John's Arjun Shergill leading a covert extraction operation that leads to the capture of a terrorist mastermind. Cut to a beefy Arjun bumping, quite literally, into a pretty stewardess, singing a few songs and falling in love. A terrorist attack leaves her dead and him paralysed. No spoiler this, considering it's Jacqueline Fernandez who plays Arjun's ladylove. The first glimpse of Jacqueline in a film these days means she will be bumped off after two scenes, with it happening even in Bachchhan Paandey two Fridays ago. In short, Jacqueline is to the 2020s what Suresh Oberoi was to 1990s Bollywood.
Suresh Oberoi, in fact, reminds us of that '90s gem called Diya Aur Toofan where the actor played a doctor who stored a brain on a plate in a device named 'deep freeze', which looked more like a microwave and then transplanted it on to another human. If the sci-fi bit in Attack is anything to go by, Bollywood has progressed by leaps and bounds... from at least that.
John, paralysed neck down, is given a fresh lease of life by a new technology developed by a bespectacled doctor with an enviable lipstick collection. Rakul Preet Singh is Dr Sabah, who rattles off scientific jargon (names like Elon Musk and Nathan Copeland are thrown around), and converts Arjun into a 'super soldier'. His constant companion in this is his artificial intelligence assistant Ira, a lot like Siri and Alexa, whose voice time in this film is longer than that of Jacqueline and Rakul combined. Ratna Pathak Shah appears in a few scenes and disappears for good.
In Half Two, Attack metamorphoses into a hostage drama, taking clear inspiration from dime-a-dozen films in this genre, mostly White House Down and Die Hard and then suddenly ventures into Uri territory, with 'high josh'. Through all of this, John's fists do the talking, but his face doesn't. John's physicality and personality naturally lend themselves to roles like this, and his one-note expression makes him the perfect humanoid. Win-win, as they say, albeit in a twisted way.
Attack, to be fair, is a lot better than many a recent mindless John film. But there's only that much of blinding action that one can take, accompanied as it is with laughable lines and poor characterisation. The one saving grace? John rides a bike in this film, and doesn't lift it even once. Oh wait, there's Part 2!
Attack part 1 (u/a)
Director: Lakshya Raj Anand
Cast: John Abraham, Jacqueline Fernandez, Rakul Preet Singh, Prakash Raj, Rajit Kapur, Ratna Pathak Shah
Running time: 123 minutes