Iman Vellani shines as Ms Marvel in Episode 1 of the Disney+Hotstar show
Teenage struggles, family dynamics and friendships, Ms Marvel deals with relatable topics but from a fresh South Asian angle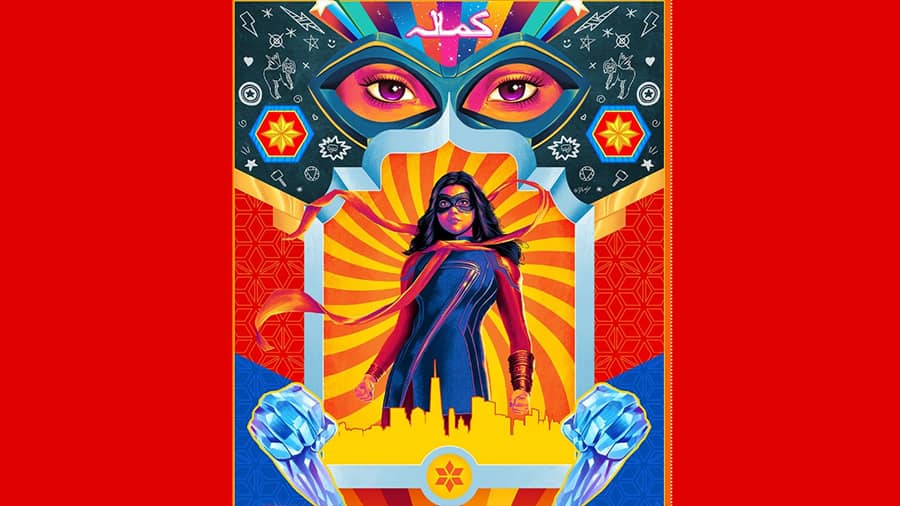 Ms Marvel's Episode 1 gives the show a promising start.
@marvel/Instagram
---
Calcutta
|
Published 08.06.22, 05:13 PM
|
---
Phase Four of the Marvel Cinematic Universe (MCU) has been delivering hits and misses in the form of movies and shows. Catering to its younger and more diverse audiences, Marvel is setting up the next generation of superheroes. 
A star that promises to shine as bright as the cosmic energy that exudes from Carol Danvers, aka Captain Marvel, is Iman Vellani as Ms Marvel in the Disney+ miniseries of the same name.
Since the announcement of the show based on the Marvel comics character Kamala Khan/Ms Marvel, South Asian and South Asian-American fans have been waiting for the premiere on June 8. The 40+ minute Episode 1 of Ms Marvel aired on Disney+ Hotstar with subsequent episodes set to air every Wednesday till the season finale on July 13. 
The first episode was able to establish Vellani as a powerful actor. The character of Kamala, a Pakistani-American, fits like a glove for the Pakistani-Canadian actress. Vellani is a self-admitted super-fan of the MCU and Kamala. In the four-minute documentary short A Fan's Guide to Ms Marvel, Sana Amanat, co-creator of the character and the show's co-executive producer said, "Iman Vellani, what can I say…That girl is Kamala Khan 110%." 
Vellani has breathed life into Kamala, making her a sassy yet awkward dreamer who is relatable for a lot of young South Asians. It is easy to see yourself in Vellani's shoes or even see her as your adorably annoying little sister as the first episode focuses on family. 
The importance of family in the lives of people from South Asian communities takes centre stage in the maiden episode. Not shying away from the stereotypical yet realistic representation of a Pakistani family, the Khan family is at the forefront. Ms Marvel does not give an archaic portrayal of overly strict and emotionally absent South Asian parents. Zenobia Shroff and Mohan Kapur as Kamala's parents Muneeba Khan and Yusuf Khan embody modern subcontinental parents. Muneeba and Yusuf show care and worry for their daughter. Muneeba strongly supports her daughter in most instances but is also overprotective to the extent of hindering her life in some instances. She is the main obstacle in Kamala's way when it comes to planning a trip to AvengerCon. Yet when Kamala questions her mother's trust in her, Muneeba replies that she trusts her daughter but not the other people around her. 
As most of us have experienced growing up, one parent takes the role of the one that spoils while the other is the strict one. Yusuf is the 'good guy' parent in Ms Marvel. He is always trusting of Kamala and is more of a friend to her than her mother. The father-daughter dynamics are spot on. Yusuf will go to any extent to make his daughter happy, even dress up as the bejewelled Hulk. Teary-eyed Yusuf walking out of his daughter's room, after Kamala refuses to go to AvengerCon with him dressed as 'Choti Hulk', hits the right feelings. 
Another Pakistani-American actor who gives a captivating performance in the first episode is Saagar Shaikh. He plays Kamala's ultra-religious older brother Aamir Khan. He appears to be her polar opposite. Like most South Asian older brothers, he shares a playful, loving and protective relationship with Kamala. 
The show gives relatable moments even through its side characters like Kamala's Aunty Ruby (Anjali Bhimani), Nakia Bahadir (Yasmeen Fletcher) and other members of the South Asian community in Jersey City. 
Vellani, Shroff, Kapur and Shaikh have already delivered stellar performances that justify their characters. We are yet to see stars like Farhan Akhtar and Fawad Khan make an appearance. We have to wait to spot them in the coming five episodes of Ms Marvel.