I will start shutting up, when discovered: Shreya Dhanwanthary
Sooner or later I will see a lot more intelligence in staying quiet, says the actress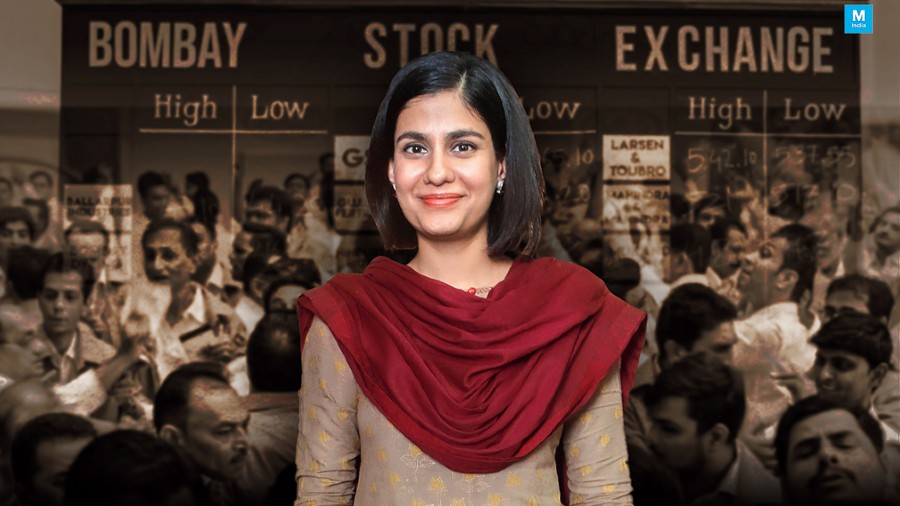 Shreya Dhanwanthary as Sucheta Dalal in Scam 1992
Sourced by the correspondent
---
Published 10.02.21, 10:45 PM
|
---
Shreya Dhanwanthary made her Bollywood debut in early 2019 with the Emraan Hashmi film Why Cheat India, and followed it up with an important role in the web series The Family Man later that year. However, it was last year's Scam 1992 — in which she played the central part of Sucheta Dalal, in a lead parallel to Pratik Gandhi's Harshad Mehta —  which has put the 32-year-old actress firmly in the spotlight.
As she awaits the release of Nikkhil Advani's web series Mumbai Diaries 26/11 and Season 2 of The Family Man, Shreya chatted with The Telegraph on life after Scam 1992 and why her rare voice of honesty is going to be short-lived.
When a show remains on the web for posterity, especially a series with the kind of impact that Scam 1992 had, I am sure you keep getting feedback for it on a daily basis...
Oh ya, I do, I do! It's remarkable how it's captured people's fascination so deeply. So I am very, very kicked about it.
When you were making it, did you think it would become the phenomenon that it is now?
No, not at all! We were all pretty excited because we knew we had a great script. All of the people, in the cast and the crew, every single person knew that opportunities like Scam (1992) were very few and far between. We were being trusted with a big task. Whether it does well or not was different, but the fact that we were being given this opportunity made us give this project our blood, sweat and tears. But never in our wildest dreams did we think that this was going to work as much as it did.
In hindsight, what do you think worked for the show?
Just the fact that it's such a good show. I think everything aligned for it to work. This is a heavy show, it's a technical show on a subject that we had not really seen in India much. It stars relatively unknown people, all of us were unknown. It's a very talkie show... half of it is in Hindi... one-third of it is in Gujarati and the rest is in English. It's on a platform (SonyLIV) which is also still relatively new. Honestly, it had everything going against it.
So I feel that the timing of it... the fact that it came in the middle of the lockdown and people were looking for something different, the fact that the audience was open and receptive... it just ticked all the boxes. People can speculate and try to recreate this recipe, but I am not sure if a Scam 1992 can be made so easily again (laughs).
At the end of 2020, you wrote an insightful piece on how it was a good year for you professionally, but you also acknowledged that you were talking from a place of privilege. What were the personal challenges of the year?
The fact that I acknowledged that I was speaking from a position of privilege, and continue to do so, points to the fact that this has been a transformative period for me, rather than a challenge. The fact that we belong to this privileged section of society affords us this time and space to rehabilitate ourselves, rather than putting food on the table or worrying where your next pay check comes from.
It's definitely a period where I got to slow down. It was more about improving the loose and wobbly bits of my personality (laughs)… it was about tightening all the physical, mental, emotional screws. This industry and this business consumes and demands so much of you that it is nice to sort of sit back and remember why you got attracted to the idea of storytelling in the first place. You know, just not let all of the noise get to you. It was more of an inner transformation that I was lucky enough to go through.
When you say that you try and not let the 'noise' of the business get to you, would you say there have been dark days?
I can answer the question by saying that there have been 'light' days (laughs). Mostly, the last few months have shown us what life is like for a freelancer. We are sitting at home with no idea what to do, where the next job or the next gig is going to come from, and how long it's going to take for the money to come in. Also, in this business, your reasons for not getting a job has nothing to do with the quality of your audition or your talent. So yes, there have been a lot of dark days. But now I am trying to not allow it to be all-consuming, and to have fun and chill out.
You've also written a book called Fade To White. What does writing mean to you?
I have always liked writing... short stories, longform.... I have started developing scripts now. And I wrote and directed my first web series last year. Hopefully, I will get a chance to write more stories.
A lot of your significant work has been on the web. How do you view the medium?
If you had asked me this question last year, my answer would have been very positive and optimistic, but considering we are soon going to be coming under the Ministry of I&B (Information & Broadcasting) and censorship, and all of that, I can't really say anything any more.
The delay in the release of Season 2 of The Family Man, again because of the brouhaha around Tandav, must be disappointing...
It is. I am disappointed with what's happening with Tandav also. It's just so disappointing and demoralising in general.
Whether it's religion-based politics or farmers' protests, you are one of the rare famous faces on social media who voices her opinions and pulls no punches...
Honestly, I think that's going to be short-lived! (Laughs) I am still in the comfortable space of being a little obscure, people still haven't discovered me fully yet.... Believe me, when they start discovering me more, I will start shutting up. The heat is already coming in and I am going to be very practical and honest and say that there will be a day sooner rather than later where I will see a lot more intelligence in staying quiet. Which is very, very sad.
It's not that our people don't have opinions or don't feel strongly. But there is no unity. What is the point if you are the only one taking a stand and you are using every bit of courage to speak up, only to be pushed and massacred in very real ways, and not just online. There are real-life repercussions to speaking up in this country. It's sad ya... one should have a place to speak and there should be unity. There should be more voices.
Have you always been this forthright?
Always this forthright, always this honest (laughs). More often than not, it's worked against me and also cost me. Let's just say, I should learn to pick my battles, to put it politely.