I will go for the Emmys for sure and I am 100 per cent sure Indian Matchmaking will win an Emmy: Sima Taparia
With Indian Matchmaking notching an Emmy nomination, a chat with its star attraction and matchmaker-in-chief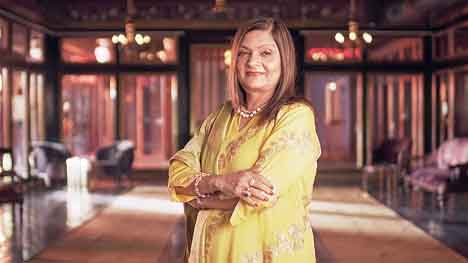 ---
Published 22.07.21, 12:07 AM
|
---
Love it or hate it, you simply can't ignore it. After opening to polarised reactions on Netflix last year, Indian Matchmaking — a documentary television series that looks at the tradition of arranged marriage, with Mumbai-based consultant Sima Taparia travelling across the globe to matchmake potential partners — has now bagged an Emmy nomination, after quickly going viral and setting off conversations.
The show has bagged a nomination at the 73rd Emmy Awards, scheduled to be held in Los Angeles ion September 19, under the Unstructured Reality Program category. Indian Matchmaking is pitted against RuPaul's Drag Race: Untucked, Becoming, Below Deck and Selling Sunset. Come September, win or lose, Indian Matchmaking has a feather in its cap already. Reason enough for The Telegraph to catch up with Sima Taparia for a quick chat.

Double congratulations for Indian Matchmaking completing a year, capped off by the Emmy nomination. What was your reaction when you first heard about the nomination?
I was very overwhelmed. Indian Matchmaking has made me very popular. I have received immense love and respect from the audience in the last one year. The Emmy nomination has been a double dhamaka celebration for me.
Were you expecting the nomination?
I never even dreamt of it. In fact, I had no idea that Indian Matchmaking would rock the world in the way it has over the last one year. The fact that I would be recognised wherever I go is something I never expected. I will go for the Emmys for sure and I am 100 per cent sure Indian Matchmaking will win an Emmy!

A year on, do you still get feedback for the show?
Till yesterday afternoon, I was getting reactions! (Laughs) Jab se show release hua hain there has hardly been a single day when people haven't spoken to me about it. People keep telling me, 'Sima aunty, we love you!' They want to click pictures with me. Even when I have a mask on, they are able to recognise me by my voice (laughs). By my eyes, by my voice, by my hair, by my way of walking... ab main kya bataoon? (Laughs)

Do people come up to you and say, 'Hamari matchmaking karwa do, Sima aunty?'
They tell me sometimes. But mostly they talk about how much they loved the show, and how straightforward and honest I was. They are surprised that in real life, I am exactly how they saw me on the show. I have always been someone who loves socialising, I love talking to people, I would always like to observe the personalities of people and figure out what kind of partner would fit them the best. I follow that even today when I meet people, that's my unique ability. It's a very specialised job, it's service oriented.

Have things slowed down in the pandemic or has the success of the show helped in boosting business?
I don't travel internationally as much like before, though I did go to Dubai recently to meet a client. A lot of the stuff is done over Zoom now, but I miss the personal touch of meeting my clients face to face. After the show, I have got clients from all over the world.

In hindsight, why do you think the show worked?
The honesty, the simplicity of the show. The fact that we had shown it like a reality show, and not added any frills or drama.

Will you be game for Season 2?
My association with Netflix has been very pleasant. I hope that continues and I really look forward to another season... dekhte hain kya hota hain.
Which two celebrities would you love to matchmake for?
I think Salman Khan and Katrina Kaif.