I wanted to humanise the papacy, says director of 'The Two Popes'
The film is a dramatic and visual feast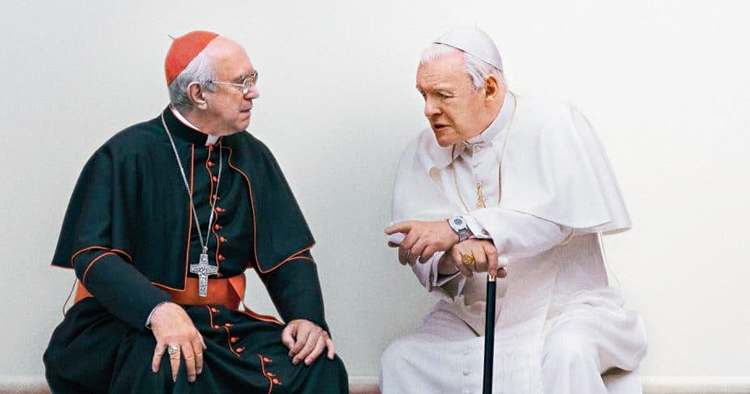 ---
---
Brazilian filmmaker Fernando Mireilles, whose landmark film City of God earned him an Oscar nomination for Best Director, is ready with his new film. The Two Popes — starring Anthony Hopkins as Pope Benedict and Jonathan Pryce as Pope Francis — is a dramatic and visual feast peppered with some winning humour, as we discovered at a screening of the film at the Jio MAMI 21st Mumbai Festival with STAR 2019 in October. Mireilles, 64, was honoured at the festival and also attended the screening of his film, besides participating in a masterclass.
A day after the screening, The Telegraph sat down with Mireilles at the JW Marriott in Juhu, Mumbai, to chat about the film that streams on Netflix from today.
This is your first time in the country. Does India seem a lot like Brazil?
It's more intense… there are more colours, sounds… lots of honking (smiles). There are some very distinctive smells and so, so many people! I know Brazil has a lot of people too, but India has a whole lot more! (Laughs) I was walking on the beach last evening and watched the sunset and every inch of the beach was packed (laughs). So ya, intense, very intense….
You've shown The Two Popes to audiences across the world. What have the reactions been like?
That the feedback was so widespread surprised me more than the nature of the feedback. I always thought that this is a film that would interest a niche audience… an audience interested in religion, the church, the Pope, the Vatican…. But now I have realised that people from all across can react to and resonate with the film. It's good for me that Indian audiences have been able to relate to the film. For the Western audience, the Pope and the Vatican are sacrosanct, while the viewer in India can be more objective about what they see in the film.
I think it's the human aspect of the story that's really hooked the viewer. There's a political side to the film too… Pope Francis talks against the economic system, and that's a universal subject. I found out after release that the film had the power to engage people in large numbers, irrespective of religion and demographic.
We had a test screening in Los Angeles and it was quite tense because you don't know whether the audience would hate the film or like it, at best. But right from the first minute, there were a lot of laughs… and the laughs continued throughout the film. That's when I relaxed a little bit (smiles).
Did you always want to temper the heaviness in the film with touches of humour?
You've watched the film so you know that The Two Popes is a very conversational film. Pope Francis and Pope Benedict are constantly tickling and we needed these sudden bits of humour to come in and wake up the viewers, if their attention wavered (laughs). I think a laugh makes you breathe and you wake up… at least it works for me (laughs).
It's a difficult script to film and it's the conversational quality of the script that actually hooked me. But when I signed on, I realised the film was about two guys talking… really, really long conversations. We did cut out quite a bit… we had to cut a lot of beautiful lines because the film became too talkative. To keep it interesting, I had to create this very personal relationship between the two Popes and yet keep it profound. The jokes helped a lot (smiles).
What spurred you to make the film?
I was offered the film way back but I couldn't do it then because I was directing the opening ceremony for the (2016) Rio Olympics. Once the Olympics were done, the production company called me back and this time they had a script.
The film, is, of course, based on Anthony McCarten's play The Pope and he adapted it for this film. I read the script… it was beautiful and intelligent and there was no way I was going to pass up on this chance.
The brilliance of the script lay in the fact that it lent so much credible meat to what is essentially imaginary conversations between the two Popes. Pope Francis and Pope Benedict did meet a couple of times, but we don't really know what they spoke about… and, of course, we couldn't ask! (Laughs) All credit goes to Anthony's extensive research where he dug up interests and passions common to the two Popes — football, for instance — and then built their possible conversations around them. It was very smart… he made them so credible.
Is the idea of this film to humanise the papacy or is it just a story you simply wanted to tell?
I wanted to humanise them, for sure. What I liked the most about Stephen Frears's The Queen (2006, starring Helen Mirren) was how it showed the queen in such a personal way.... There's a sequence involving (former British prime minister) Tony Blair's character who picks up the dishes in his home and washes them. I found that interesting because we are used to see our heads of state not as real people. I wanted to show the two Popes going through their daily lives. There's a scene that shows Benedict dressing up… he's not wearing the cassock, but is only in his underpants. I always wanted to know what underpants the Pope wears under his cassock! (Laughs out loud) All of this was done to make the storytelling more intimate.
So also was showing their love for football and Fanta?
That actually is true. Pope Francis would earlier watch a lot of football. The people who work with him now say that he doesn't watch TV any more… he thinks it's a waste of time. But yes, he was once a big fan of soccer.
In one scene, Pope Benedict says that the key to everything in life is to listen. In a world where people just don't want to listen to each other any more, did you put that in to make a statement of sorts or did it happen organically?
In the film, Benedict, of course, says it with reference to listening to God. But yes, you are right… in the context of what's happening in the world today, it becomes relevant. The film talks a lot about losing connection to God and to people around us. I love that sequence in the church where Pope Francis compares the loss of a TV connection to him losing connection with the church. This feeling of being connected and yet disconnected is something all of us grapple with.
You've consistently maintained that you are "a bad Catholic". Did making this film change anything in any way?
It did make me think about the idea of faith and how strongly some people believe in religion, faith and a higher power. I was shooting the confession scene involving Francis in a church in Argentina and while I was walking around in that big church, I saw a 15-year-old boy sitting on one of the chairs inside a tiny chapel in the church… the intensity with which he was praying really moved me… I remember staring at him for a very long time… it was a very profound moment. I thought that this boy is not doing this to show anyone anything… he's doing it because he really feels it. That really touched me and made me feel, 'Wow, that is something'.
But honestly, on the rare occasions that I have prayed, I don't think anyone has been listening to me! (Laughs) I don't think God is interested in me. I am agnostic… I don't deny, but I don't embrace.
Coming back to the film, didn't you feel the need to give more of a backstory to Benedict like you did for Francis, especially given how crabby and churlish Benedict is, at least in the initial moments of the film?
The film actually started out as almost being a biopic on Pope Francis. The part in Argentina was much longer and the name of the film, till about three months ago, was 'The Pope'. It was just about Francis. However, when we watched the last cut, the film changed a lot during that process. We realised that the film could be called The Two Popes because Benedict, as we went along, had become much more important. But for the awards, Jonathan will run for Best Actor, while Tony Hopkins is for Supporting Actor.
Did you, at any point, actively approach the Vatican for access?
We wanted to shoot in St Peter's Square and if I could use St Peter's Basilica in any shot, I would have been ecstatic. Castel Gandolfo has really beautiful gardens that I wanted to shoot in, but it didn't happen. It wasn't that they were just against this film… the Vatican, as a rule, just doesn't allow any crew to use their facilities. So we had to go around and find other locations. We had to recreate the whole St Peter's Square digitally.
The Two Popes, of course, is not controversial like The Da Vinci Code. But was there ever any apprehension that the Vatican could oppose the film or disapprove of it in any way?
Honestly, we didn't need their approval because all that's been shown in the film is information culled from the public domain. We would have loved to have their support, I would love to have a screening for the Pope, but I don't think that will happen (smiles). I understand their position of not wanting to get involved at all because if they allowed us to shoot, then that would mean they agree with everything that the film says. Honestly, the film is positive… it's good for the church.
You are showing the film at festivals and then having a limited theatrical release before streaming on Netflix on December 20. Would you have just liked to go full throttle at the theatres or do you think streaming platforms are really the new-age way to go about things?
Well, we are releasing in theatres three weeks before the film goes on Netflix and that, I believe, gives us enough time to reach a wide theatrical audience. I think we are having the best of all worlds… the film is going to 38 film festivals, which is a huge, huge number. Then we have three weeks in theatres and even when it hits Netflix, it will still play in theatres. Even a year later, Roma (2018, directed by Alfonso Cuaron) is still playing in some theatres, despite being on Netflix for so long. There is a whole new way to make films and show films… we are operating in very interesting times (smiles).