How Roshan Mathew became Zulfi in Darlings and what he learnt from his co-actors
'Zulfi is very cute' – that's the message the Malayalam actor is receiving from his female fans after the success of the Alia Bhatt-starrer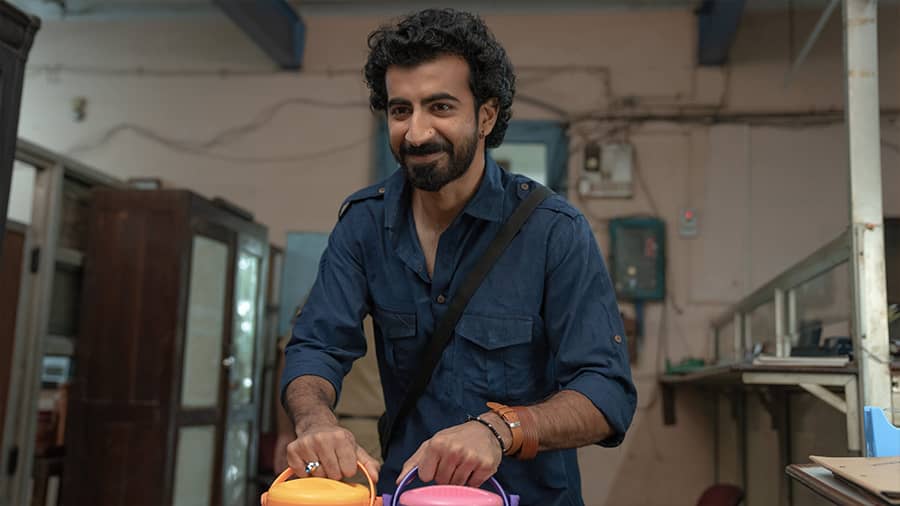 Roshan Mathew as Zulfi in Darlings, streaming on Netflix
Twitter
---
Calcutta
|
Published 13.08.22, 04:53 PM
|
---
Mujhe toh ____ (We don't want to give away spoilers!) cute lagti hai,' Zulfi's sudden love confession, right in the middle of a high-octane, hilarious scene in Darlings, cracked us up so much that we thought Roshan Mathew's Zulfi was the cutest thing in the otherwise dark comedy. Those who have watched the Netflix original by first-time director Jasmeet K. Reen might agree that Roshan's Zulfi restores faith in men, given Hamza's uncontrollable rage. Mathew spoke to TT Online on working with the stellar cast, how streaming platforms have kept him afloat as an artiste, the friendships he has developed on the Darlings sets, and his new-found fans.  
There are several films on domestic abuse but Darlings made us go through an emotional roller coaster. What were your first thoughts after reading the script as a man and as an actor?
Roshan Mathew: As an actor, I thought it was an entertaining script; it's tightly written and the humour is on point. And to take a subject as grim and relevant as this, to have it presented in a way that will have an appeal to a wide audience, is not easy. We come across scripts regularly and there are only a few writers who could crack it and I also thought that if you are making a film that has a point to make and it's taking up an issue as important as this, then it's most beneficial to package it in a way so that it reaches out to everyone. The best way to reach out to as many people is by providing the audience with an entertaining product without being insensitive to the topic. I felt like Jasmeet (K. Reen, director) had found that sort of a balance. 
As a person, I spoke to Jasmeet and later the team at Red Chillies Entertainment and Eternal Sunshine Productions and interacted with other actors at the table readings. One thing was sure that everyone was aware of the topic we were dealing with and they were sensitive about it, and sometimes that is all that guarantees what you need. I remember Jasmeet mentioning that trying to be as right as possible is being sensitive about it. 
How was it collaborating with first-time director Jasmeet?
Roshan Mathew: A couple of things that I admire about her is that she never looked like a first-time director on the set. She is working with big production houses, some big stars, and an actor from the South that she has never interacted with. She has a very senior cinematographer (Anil Mehta) on the sets, and she has kept the environment very correct for good work to happen. I am sure there were constraints that she had to deal with, but she never let any of them affect the space or the actors. Being able to manage it and make a good film in your first attempt is a big deal and the kind of subject she has decided to speak about, the humour in her writing… I have so much love and respect for Jasmeet.  
What were the learnings from your co-actors – Alia Bhatt, Shefali Shah and Vijay Varma?
Roshan Mathew: I loved the screenplay because Jasmeet had written four kick-ass characters. Zulfi would be my pick, no matter what character I was offered, but I was curious to know who the other three actors were because there would be so much to do with the other three characters and when I got these three names, I felt it's a brilliant cast. 
All three of them are actors for whom I have so much respect and love. All three of them are huge inspirations for me. Alia in Raazi and Udta Punjab, Shefali's Delhi Crime and Dil Dhadakne Do, and Vijay's almost all films… but Ok Computer, as not many have watched it. 
It was great to play my part with them and most of my scenes were with them and I fully enjoyed it. Coming from the Malayalam film industry, where I primarily work, the way scenes are locked and filmed, that process was slightly different in Darlings, so watching these three actors helped me a lot. Choked (available on Netflix) somehow felt very close to home in terms of the filming experience and it was a school of thought that I felt more comfortable with. Darlings was different for me, and watching them do their scenes, which I was not a part of, helped me just as much as doing the scenes with them. 
Pictures from the shoot posted on social media gave the vibe that the energy on the sets was high. Did you all sense that you were conjuring some magic while making the film? 
Roshan Mathew: I am never certain how something will be received while we are shooting. I can certainly tell when something is not going well and that wasn't there in Darlings, and that is enough because you are coming into a project where you are very excited. I pick up projects where the excitement will last from the time I read the script to the time I get down to filming. So Darlings had enough going to keep me charged up and excited. 
I just didn't want anything to go off while we were shooting and that didn't happen. And then, we shot mostly in single schedules, so we made friends. We connected as human beings would do, coming straight from a lockdown, happy to be working again and meeting so many people again. I knew a couple of people from before, and I remember towards the end when Shefali (Shah) and I were wrapping, I didn't feel like going back to the vanity van. So if there was turnaround time, I would just hang around the set, sit, chill and chit-chat with the other actors. The friendship developed, and it was a pleasant bunch of people to be around and now all of these are sweeter since the audience has liked the film.
Thanks to the OTT platforms, where your films are streaming, you don't need to be introduced to the pan-Indian audience. How does that feel?
Roshan Mathew: Hmm, the feeling is great! I don't know how else to put it. (Smiles) I started doing films in 2015, and around  2018 I felt like was getting to do the kind of films I wanted to do, films that would make me work harder and try to get better. Then the lockdown happened and I felt maybe all of this was leading up to nothing. 
But through the lockdown, I had Choked, which released on Netflix, which suddenly opened up so many doors. It re-energised me and made me feel like things were still possible, and the world wasn't ending. Then I also did C U Soon, which came out during the lockdown, and because of these OTT platforms a lot of us have stayed afloat. 
The kind of accessibility it provided gave a lot of comfort to the audience and another lease of life to the artistes out there, who were just waiting to put their work out somewhere, so I am very thankful for it.
The Malayalam film industry is respected across India for the kind of content it produces. Is it an advantage that people take you with a lot of seriousness everywhere?
Roshan Mathew: Yes, I guess so! Sometimes I feel I get undue credit for all the good things that are happening in the Malayalam film industry. Even when I was doing Darlings, everybody used to come and tell me, 'You guys are doing some amazing work out there'. I am doing very little of all the work that is happening out there, but it feels good that this is an industry where interesting work has been happening consistently. 
We have platforms that can provide pan-India accessibility for the work that we were doing and that everybody started to watch and take notice of is a big factor. I remember when I used to live in Mumbai for four or five years, there used to be good Malayalam films as well, but they were in very few theatres and the show timings were not convenient, so I had to give them a miss. I wished there was access to them, rather than waiting for when I would be home to pick up a DVD and watch it. Now, with OTT platforms, it's reaching everywhere at the same time and there is no reason why we would be limited to geographical contexts and surroundings. Every city in India is a polyglot community, so there should be no reason why we should restrict ourselves to films made in only one language.
Talented regional actors have the challenge of the language, but you are fluent in Hindi. That must be helping you to be open to a lot of options…
Roshan Mathew: I mean, it's an advantage when I can think in Hindi when I am performing, and I am comfortable with the language and not stressed about it. I don't know if it's any other language apart from Hindi, English and Malayali, how confident I would be. I have a lot of people to thank, like Jasmeet, for making me sound as convincing as possible as Zulfi, a migrant who had settled in Byculla many years ago and believes he is a writer. I lived in Mumbai for a while and I used to ask my friends to talk to me in Hindi. I have a sister who is four-and-a-half years older than me, who's a huge fan of Hindi films. When we were young, she never let me touch the TV remote and I had to watch what she was watching, so that helped. 
After collaborating with Anurag Kashyap for Choked and now with the likes of Red Chillies Entertainment and Eternal Sunshine Productions, are you selective about the kind of people you want to work with? 
Roshan Mathew: People are a huge part of my selection. I am equipped with who I want to work with, rather than what kind of work I want to do or what kind of characters I want to play. I don't have any plans and I go with the flow. From what comes to me, I pick what's exciting for me. I pick work based on multiple reasons, but people are one of the things that keep recurring.
What's next for you? 
Roshan Mathew: I have a couple of exciting releases coming up, like Oru Thekkan Thallu Case, an adaptation of a popular novel, followed by my first Tamil film, Cobra, with Vikram sir. There is an exciting series that I shot last year, which will take its own time and it's another project I am looking forward to. Then, there is work that I am going to start and I am excited about it as well. 
And how are you reacting to the female adulation from across India and beyond?
Roshan Mathew: (Smiles) I am extremely flattered as it was a surprise. I didn't expect it and, very honestly, I am not trying to be humble… but, of course, who wouldn't be happy! In 90 per cent of the messages about Darlings, I am referred to as Zulfi, and 'Zulfi is very cute'. (Smiles)