Hit & miss: Shubh Mangal Zyada Saavdhan
Far from perfect, but an important film in bringing homosexuality into mainstream movie focus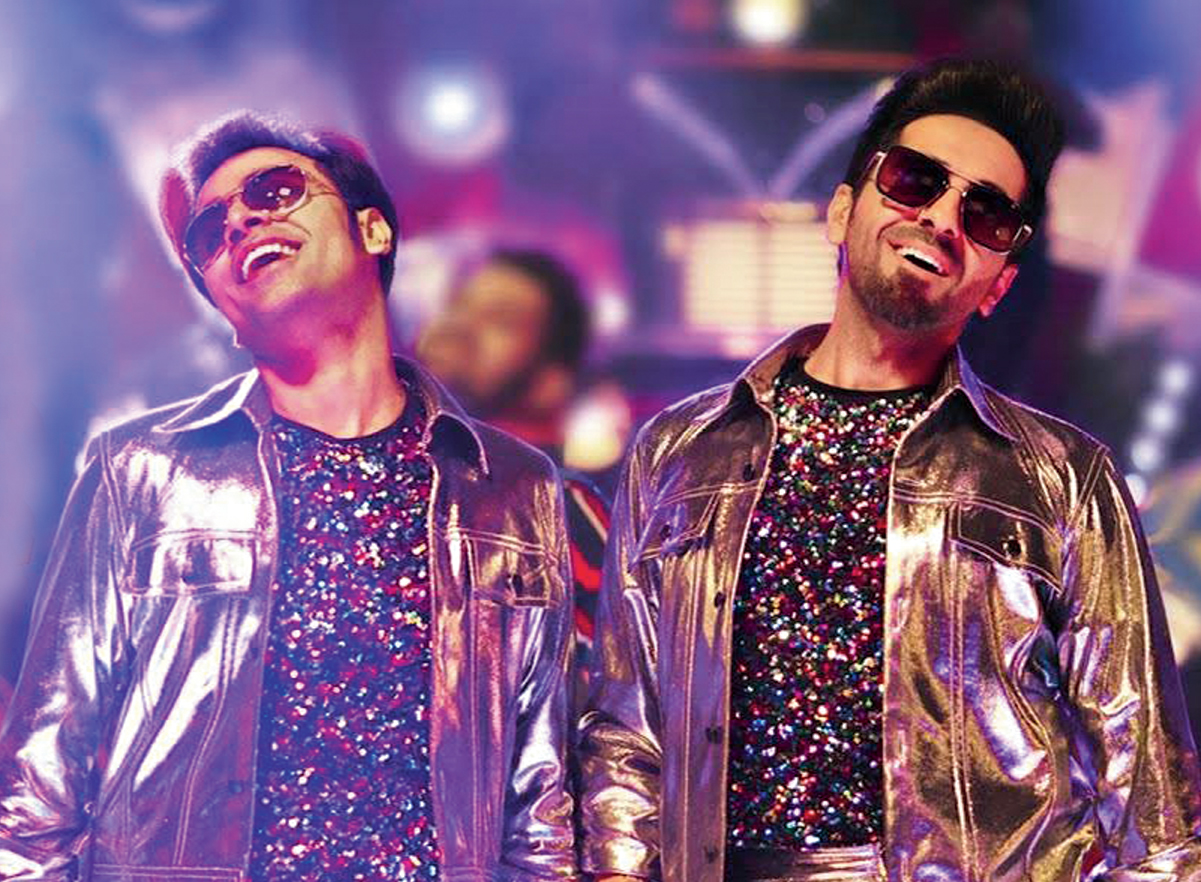 The film benefits from its full-canvas treatment and a certain audaciousness in theme and tone. Make a date with it and stick around till the end to watch Bappida pop up to nod his head to Yaar bina chain kaha re.
(Poster of the film)
---
Published 21.02.20, 10:29 PM
|
---
The'bhoot' of Dilwale Dulhania Le Jayenge looms large over Shubh Mangal Zyada Saavdhan. In a good way, may we add, and primarily serving two purposes. First, it lends a typical Bollywood flavour to a subject that is anything but typically Bollywood, allowing it to take many a conventional Hindi film trope and turn it on its head. Second, it uses familiar moods and moments from the Aditya Chopra-directed cult romance — from one lover perched at the door of a train compartment extending his hand out to the other on the run on the platform to the lovers seeking parental acceptance to the conservative patriarch (who at one point is referred to as Amrish Puri, who played the stern dad in DDLJ) telling his progeny, "Jaa, jee le apni zindagi". Except that here it's not Simran… it's Aman. And the one who makes Aman go "zara sa jhoom loon main" is Kartik (thankfully, not Aaryan). But this is 'love aaj kal' and in Y2K20, Bollywood has finally brought homosexuality to the mainstream, normalising and treating it like any other romance. Whether it's Raj and Simran, Rahul and Anjali or Kartik and Aman.
But Kartik (Ayushmann Khurrana) and Aman (Jitendra Kumar, simply credited as Jeetu here) are more Jai and Veeru than Raj and Simran. And that's not just limited to them singing Yeh dosti on a bike. The two have a sparkling yet grounded chemistry that makes their friendship — and relationship — instantly relatable. No wonder then that Aman uses everything from dopamine to cortisol to oxytocin to articulate the "chemical locha" that just a simple glance from Kartik incites in him. But his part-disbelieving, part-distraught parents — played winningly by Gajraj Rao and Neena Gupta — are in no mood to say "badhaai ho".
Debutant director Hitesh Kewalya — also credited with penning the screenplay and dialogues and who co-wrote Shubh Mangal Saavdhan three years ago — makes a pertinent point, questioning why our society still cracks the whip on homosexuality and not on homophobia. There is repeated stress on the need for inclusion and acceptance and veiled snubs to casteism and archaic rituals, with Kewalya using humour to wind his way through the treacherous terrain of homosexuality and homophobia.
The results are both hit and miss. Shubh Mangal Zyada Saavdhan manages to elicit some genuine guffaws on the strength of its zingy one-liners, but quite a bit of the humour feels forced, often consciously being played for laughs. Like other films in this genre — 90 per cent of which star Ayushmann — the humour is mined from the quirks of the small-town family. The Tripathis are the Tenenbaums of Allahabad, headed by its patriarch Shankar, played by Gajraj Rao. Shankar is a 'scientist' whose latest experiment involves the creation of a strain of black cauliflower that's invited the ire of local farmers. When the film opens, we see him and his largely dysfunctional family navigating through a farmer protest outside his house even as they prepare to marry off his crackpot niece Goggle (a fun Maanvi Gagroo), so named because she sports sunglasses through the length of the film. Familiar prototypes pop up. Manu Rishi Chaddha brings both froth and feel to his Chaman, but it's Neeraj Singh as the family's cheeky nephew Keshav who runs away with the film's best lines.

The Tripathis are clearly not the most rational people around and all hell breaks loose when Aman, working in the big city, comes back home with boyfriend Kartik. But the family's opposition to the match hardly ever gets ugly, with Kewalya using a largely hyper-real and exaggerated tone to make his unconventional subject palatable for the family audiences. That's evident in how the kissing scene between the boys — right in the middle of a wedding and a not-so-subtle nod to another '90s cult love story, Aashiqui — is played out. It's easily one of the film's best moments, powered by enough humour and heart to propel the story forward.
Shubh Mangal Zyada Saavdhan's biggest achievement lies in the fact that it steers clear of caricaturising and stereotyping homosexuality, something that Bollywood has largely been guilty of. Aman is the Everyman while Kartik is the more flamboyant of the two, but there is nothing in their walk and talk that defines their sexual orientation. Ayushmann, expectedly, owns the film, but it's web star Jeetu — making his Bolly debut here — who grounds it.
But the film does disservice to their chemistry by not focusing enough on the two. Shubh Mangal Zyada Saavdhan ultimately becomes a tale of the Tripathis and though Neena Gupta and Gajraj Rao are a delight together, the scenes featuring the two — and then the larger family — end up being a tad repetitive. The film also tends to become clunky in parts, especially when it tries too hard to blend message with mirth.
Shubh Mangal Zyada Saavdhan may be far more perfect, but is an important first step in bringing homosexuality into mainstream movie focus. It benefits from its full-canvas treatment and a certain audaciousness in theme and tone. Make a date with it and stick around till the end to watch Bappida pop up to nod his head to Yaar bina chain kaha re. #PureGold