Here's why 'And just like that' has left this 'Sex and the City' fan asking for more
With two films already made, this isn't the first sequel to the premise set by SATC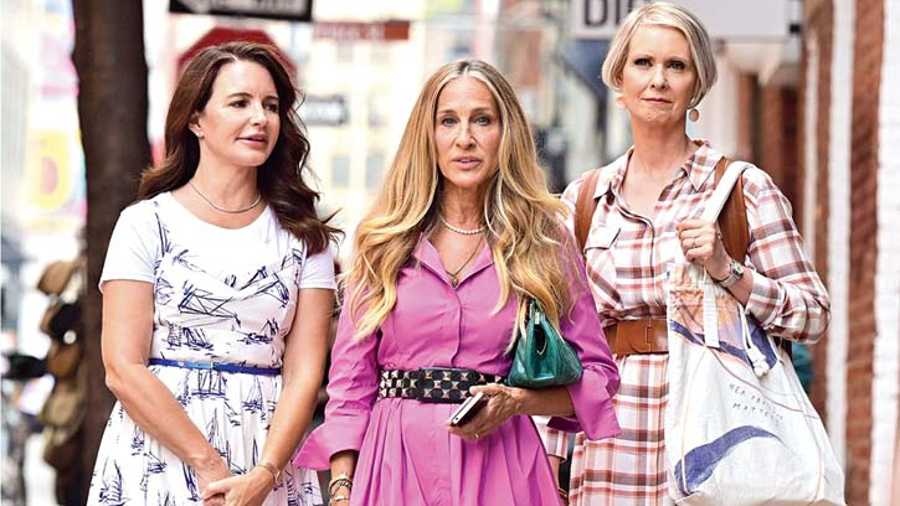 From left: Charlotte York Goldenblatt (played by Kristin Davis), Carrie Bradshaw (played by Sarah Jessica Parker) and Miranda Hobbes (played by Cynthia Nixon)
---
Published 08.02.22, 08:55 AM
|
---
I have to admit that like most other people with a similar screen palette, I was excited about And Just Like That too. I belong to the strata of the demography that was introduced to its predecessor — the famed Sex And The City (SATC) — much after it originally aired in 1998. The show that followed the lives of narrator Carrie Bradshaw (played by Sarah Jessica Parker) and her friends Samantha Jones (played by Kim Cattrall), Charlotte York Goldenblatt  (played by Kristin Davis) and Miranda Hobbes (played by Cynthia Nixon) caught the fancy of viewers across a wide spectrum as we followed the quartet's life in New York City through six seasons and two films. A revival was in the talks for years so when it was finally announced, Instagram went on overdrive with the teaser being shared by all and sundry. Later, when the pilot finally aired in December last year, HBO Max quickly called it their highest-viewed debut. But that's also when the tide of excitement started ebbing.
Let us start with the introduction of the "Big" plot twist in the first episode itself — the death of Carrie's husband John (played by Chris Noth) that was caused by over-exertion on a Peloton and how the tragedy played out hyper-dramatically with Charlotte's elder daughter, Lily's piano recital juxtaposed with it. And bam! Here was the crux of the season — a newly widowed Carrie trying to cope, with a little help from her friends. Of course the snazzy quartet was now reduced to an unholy trinity as the (in)famous squabble between Cattrall and the rest is very well-known by now. So while Charlotte tried to micromanage every second of her parenting and a newly-out-of-love Miranda dived back into education with a course at Columbia University and all of them collectively attempted to be "woke", there was no clever quip (innuendo would be more like it), from Samantha to keep the humour alive. Worse still, Samantha's disappearance was explained by a bizarre story of a beef between her and Carrie that forced her to relocate cities and her character was now limited to sporadic texts from across the pond.
With two films already made, this isn't the first sequel to the premise set by SATC and therefore, viewers are aware that the evolution of these characters could be shown in a way that was more natural to them. However, the storylines of each of them do them injustice in the way of making them try too hard to stay relevant. And this is where step in the women of colour that each of the three main characters befriend — Carrie's real-estate-agent-turned-friend Seema, Charlotte's posh friend from her kids' school mom-gang, Lisa Todd Wexley, and Miranda gets two in the form of her law professor Dr. Nya Wallace and her new love interest Che Diaz. While cultural relevance is always welcome, a forced act with women of colour and a non-binary love interest thrown in, in half-fleshed-out characters appear to be unsavoury for the spin-off of a series that was considered to be way ahead of its times when it first aired.
Carrie continues to be her usual fashionable self, even when dealing with grief. However, the way in which she buys and sells her posh Manhattan real-estate based on emotion, her treating Big's million-dollar endowment to his ex-wife as simply a possibility of emotional adultery and nothing else, her wide-eyed wonder at the mention of "Diwali" and the ease with which she is willing to write a cheque instead of volunteering to paint a Brooklyn school seem a little unlike the Carrie we had come to endear, irrespective of the financial progress she might have made. And the less I speak of the "sari-gate" in the Diwali episode, the better as much has already been written about it.
Miranda's decision to give up her marriage with Steve and fall head over heels in love with the "cool" Che as she stumbles her way through her life, trying too hard to be politically correct are nothing like the practical, level-headed Miranda we knew. In fact, I daresay that Miranda was the most painful to watch in this entire series — especially when she gives up her plans, her marriage and a coveted internship to move to Los Angeles with Che! In my opinion, Charlotte's storyline seemed to be the most natural progression to her character as she tried her best to keep up with her children's lives and being the uppity Manhattan mom that she always wanted to be.
But there were a few larger redeeming bits in the series too. For instance, watching Carrie try to get back to dating and struggling like anyone in her circumstances would, the plot-lines for the fierce Nya and Seema, and Carrie's podcast with Che were storylines that have potential. But herein also lies the problem with the series as SATC was all about the four fun girls, out to take NYC and here I am, impressed by the prodigal sidekicks — and wanting to know more of their stories! Without giving away more, the finale, too, did not do much in tying up the loose ends. I mean, if you are going to wait for the final episode to show the biggest fashion moment of the SATC spin-off as Carrie dons a Valentino to scatter Big's ashes in Paris, the lukewarm reception of And Just Like That is no surprise. However, as someone bred on the story of the fierce friendship between the four ladies of SATC, I will say that I would still like a second season just so that more meat could be added to this skin-and-bones revival — and of course to find out if Samantha makes a comeback somehow!