Harman Singha on hosting a travel show, shooting with Dharmendra and having Rannvijay Singha for brother
The actor, anchor and writer will be seen in a cameo in Karan Johar's Rocky Aur Rani Ki Prem Kahani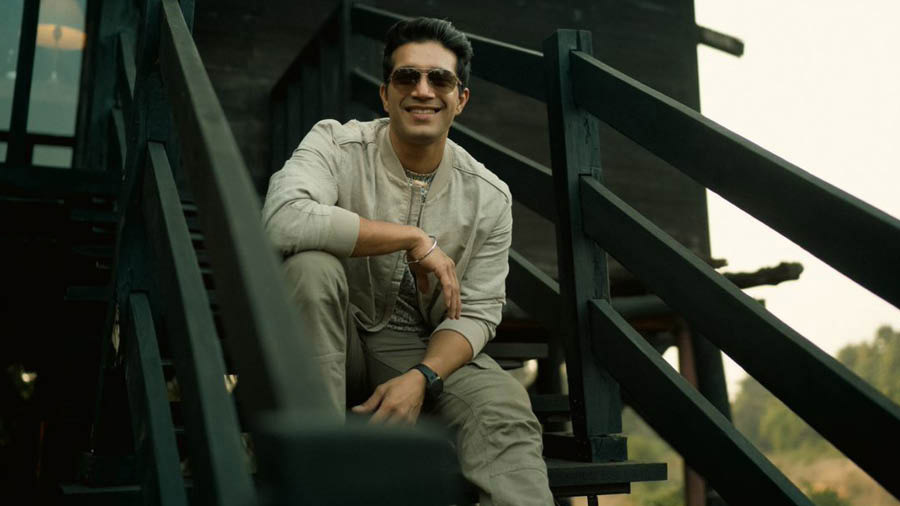 Harman Singha is a co-host of India's Best Resorts on Zee Zest.
Instagram
---
Calcutta
|
Published 01.02.23, 03:12 PM
|
---
It is hard enough to make it in the world of entertainment in a single role. But doing so across multiple capacities as actor, writer, host and director takes the perfect combination of talent, hard work and luck. Harman Singha has had all these and more across a decade-long journey that has seen him go from a confused 20-something in Mumbai to one of the most dynamic professionals in Indian showbiz right now. 
With India's Best Resorts streaming on Zee Zest, a travel show he co-hosts, The Telegraph Online caught up with Harman to learn more about his initial days in Mumbai, the support of his brother Rannvijay Singha, helming travel shows, being a part of the ensemble for Rocky Aur Rani Ki Prem Kahani and more. Edited excerpts from the conversation follow.
The Telegraph Online: You started your career in the merchant navy. How did you transition into acting?
Harman Singha: I was raised in a family where my father was an army officer and my mother also came from an army background. My elder brother — Rannvijay Singha — wanted to join the army before changing tracks. I felt that the merchant navy was like the army, but slightly easier. I'd also get to travel the world in the process. Once I started, I actually completed the hardest part, which was the cadetship. That's where the real ragada (toil) is. But it soon began to feel like a corporate life at sea. My last captain told me how it's a repetitive job with the same, old routine, and that if I wanted to try something else, I should leave. It also helped that I had the option to come back to the merchant navy within five years if nothing else worked out.
I packed my bags and came to Mumbai, where I started visiting television sets with Rannvijay. I didn't yet have the confidence to do what he was doing, but I was willing to try things out. Soon enough, I fell in love with the world of entertainment and started interning and working as an assistant director. My parents only found out after four months! For the first three years of my time in Mumbai, I did whatever I found. I was the director's assistant on MasterChef India and it was gruelling work. But I learnt a lot from the challenge and it made me more confident. Then, when I stepped on to a film set for the first time, I realised that this was my calling. It was a Nagesh Kukunoor set and everything was so precise and beautiful. That's when I knew that I'm definitely not going back to life at sea. 
How important has your brother Rannvijay Singha been as part of your journey in the entertainment industry? 
Harman Singha: He's been my third parent. I remember having hilarious conversations with him and confiding in him that the merchant navy wasn't meant for me. I had no idea of what to do and was even contemplating going to Goa to become a bouncer. But he always had my back. Back in the day when he had a choice between the army and MTV, our mother had stood up for him and spoke to our father about it. He did the same for me when it came to convincing our parents about my career in Mumbai. He was doing really well for himself but it was also not a case of him exercising nepotism to help launch me. But I definitely benefited from his goodwill. Everytime I mentioned to someone that I was Rannvijay's brother, it brought a smile to their face. And he didn't just help me. There was a band of nine to 10 young guys who'd be there at his house trying to make something happen and asking for advice. He was always there for us. You have acted, hosted, written and even done stints as an assistant director. Which one of these roles do you enjoy the most?
Harman Singha: I think writing has always been my primary thing. Once I got my footing in the industry, I knew I wanted to write. I had never been able to connect much with the ultra-heroism of Bollywood films and my exposure to western content encouraged me to try a different kind of writing in India. I wrote with Rannvijay as the lead in mind for my scripts and in 2013 even started directing a film starring him. Unfortunately, that wasn't completed, but it at least gave me the joy of seeing people turn up on set to realise my vision. I had also entered the web space long before the likes of Netflix. I had written a show called A.I.S.H.A. My Virtual Girlfriend for Arre, which did really well and won international awards. That encouraged me to keep writing. I've had the pleasure of learning more about the craft from the likes of Nagesh Kukunoor and Abbas Tyrewala. They've been my biggest writing mentors.
You have been associated for a long time with hosting NBA action in India. Tell us about how that happened.
Harman Singha: For me, hosting the NBA (for Indian audiences) was a dream job. My mom was a national-level basketball player from Punjab, my dad played in the army, Rannvijay was a national player from Delhi, and I also played junior nationals for my school. If you put our family into a small room, the first thing we'll think about is where to hang a basketball ring!
Rannvijay was already working for the NBA and when they asked me to do a test, I jumped at the opportunity. There weren't many people in India who could talk about basketball in both English and Hindi. I was selected and was delighted to be associated with an international brand alongside doing shows for Discovery.
To be associated with the NBA for five years has been a privilege. I get to learn more and more about the game and that helps my confidence on air. Having said that, going live is nerve-wracking. Kudos to all the sports presenters who do it day in and day out. How has the experience of hosting India's Best Resorts on Zee Zest been so far?Which places have left you spellbound?
Harman Singha: I consider India's Best Resorts as my karmic payoff for doing really tough travel shows before. Shows for which I had to work out with pahelwans, practise for snake boat races (in Kerala), be underwater in a submarine with the Indian Navy and more. They were fun but physically daunting.
But this is a luxury travel show where I get up in the morning in a beautiful resort and ask the creators what we're doing for the day. Sometimes it's a classic breakfast experience in a pool, sometimes it's visiting a coffee estate, sometimes it's doing a nature walk. It's all wonderful! The best thing about the show is that it has something in it for everyone, be it adventure or luxury or just discovering nature. In terms of the places that have stood out for me, I'd say the St. Regis Goa Resort, the Hampi Archaeological Ruins (in Karnataka), Gulmarg (in Kashmir) and the Pench National Park (Madhya Pradesh).
With the rise of influencers and vloggers, how has travel storytelling evolved in the last few years?
Harman Singha: Influencers are like the AI bots who'll come and take over all our jobs! Just kidding! But their rise has taught me how to value authenticity and subjective experience. A lot of influencers and vloggers like to play a character. For me, what works best is to be spontaneous, to be connected with your actual emotions. It's about staying true to the moment and celebrating the place instead of yourself. Tell us about your role in the upcoming film Rocky Aur Rani Ki Prem Kahani. What was it like working with Karan Johar?
Harman Singha: I'm a small part of a big film. My role is a critical cameo of five to seven minutes, right at the top of the film. Karan Johar is directing after several years and it's a pleasure to work with him. The movie is a new-age family drama with a lot of comedy. Everyone gets equal respect on a Dharma set and shooting there is like a five-star experience.
What was your standout moment or best memory from being on set?
Harman Singha: I didn't have scenes with any of the lead cast like Ranveer Singh, Alia Bhatt, Shabanza Azmi or Jaya Bachchan. But I did get to be around Dharmendra, who's been one of my favourite actors and is also my dad's favourite. I play a version of his character in the film and just being in his presence was memorable. Even at 87, he can fill the room with a single smile. I remember him filming a take, speaking to the personnel present, watching it with his glasses on and saying: 'Isme thoda aur dard dalte hain' (Let's put some more pain into this scene).
What can you tell us about your upcoming projects?
Harman Singha: The second season of Potluck (on Sony LIV), an urban drama with a lot of comedy, is in the making. It's a show where I have free rein to do full-fledged comedy. I'm also going to play the antagonist in an upcoming T-Series film called Yaariyan Forever. Playing an evil character is always the most fun because you can be badly behaved on set!
Your advice for budding actors or those looking to make a breakthrough across roles in the entertainment industry.
Harman Singha: I'd like to share some of the best advice I received. Whenever you get into a new project, don't assume you know everything about it. Go back to the drawing board and have the same enthusiasm and energy that you had at the start. Hang on to the essence of your original idea. That'll help keep you in place as you might lose objectivity during the process of creation.
When it comes to acting, some people are flawless, but people like me have to do the grind.
Acting doesn't come easy for most. You have to control your voice, your breath and your body. In most cases, you need to know how to dance and do some martial arts. All this takes years to master. If you fall in love with these things, life becomes easier. But if you're chasing fame, you'll eventually compromise and not feel true to yourself. Which is why I don't do television dailies or soaps. To be a good actor, you need to have integrity and honesty. And some also have that innate intelligence in their eyes. Like Vicky Kaushal. You see them and believe them in whichever role they're playing. It all seems natural and flawless.