Gulshan Devaiah is on a high after his twin act in Mard Ko Dard Nahi Hota
My time will come, says Devaiah known for his performance in Hunterrr and Ram Leela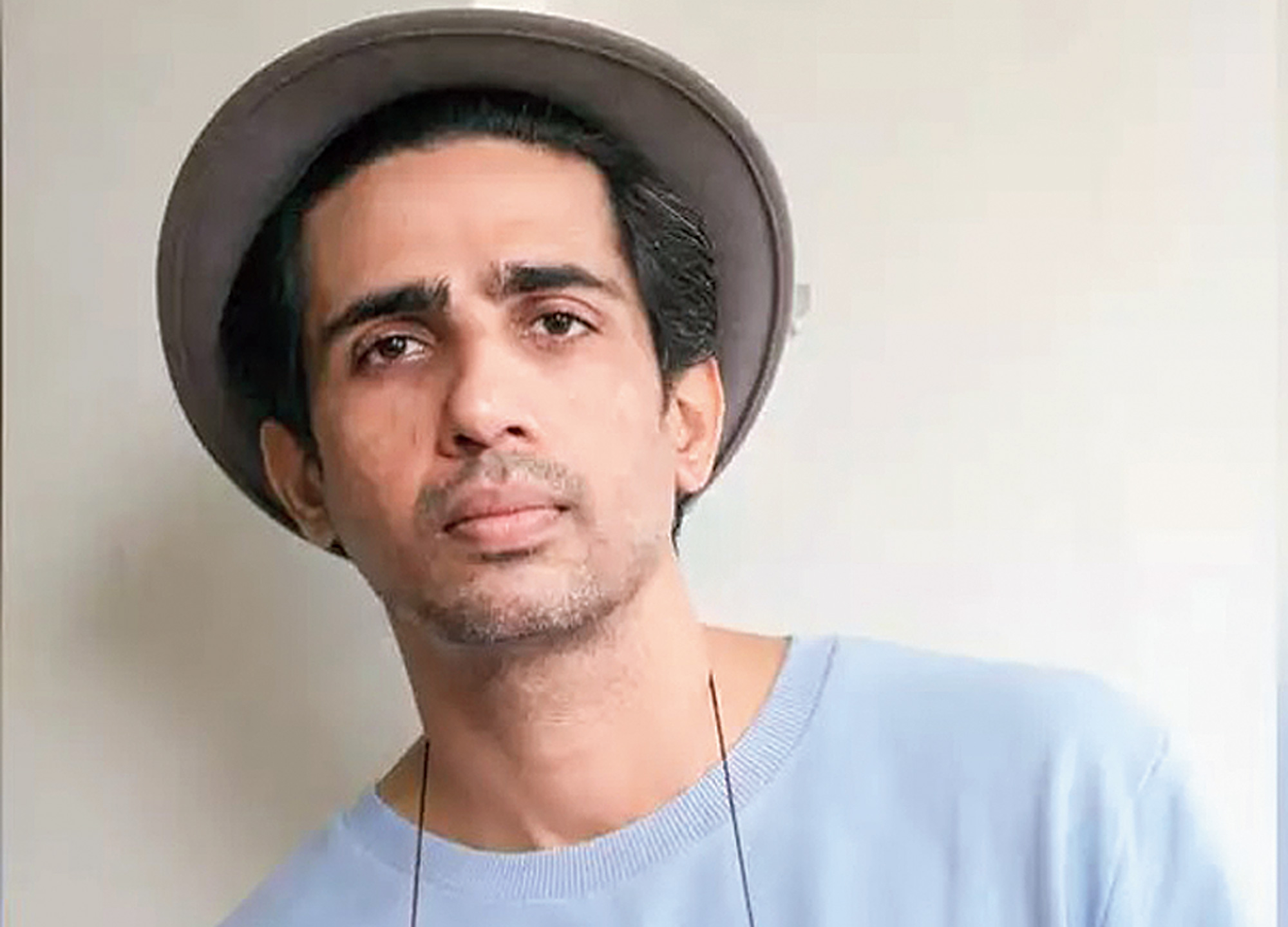 Gulshan Devaiah
Image: The Telegraph
---
Published 27.03.19, 03:04 PM
|
---
He impressed with his first big role in the 2011 film Shaitan. Since then, Gulshan Devaiah has balanced the big (Ram-Leela) with the indie (A Death in the Gunj) and managed to slip in the odd wacky (Hunterrr). In the same space is his turn as the good-evil twin brothers Karate Mani and Jimmy in Mard Ko Dard Nahi Hota, that opened to positive reviews last Friday. A chat with Gulshan on the film, the road ahead and why he will never ask for work.
It's been about five days since Mard Ko Dard Nahi Hota hit theatres. Has the response, despite the limited release, been up to expectations?
I was expecting people to react positively to it and that's what happened. When you have a good product in hand, your gut always tells you that it will work. The reaction also validates the fact that people do want to see something different, that they will give a chance to fresh content.
Yes, this film has a lot of cliches and homages, but everything's been turned on its head and told in a refreshing manner. That's all that creative people like us need — a small chance to show the world that we can churn out different content. Word-of-mouth is what we were banking on and that seems to be going strong. I am sure the film will grow, the audiences will grow and eventually, people will come and the film will be given a fair chance.
None of the actors in the film have the track record of being able to pull in audiences. Yes, people do think that I am a good actor and they give me a lot of respect, but it's not good enough for them to come and see my film. So the idea is to go up one step at a time, one person at a time, one film at a time….
Everyone's loving your Jimmy!
They love Jimmy because he's entertaining! At the end of the day, no one can see the hard work that's gone into playing (Karate) Mani! (Laughs) It's fine… people shouldn't be overwhelmed by stuff like, 'Oh, this actor worked so hard!' At the end of the day, our performances are only illusions we create. And Jimmy is working so well with everyone because he's fun, over-the-top and kind of a WWE-styled villain. He breaks all the rules, but in some places, he's quite principled (laughs) and the audience is loving that contrast. I had a lot of fun playing Jimmy, but as an actor, Mani is closer to me; I feel more satisfied for having been able to figure out Mani.
As Jimmy, did you have fun lounging in that bathtub with red petals like that iconic scene in American Beauty?
(Laughs out loud) Ya, ya… it was great fun. In fact, it was quite a relief because I was on one leg all the time playing Mani; when I had to play Jimmy, I was like, 'Thank God, I don't have to be on one leg now, I can stand on both my feet'. I can't tell you how much of a relief that was; we take these things for granted… the fact that we can stand on our feet. When you have to spend an entire day on one foot and then you put it down, it's heaven. I think that sense of relief also added to Jimmy's performance… I think I kind of exploded! (Laughs)
Was it an immediate 'yes' when you were offered the parts?
Ya, pretty much. Just naam ke vaaste I told him (director Vasan Bala) that I wanted to read the script, but I anyway knew I was doing it. I just wanted to read it once to explore the scope of these two characters. Vasan is somebody I have worked with before (in Peddlers, still unreleased).
To put it very simply, I like him. I like his sensibilities and I like the fact that he stands for cinema… he's a huge cinema lover and fights for the survival of cinema. He is constantly influenced by old-school cinema, but he's a very modern and progressive filmmaker. That's evident in his style of writing, especially in the way he's written Supri's (played by Radhika Madan) character.
There was absolutely no doubt that I was doing the film, but I did have to consult my doctors because I was undergoing rehabilitation for a major knee surgery. Actually, I didn't consult them; I told them, 'I am doing this film… now you take care of my knee!' (Laughs)
Were you always on board with the campy look and feel of the film?
To be honest, no. I think once I started working on it, I started understanding the sensibilities of the film and what Vasan was trying to make. Years ago, I had worked with him on a short film called Geek Out, which is a sort of a precursor to Mard Ko Dard Nahi Hota in terms of sensibility, although the plot and the characters are not connected. So it was sort of easier for me to come on board the campiness because we had done this before.
Growing up in the '80s and '90s like the rest of us, was the film also a nostalgic ride for you?
Absolutely! I was a huge wrestling geek growing up and you can see all those references to John Cena and the others in the film. Jimmy, as I mentioned, is a cheater and a coward and these are actually classic attributes of pro-wrestling villains. These villains are highly entertaining and sometimes, an even bigger draw than the heroes. I have always fantasised being in a wrestling ring and doing manoeuvres and high-flyers, and I was kind of living that fantasy through Jimmy. And Mani is the classic 'drunken master', the kind who wallows in his sorrow and suffers in his own imagination.
The 'Kamal Haasan fan' as Jimmy refers to Mani in the film…
(Laughs) Yeah, Mani wasn't really intended to be Kamal Haasan-esque, but strangely, I do have a Kamal Haasan-esque way of doing things at times, like my mannerisms or the way I move my mouth sometimes. And this was actually pointed out to me by Mr (Sanjay Leela) Bhansali (who Gulshan worked with in Ram-Leela) and I was like, 'Oh, he's right'. So I kind of use that to my advantage.
Growing up, I did watch a lot of Kamal Haasan films, but I wasn't really a die-hard fan. In this film, I didn't model my acting style on him at all, some of it Vasan had already written and some of it we discovered during the process of prep and then during shooting. There is a comedian called Vadivelu in Tamil cinema who I really like and I put a bit of him in my performance. I also put in Pankaj Tripathi and a little bit of Irrfan, who I am a fan of. Sometimes when you are in the flow, you don't actually realise where these influences seep into your performance.
I have to tell you that most of Jimmy's funny lines are all Vasan's credit. People are saying stuff that 'Yeh toh pucca Gulshan ne improvise kiya hoga', but the funniest lines, like when Jimmy tells Supri in the climactic fight, 'Uthne ka kya zaroorat hai? Udhar hi let ke dekho' all came from Vasan.
Compared to the last few years, are you enjoying your work more now in terms of the choices that are coming your way?
Yes, more than before for sure, but I would like it to be a little more consistent. I can't really blame anyone but myself for it because I like to be versatile and diverse in the choices I make. That means I often have to turn down things and wait for interesting opportunities that do take a long time to come. I have to walk the tightrope of being true to myself and my craft and also do what's right for my career. I think I have slowly accumulated some love and respect for my work from within and outside the industry. And I do get compliments like 'He's an underrated actor'.
I don't take it seriously, but it's definitely a very warm feeling. I think the cheer for me has increased a little more in the last few years (smiles)… people want good things to happen to me.
Are you someone who would actively approach a filmmaker for work?
Not at all. In my entire life, I had to do it twice. The first time, I don't know what I was thinking when I did and the person told me he wasn't working on anything then, though I knew he was. The second time happened a few years ago when I was going through a phase of less work and self-doubt and I got hold of numbers of three filmmakers and sent them messages. One of them did reply and I did get an audition out of it, but I didn't score a part; the other two didn't bother replying. I felt a little embarrassed honestly because this is not my style. I find it very difficult to ask people for work. I did that with (director) Sriram Raghavan and I put him in a spot (laughs). I don't want to do it ever again.
After the release of this film, the floodgates have opened in other mediums. Over the last two-three days, everyone I know and have spoken to wants to cast me in a web series! I am very happy that kind of work is coming my way, but my first love has always been cinema and I consider myself a cinema actor. My first priority is films but I have done web series in the past and will continue to make exceptions. The one thing I have a problem with is when films go directly to digital.
My work is out there for everyone to see and I hope people give me wonderful opportunities. I not only want to work with wonderful filmmakers, but also shoulder more responsibility when it comes to my roles. I think it will come... my time will come. Pep Guardiola, who now coaches Manchester City and became famous with Barcelona, says 'What is important is how you play… the results will come'. Though I don't like him at all and I am an Arsenal supporter (laughs) I completely agree with what he says.