Good ol' fish & chips
Read more below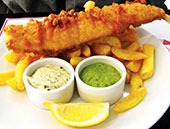 ---
Published 13.10.11, 12:00 AM
|
---
I was sitting in north Yorkshire on my father's sofa eating fish and chips from the local chippy, a fish and chip shop for those not in the know, wondering why I've never written anything about it in my past random scribbles! A bit of a puzzle to me as it's the only food on my mind when I'm on the flight back home. I can't really think about eating anything else until I get to a good chippy and fulfil that sudden craving.
This was the fourth time in a week that I've indulged in the dirty greasy deliciousness of proper chunky chips — not
those thin, flimsy French fries nonsense — with a nice big piece of crispy batter-fried haddock or cod, always moist and flaky, almost steamed inside of the batter. And of course, a nice big dollop of mushy peas on the side with plenty of salt and malt vinegar.
Fish and chips is one of the most wondrous of food marriages that comes to my mind. Something that I grew up eating at least once a week on a Friday (fish on Friday being an old Christian tradition and all that!) from the chippy next door to the little terraced house where I spent the first 12 years of my life. Actually, the next door with a little street in between and luckily, the owner's son was one of my best mates, or at least I think he was. I remember being in his house quite a lot but maybe I was just loitering. The chippy was on the ground floor and the family lived upstairs. We had chips and gravy or chips and curry and sometimes, steak and kidney pudding with chips and gravy for lunch during the school holidays. This could probably shed some light, along with grandma's soup and suet dumplings, on the making of my large love handles that never quite refused to leave me since!
When I was in London, fish and chips was usually the best-seller on most of the fancy restaurant menus and speaking to a couple of friends on my recent visit, things really haven't changed that much in the 11 years that I've been away.
Here is my rendition of the best fish, chips and mushy peas you'll probably ever make. The method may seem a little time consuming but the result will, hopefully, be worth it. All the recipes will serve 4.
MUSHY PEAS — FISH AND CHIP SHOP STYLE
We'll start with the mushy peas as you'll need to soak them overnight. You'll need around 200g of dried green peas. Soak these in around 1l of water with 2tsp of bicarbonate of soda. Overnight, no shortcuts! The bicarbonate of soda will break them down a little before you cook them the following day. Drain well and cook in around double the quantity of water with a little salt for around 20 minutes in a pressure cooker or an hour or more in a saucepan until thick and stodgy.
TWO DAYS BUT THE BEST EVER CHIPS
You'll need around 4-6 largish floury potatoes, the ones that are white inside and not yellow. Winter is the best season for them and if you are confused, cut one in half and have a look! Bring a large pan of water to the boil. Peel the potatoes and cut into long, thick chips, around 2cm thick. You'll need to blanch these in the boiling water for around 10 to 12 minutes, until they start to break up slightly. If you leave them too long, you'll have potato soup! Then quickly plunge them into ice-cold water. Drain well and leave to dry on kitchen paper.
Next, heat some cooking oil (vegetable, sunflower etc). You can test if it's ready by dipping one of the chips into the oil. If it sizzles then you are good to go. Cook the chips for 8-10 minutes but don't let them brown too much, remove from the oil, drain them well and put them in the fridge until the next day for the best results or until you're ready for the final cooking.
When you are ready, again, heat the oil until it's starting to smoke. Carefully place in the chips and cook for around 2-3 minutes, until crisp and golden. Remove from the oil, drain on kitchen paper and sprinkle a little salt and eat soon after.
CRISPY FISH FRIED IN BEER BATTER
This is a recipe that I had been working on over the past year or so. It started off complicated and has ended up so simple that I can't believe it myself! Anyway, you'll need 4 nice-sized fillets of fish, around 200g each. I suggest baby Calcutta Bekti here as it's the best flaky fish I know in India. Just when you're ready to fry them, quickly make up some batter by whisking together equal quantities (120g each) of chickpea flour (besan) and plain flour together with a little salt and as much of a freshly opened bottle of beer as you'll need to make a smooth batter. You will have to get the consistency of thick cream.
Heat the oil until it'sstarting to smoke. Quickly sprinkle a little salt onto your fish fillets, coat in flour and dip them in the batter until well coated before placing into the oil. Cook for around 4-5 minutes, remove from the oil and drain. Allow it to rest for around 5 minutes. Again bring the oil up to temperature and fry once more for around 2 minutes. This will make the batter nice and crisp and will retain the crispness for up to 10 minutes. Again, eat as soon as possible.
Finally, place your chips on the bottom, fish on top and mushy peas on the side. Serve with salt and malt vinegar and though not how I grew up eating them, a wedge of lemon wouldn't go amiss.