'Good Newwz' review: Akshay Kumar powers this largely ha-ha ride
The actor rediscovers his 'miss'-ing 'funny bone'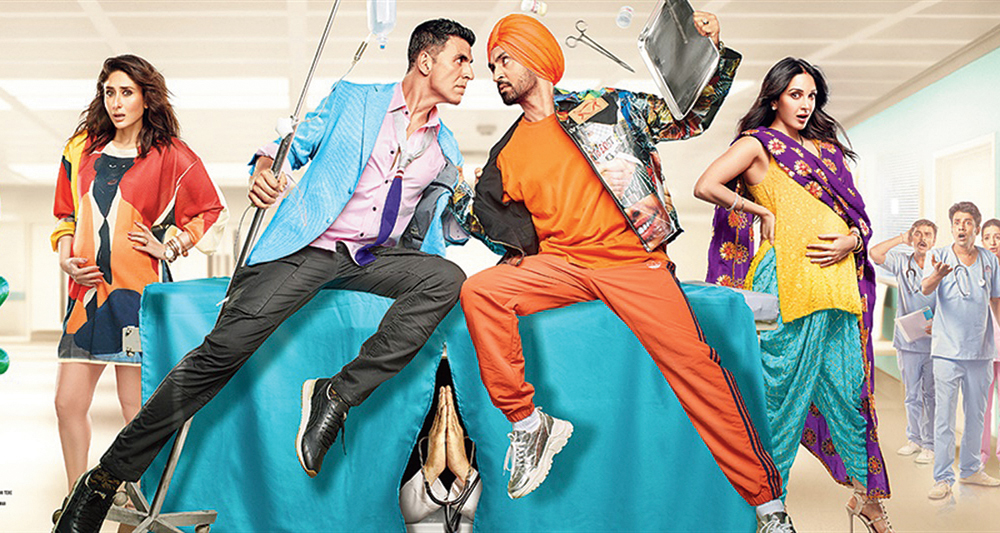 A scene from the movie
Source: 'Good Newwz'
---
Published 27.12.19, 02:18 PM
|
---
On a good day, there is little that can top a deadpan Akshay Kumar turning on his comedic charm to serve up the laughs. Taking a break from haranguing against open defecation and enunciating the benefits of menstrual hygiene, the actor rediscovers his 'miss'-ing 'funny bone' to bring in some much-needed cheer at the end of the year.
Akshay is the life of almost every comic scene in Good Newwz, with the best lines being written for him. Subtle to slapstick, he pulls it off with aplomb, giving us the vintage Akshay we have loved in comedies like Bhool Bhulaiyaa and Hera Pheri. Just watch out for that scene where he breaks into an uncontrollable fit of laughter after smoking a joint. It's a masterclass in doing very little and yet making the viewer bend over with belly laughs. But you do manage to slip in an eye-roll because in a mainstream Bollywood film that so freely and refreshingly throws around words like 'ovulation', 'fertility' 'sperm' and 'sex', the Indian censor board chooses to bleep out 'joint'. But then we hardly ever know what they are smoking, do we?
Well, with Akshay leading from the front, there is a lot of 'hera pheri' in Good Newwz. Specifically, as the trailer had already revealed, of sperm samples. The Batras — Varun (Akshay) and Deepti (Kareena Kapoor Khan) — find themselves in the middle of a sperm mix-up with the Batras — Honey (Diljit Dosanjh) and Monika (Kiara Advani). Being treated at the same fertility clinic, the switcheroo means that Varun's goods have impregnated Monika while Honey's sperm has found its way into Deepti. The two couples — desperate to have a child for years — now find themselves in the middle of a trying situation: to keep or not to keep? More importantly, who has more right on whose child, even if it's still nothing more than an embryo?
This is a clever premise for a comedy of errors and the good news is that Good Newwz keeps it breezy rather than weighty. The first hour, especially, is consistently laugh-out-loud, courtesy Akshay and Kareena. Deepti — constantly aware that her biological clock is ticking — is obsessive about getting pregnant, yanking Varun out of business meetings during the day and evenings at the bar to do the deed when she's ovulating. He isn't hot about the idea of being so clinical about sex. "Aisa lagta hai ki bedroom nahi, surgical strike pe jaa raha hoon," he mutters helplessly at one point.
With artificial insemination emerging as their last resort, Varun and Deepti land up at the clinic of a smooth-talking doctor couple, played by Adil Hussain and Tisca Chopra. But what should have been an almost seamless procedure is goofed up, resulting in the Batras and the Batras being inadvertently drawn into a mess not of their doing. Their initial disbelief gives way to antagonism and finally acceptance, with Good Newwz riding the curve of comedy and sentimentality before galloping towards its predictable end.
The majority of laughs are mined from the dichotomy between the couples — Varun and Deepti are city slickers living in tony south Mumbai, while Honey and Monika are the loudmouths from Chandigarh. But even as stereotypes abound, especially in the portrayal of Honey and Monika — who bling it on at the drop of a hat and refer to sperm as "spam" and flush to "flesh", with hilarious results — Good Newwz doesn't really come off as offensive, save for one stinky sequence that involves a pregnant woman farting.
The film works as long as it doesn't take itself too seriously, and is largely mature and matter-of-fact in its treatment of a prickly subject. But the invariable slip into sentimentality in Half Two acts as a definite road bump. It tries to answer questions like how does one define parentage, who has ownership over a baby in a process that is anyway artificially assisted and whether most couples really want kids or are they simply doing it to fit into society. Much of it is superficial, but consummate actors like Kareena and Akshay ensure that it never gets too flippant. Kareena — confident, assured and pulling off both laughs and cries — is the film's beating heart.
But Good Newwz does disservice to itself when it talks about adoption vis-a-vis the heartbreak of repeatedly failing to conceive or the horrors of miscarriage, with lines like "Apna khoon apna khoon hota hai". Well, the obsession to carry forward one's gene pool is deep-rooted in this country.
But Good Newwz promises a good time in cinemas, and that's what it delivers. The drama works primarily between its four principal characters and doesn't rely on sub-plots or unnecessary characters to over-bloat the narrative. The songs, too, are kept at a minimum, with the laughs continuing to trickle in with lyrics like "Yeh sharam ka cholesterol system se nikalo ji," in a number called Zumba. Diljit Dosanjh is at the heart of that song and the man is in fine form. His Honey is the film's most endearing character, getting to play around with lines like, "Sperm hai ya koi gaana jo aapne remix kar diya?" At one point, he ushers someone into an elevator with the parting shot, "Have a safe lift, ji". Kiara, in contrast, is earnest but is perhaps the weakest link in the film.
Good Newwz rarely slips, and is guaranteed to deliver laughs in spades. If not anything else, a character repeatedly referring to "slipped disc" as "slip dicks" should bring on the ha-has. And then some more.