'Exhausted', K-pop sensation BTS says they're taking a break to pursue solo projects
A hiatus, says a band member at a dinner, but a management representative denies claim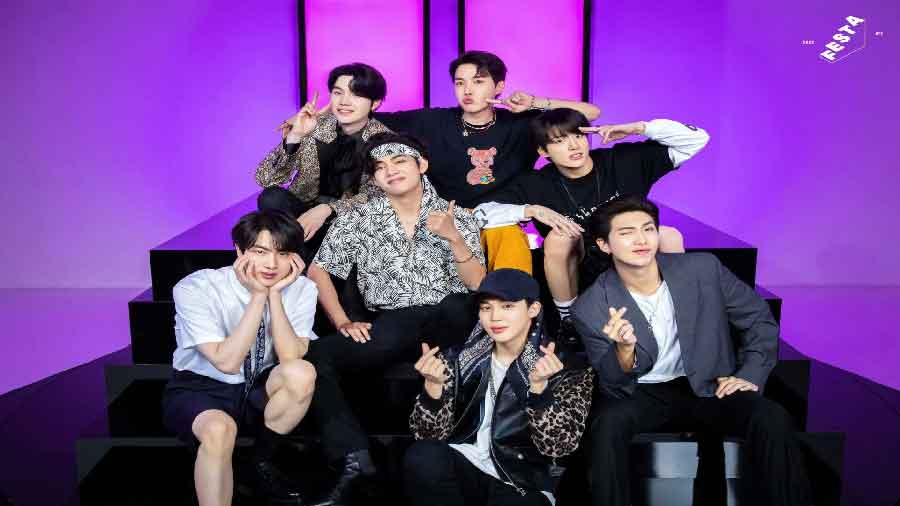 ---
Published 15.06.22, 10:07 AM
|
---
BTS, the South Korean band that spearheaded a global K-pop craze, is taking a break as a group to work on solo projects, the singers announced on Tuesday.
Band member RM, speaking at the annual FESTA dinner that celebrates the group's founding, said he had been feeling a need to explore his own work without the constant recording and performing required of BTS.
"The problem with K-pop and the whole idol system is that they don't give you time to mature. You have to keep producing music and keep doing something," said RM, seated at a table with his six fellow band members and speaking in Korean. A video of the dinner was posted on the band's official Twitter handle. An English translation of the remarks showed one of the members calling the break a "hiatus" a description a representative for the band disputed in a statement. "To be clear, they are not on hiatus but will take time to explore some solo projects at this time and remain active in various different formats," the statement said. BTS made its debut in June 2013 and became a worldwide sensation with its upbeat hits and social campaigns aimed at empowering young people. The group released its new album, "Proof," on Friday. Last year, BTS became the first Asian band to win artist of the year at the American Music Awards. The group met U.S. President Joe Biden at the White House in May to discuss hate crimes targeting Asians. BTS's devotees, collectively known as Army, flooded social media with messages of support, reported The Guardian. "I just want to give them a hug", one fan said in comments reported by Yonhap news agency.
Another wrote: "I've anticipated this moment for a long time, but I didn't expect it today. "The name BTS will continue with Army like a tattoo that doesn't disappear."
A female fan described the move as "courageous".
"It takes so much courage to leave a place where you have it all in order to challenge yourself and reach an upgrade version of who you are," she said. "BTS is teaching me another important lesson."
At Tuesday's dinner, J-Hope, RM, Suga, Jungkook, V, Jin and Jimin spoke in Korean – while a video of the meeting included English subtitles – about why they had decided to take a break.
RM, 27, said that after BTS's last few singles he "didn't know what kind of group we were any more", adding later the band's members were "exhausted".
Some K-pop watchers speculated that South Korea's military service requirement may have been a factor. Jin, the oldest member of the group, is due to begin almost two years serving in the army by the end of this year.
The national assembly is discussing a revision to the law to allow exemptions for people who make a considerable contribution to South Korea's international standing.
However, South Korean media have speculated that the bill is unlikely to pass due to widespread opposition among among men in their 20s, a large proportion of whom voted for the new president, Yoon Suk-yeol.