Glenn Close and Niv Sultan take viewers into a new season of Tehran
Making the new round of what is Apple TV+'s first non-English-language series special is the introduction of Glenn Close as a local Mossad agent helping Tamar in her mission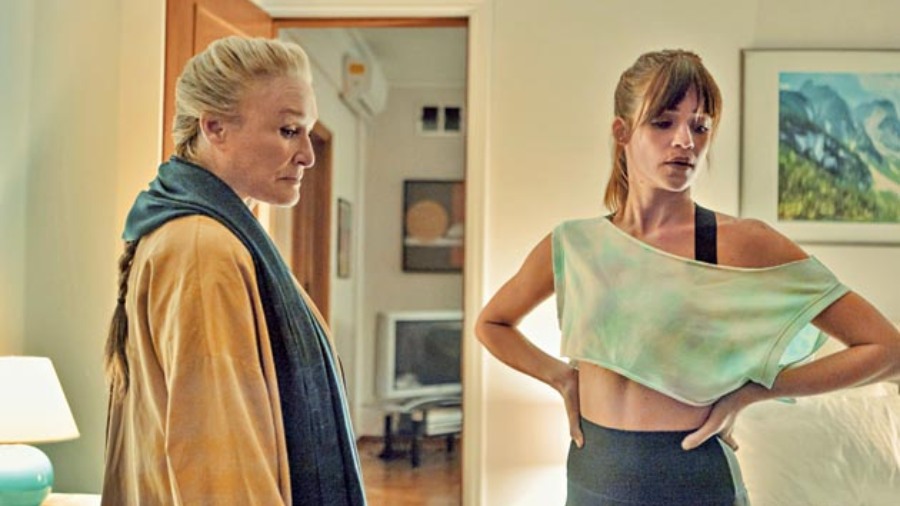 Glenn Close and Niv Sultan in season two of Tehran, which is streaming on Apple TV+.
Pictures: Apple
---
Published 07.05.22, 03:32 AM
|
---
The Russian KGB has had its long stint in Hollywood, spawning hit after hit. The action has moved. Israel's constant battles with its neighbours have given espionage thrillers a new dimension. We have seen Sacha Baron Cohen slip into the role of famed Israeli double-agent Eli Cohen in The Spy. The series Fauda has a loyal viewership because of the exploits of a shadowy Israeli unit operating covertly in the West Bank and the Gaza Strip. The film Red Sea Diving Resort centres around Mossad evacuation of Ethiopian Jews out of a 1984 civil war. The show that has turned out to be one of the biggest hits in the last couple of years is Tehran on Apple TV+.
The heart-stopping spy thriller about Tamar Rabinyan (Niv Sultan) — a young Jewish woman born in Iran but brought up in Israel who is sent back to Iran in a deep-cover mission to help coordinate an Israeli attack on Iran's nuclear programme — has returned for season two in which every episode is as sharp as Rambo's knife blade. Making the new round of what is Apple TV+'s first non-English-language series special is the introduction of Glenn Close as a local Mossad agent helping Tamar in her mission. Her cover is Marjan Montazemi, a psychiatrist who is respected in Tehran.
"I had not seen Tehran when I was offered the role. I quickly watched it and was very impressed. I thought it represented an all-new territory for me. I have never played a psychiatrist and an undercover Mossad agent. That was a lot of new for me. And to shoot in Greece with a cast and crew for whom English wasn't the first language, I thought it was important. I am glad that Apple TV+ is taking these shows which originate in different countries and putting them on a global platform. I really wanted to be part of the first wave of such shows," Glenn told The Telegraph over a late-night video call.
The show obviously couldn't be filmed in Iran, so the team recreated Tehran in Athens. Making the series extra special is the fact that a lot of Iranian refugees helped with the production.
"We had a lot of Iranian refugees as extras and also working on production. One of my Farsi coaches, who was always on set when I had Farsi dialogues, was a refugee as was my dresser. Each of them had a story of how they ended up in Athens. I read a lot of Iranian history and I read a lot of books written by Iranian women. In my mind, I had to go to Tehran while I kept reminding myself that I was actually (physically) going to Athens," says the 75-year-old multi-Academy Award nominee. 007 by another name?
Even with Glenn having a substantial presence, it is Niv Sultan's Tamar who continues to steal the show. Her character is tasked with assassinating the new head of Iran's Revolutionary Guard while Faraz Kamaali (Shaun Toub), the former head of investigations for the Guard, continues to breathe down her neck. The 29-year-old actress has served the Israel Defense Force for two years but it is not the place where she gathered her kickboxing and martial arts chops. "It was two years of my life with some incredible people, who became my friends and my family. It wasn't a combat position; I was a sports guide and instructor. It had nothing to do with weapons or martial arts. So it didn't help me with the role," says Niv for whom career opportunities have opened up greatly. Niv can be cold as a rock in the role of Tamar as well as take on a friendly demeanour when the situation warrants, giving the world a taste of what the James Bond series may look like if the license to kill is given to a woman.
"In the new season, she has more confidence. There is also a more fragile side to her. She is emotionally attached in the new season and these are sides that haven't been shown earlier," says Niv.
Right from the get-go in season one when a commercial flight from Jordan to India is suddenly diverted to Iran, the suspense never slackened. The production could have easily been a show of muscles for the Israeli, instead Tehran is bold because of its middle-ground view of Iran. Here nobody is right or wrong, good or bad. It's all up to the viewers.
"I learnt a lot while preparing for the show. I was ignorant that there was a strong tie between Israel and Iran throughout history. And then history pulled them apart. It was an aspect of the show that was a huge learning experience. The show is about the grey area of life —nobody is totally right or wrong. That makes it all humane," says Glenn.
The realities that are depicted on the show are equally interesting, of what young people want, of what the older generation demands and of what governments dictate. "I think we are all learning that there are several realities. What news tell you is one reality and what the government tells you is one thing and the reality could be something else. At times it's hard to know what's real and what's not. That's one of the difficulties of negotiating in our world today. We have to embrace cultures and have respect for all languages," says the star of films like Albert Nobbs, The Wife, Fatal Attraction and Air Force One. An espionage thriller with a twist
The espionage thriller has dialogues in Hebrew, English and Farsi but it's playing out on a global stage via Apple TV+, which has quickly earned the reputation for making and backing out-of-the-box titles. At this year's Academy Awards, it became the first streaming service to win a Best Picture Oscar for CODA.
Unlike Homeland with its strong notions of good and evil, here it's about making connections across ideological borders. Created by Moshe Zonder (head writer for Fauda), Dana Eden and Maor Kohn, and directed by Daniel Syrkin, Tehran is a pleasant departure from "manly" espionage thrillers. Tamar is vulnerable but never loses focus of her mission. She gets in and out of conflict and has enough expertise to remain alive.
It also helps that the seasons have been restricted to a handful of episodes. "I think a lot of times, film directors have to truncate things and at times that can be a strain. I think the best way to tell a story now is through limited series. The writer can choose how many episodes are needed to tell a story. If you are an actor in a series like that you develop a history with that character. That's hugely valuable as an actor; it gives more room to create the story and to develop the character. I have always had a huge respect for television. Millions more people will see this," says Glenn.
Sure, there are moments when it feels like the creators are bordering on the unrealistic but nobody can deny that Tehran is packed with treachery and dangerous secrets, key ingredients to an edge-of-the-seat spy thriller. Coming up
Diving into the success stories of some of the world's greatest athletes, Apple TV+ will present season two of the Emmy Award-winning unscripted short form sports documentary series Greatness Code on May 13. This time, hear it from Lindsey Vonn, Marcus Rashford, Russell Wilson, Leticia Bufoni, Scout Bassett and Bubba Wallace.
The series is part of a line-up of acclaimed docuseries and documentaries on the streaming service, including real-life stories behind the biggest names in sports, such as the four-part Earvin "Magic" Johnson docuseries They Call Me Magic. Set to join the line-up is a documentary about Sir Lewis Hamilton, seven-time Formula One world champion.