Gitanjali Rao: Creating waves with 'Bombay Rose'
Animation feature is currently showing at the Jio MAMI 21st Mumbai Film Festival with STAR 2019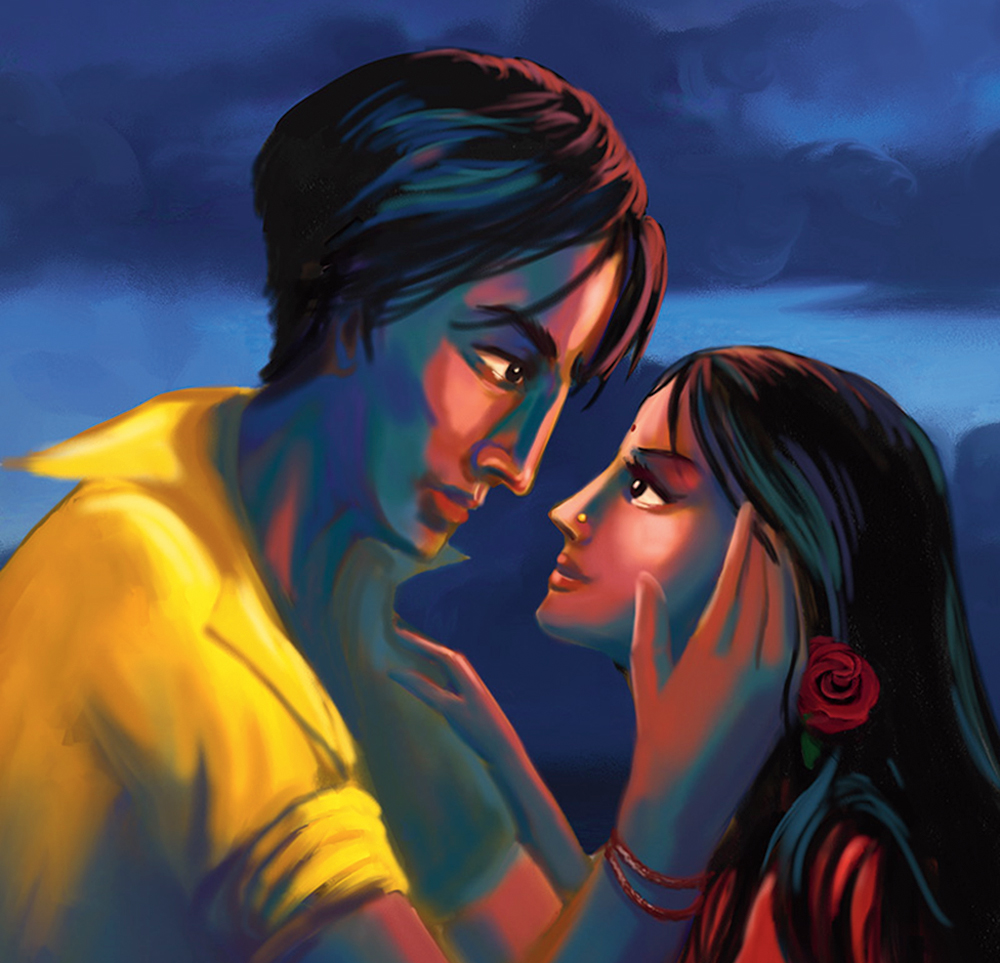 A moment from 'Bombay Rose'
Source: 'Bombay Rose'
---
Published 17.10.19, 01:02 PM
|
---
She's been a stellar name in the world of Indian animation and after a string of international award-winning shorts, Gitanjali Rao makes her animation feature debut with Bombay Rose, that's earned high praise on the foreign festival circuit. Bombay Rose is currently showing at the Jio MAMI 21st Mumbai Film Festival with STAR 2019. The Telegraph chatted with Gitanjali before the festival kicked off.
PS: You may remember Gitanjali from her powerful and poignant turn as Shiuli's (played by Banita Sandhu) mother in Shoojit Sircar's October….
Bombay Rose has been making waves on the festival circuit, Venice to Toronto, Busan to London. Is it always more special showing a film at home to an Indian audience like it will be at MAMI?
Absolutely! In fact, right now it's happening at Chicago, San Francisco and LA (Los Angeles) and I have been invited. But I said 'no' to all. Come on, it's MAMI, it's home ground! For me, MAMI is special… I have been part of the jury long back. Being at MAMI is a lot like when you fall in love with a boy, you introduce him to your friends, but getting him to meet your parents is the real test. I am nervous, but also looking forward to it. The film is about Bombay, I am from Bombay….
What's the best thing anyone's told you about the film?
The film took so long to make — about six years — and I have been so engrossed in it for so long that I am still taking time to soak it all in… on most days, I feel it's happening to someone else's film! (Laughs) I've been reading all the reviews, most of which have great things to say, along with a few problem points. I think most directors are very sensitive at the point when we have just finished making a film. It's like you have just delivered a baby and someone tells you it's not very cute! It's very difficult for me right now to be objective about how people are receiving the film, both in a good way and in a not-so-good way.
But yes, I have got really nice comments where people have said they haven't seen an animation film like this before — not only in India but even globally — because nobody really does frame-by-frame painted animation anymore.
What was the genesis of the film and why did it take six years to make?
Four years out of the six were spent in getting finance and two years is what we got production-wise. The basic idea — of people migrating to the big city and surviving — was on my mind for a long time. Although my medium is animation, my storytelling is not that of conventional animation… it's more documentary style.
Six years ago, I wrote the first draft of Bombay Rose and started looking for finance. I did a few script labs and got some good inputs and managed to build the script in such a way that it became an Indo-French production.
Bombay Rose is at once a homage to Bombay and Bollywood dreams but also takes down notions of sexism and stereotyping perpetuated by Bolly films…
It questions toxic masculinity that is increasingly being used to describe many a Bollywood film. I look at it from the point of view of a boy who has migrated to the big city and wants to fall in love and his hormones are raging… what influences him the most? It's Bollywood. People like us who hail from a certain privilege will say that Bollywood doesn't influence us at all. But then we aren't the majority that's watching those films. It is being watched by people who have hard lives, very little education.... They turn to Bollywood and what they take back now is an overriding toxic masculinity.
However, in the Bollywood of the '70s, masculinity and heroism were being talked about differently. In the '50s, '40s… the films of Guru Dutt… women were portrayed differently and so was masculinity. Things were better off in Bollywood... when it actually wasn't Bollywood. I brought in all those elements into my film. My leading lady dances in a dance bar and is trying to get by in this city. In portraying her, I am trying to bring into conversation how women are portrayed in Bolly item numbers. So the film examines all sides of the problem… that is if we can call Bollywood a problem (laughs).
What was it like making the leap from animation shorts to an animation feature?
I always wanted to make a film. I had to make shorts first because there is nothing like state-funded sponsorship for animation films in India. Animation is far more expensive and time consuming than live action. I had to make shorts, which is something I love and hope to go back to soon. But there is no way to support yourself if you only make short films. I was making ad films and doing similar work to pay my bills, all the while making these short films alone.
The moment you get into feature films, you have a chance to get finance and if you get finance, you can have a team to work with you. I wanted to move on from making films alone that only a small bunch of people were watching. With Bombay Rose, I knew I had a story that warranted a longer format. But it was a tough road to take.
Was there ever a Plan B?
No! (Laughs) Okay, the Plan B was that if a feature didn't work out, I would make it into a graphic novel. I came close to Plan B quite often but thankfully didn't have to execute it. Anyone else would have given up in the four years it took to secure finance ; I didn't (laughs). I just felt that if I didn't keep at it, then getting to where I was would become even more difficult if I started all over again. In the meanwhile, I made a short film (True Love Story) from one of the segments of Bombay Rose, that won an award at Cannes.
Is this tenacity and patience inherent or have you acquired it given the nature of the business you are in?
It's inherent… my mother brought up all three of us sisters like that. I wouldn't say it's as much the industry because I know people who started off with the same attitude like me and animation lost them to basic things like having a family, house, bigger car, kids…. I have none of those… I just have cats and they don't demand too much out of me (laughs). I had to make choices, but those choices came to me easily.
Why do you think animation is in the state that it is in India? Why is it so sparse and only limited to kids' films mostly rooted in mythology? Is it a problem with the industry mindset or the audience or both?
The industry will say it's a problem with the audience. The problem is with the industry, and even beyond that. If you look at the origin of parallel cinema in India in the '60s and '70s, you will see that it was seriously financed by NFDC (National film Development Corporation). At that time, you had one section of films that were making profits, but there was a voice that was missing and that's what the government financed. We got some brilliant films in that process. Every industry requires a certain amount of nurturing in its infancy.
By the time the animation industry came into being in India, live-action Indian films were making a lot of money due to globalisation but there was no money to make animation films. That led to animation talent in India becoming outsourced to what was a booming industry globally… we became a cheap source of animation labour. There were suddenly a lot of jobs but no money to make our own films and that led to Indian animation losing out artistically. I feel it got sold out to outsourcing.
Also, it became cheap to dub films being made in the rest of the world rather than make our own content. People in India want to make money quickly… they don't want to invest in animation schools or in teaching animation and then come up with a good film in 10 years. We are competing with Walt Disney that came about in the '20s. We want our animation to compete globally and yet we don't back animators.
The audience will naturally also be myopic in its view of Indian animation because we have given them only cartoon films. This is in direct contrast to Japan, Russian and Poland where the industry is highly evolved… in Japan, there' even pornography in animation. It's a perception that the audience in India is not ready for evolved animation because it's convenient for the market to keep it like that. We are outsourcing our talent to Disney, Pixar and Dreamworks and also forcing the Indian audience to shell out money for those Hollywood productions. It's a vicious circle. If we could make even 10 top quality animation films like Bombay Rose, it could change audience tastes… but we are up against a huge set of odds.
After October, is acting anywhere on the cards soon?
I really liked working in October… it was a lovely way of observing how live-action films are made from the directors' point of view. I would have loved to do more, but I had to dedicate my time to Bombay Rose. When you tell people here you can't do any acting for the next two years, they either lose interest in you or don't believe you. So I got written off (laughs). A lot of offers that came in after October were conventional mother roles that I was happy to say 'no' to… but I was also sad to give up on some really nice roles.