Fit and fab Sophie
Host of 'unique' chat show speaks on consistency and Bolly's fittest stars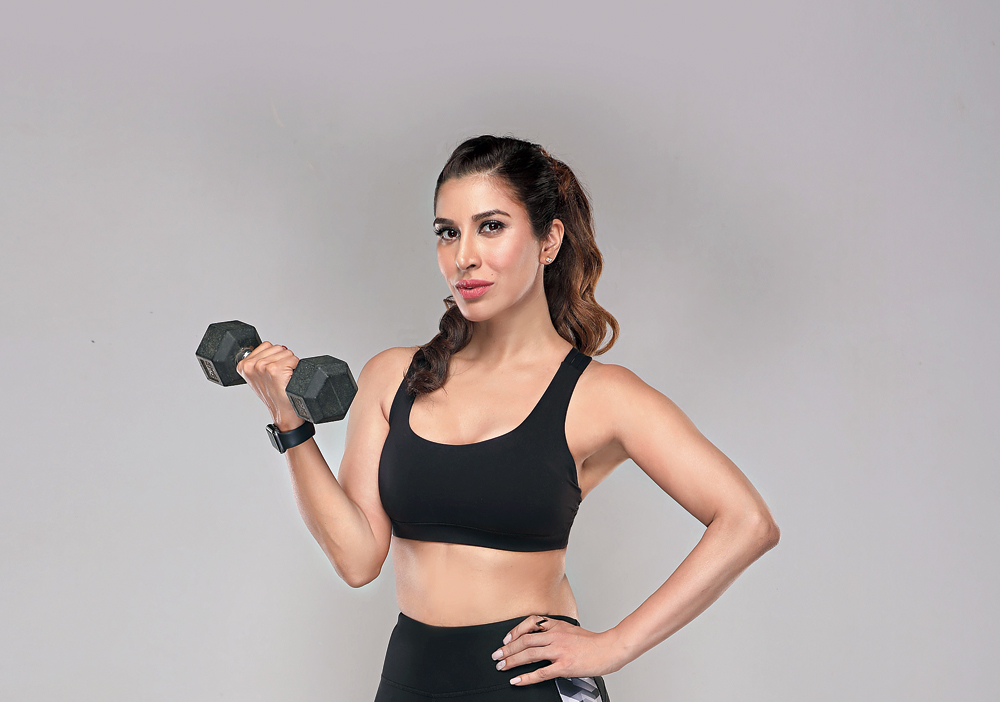 ---
Published 26.10.19, 06:41 AM
|
---
TikTok, in collaboration with Voot, has come up with Work It Up, a fitness chat show hosted by Sophie Choudry, from October 13.
The first two episodes of the show's seven episodes featured Kriti Sanon and War girl Vaani Kapoor. With a new episode every Sunday, B-town celebs sweat it out and share their fitness secrets on Work It Up. The Telegraph caught up with Sophie for a chat on all things fitness…
What's unique about this chat show?
I think it's unique because it's a fitness chat show unlike any other. There are a lot of chat shows with lots of celebrities going on it and you'll see a couch and the rest of it, but in my show there's no couch and the show is definitely not for the couch potatoes. It's for people who love fitness, who are into fitness and who want to be inspired by some of their favourite Bollywood icons. So every week you'll see a different celeb friend of mine working out with me. It's not like it's a fake gym set up in a studio, it's the actual place for the workout. You'll see Kriti (Sanon) and me with Yasmin Karachiwala doing pilates, you'll see Vaani (Kapoor) training in the gym, you'll see Malaika (Arora) doing yoga and so on. That makes it really unique and it's not just chatting about fitness and health. There's definitely going to be some gupshup and gossip, their own struggles, the highs and the lows and a few fun games. There's a lot to pack in the15 to 20 minutes, but I think we're doing a pretty good job of it. Hopefully everyone will love it.
Can you give us a glimpse of who'll are going to be the guests on your show?
The first guest is Kriti Sanon, we are doing pilates with Yasmin Karachiwala. A lot of people have heard about pilates but they have no idea what it is. So you'll see Kriti, Yasmin and I in action. It should be really good fun and you'll get to learn about her. You know, people think that Kriti is naturally skinny and so she's got no issues at all. She's going to share her issues with us. She's going to share her love and hate for working out and all of her stories.
What's your biggest fitness mantra?
Consistency. That's the only thing I live by. I mean I know someone who works out for one day and then disappears for a week. I need to go to the gym five times a week just because I feel so good after doing it. So, consistency is really important for me.
What does your daily diet look like?
I wake up in the morning and start my day with a cup of my own detox tea, Fittox, which is really good and I genuinely swear by it. It's a great way for me to start my day. Breakfast is super important, that's the meal I look forward to. It can be eggs and toast or avocado on toast or almond milk porridge with some berries. I have a green tea with it. In lunch, I have one or two rotis at the most with sabzi or a grilled chicken with a salad or an avocado salad. My five o'clock snack is some dry fruits and a coffee at 7pm in the evening, I have some soup. If I'm really hungry, I might have some tofu or a little bit of chicken with that. After 8pm, I don't eat. If I'm hungry, then I'll have a herbal tea at night while watching Netflix or something. Or hopefully, my own show Work It Up (laughs)! I'll probably just have herbal tea and a piece of dark chocolate, that's about it.
What kind of workouts do you do on a regular basis?
My trainer is Yasmin Karachiwala and I swear by pilates for the last seven years. Pilates and a little bit of weight training and some cardio, that's how I mix it up. But primarily, it's pilates.
How do you motivate yourself to work out regularly?
I don't generally need to motivate myself too much because I feel so good after working out. If it's on a day I'm feeling vain or like I need to look good for something, then I'll motivate myself by saying that I need to look good in that dress and I better get my a** to the gym. If I'm feeling like I want to eat a little bit of ice cream or some kind of cheat food, then I motivate myself saying that I'm going to eat all this so I need to workout a little extra.
What's your favourite cheat meal?
I have a sweet tooth. So, it has to be something like pancakes or waffles or caramel popcorn while watching a movie or something like that. I don't eat pizza at all, not interested.
Whom do you think is the fittest actor or actress in Bollywood right now?
Ah, so many. I think Katrina Kaif's fitness levels are insane. She has worked really hard at it and it's something that comes naturally to her. I really love and respect her for that. Shahid's (Kapoor) discipline is next level. Hrithik (Roshan) has battled so many injuries and come through that. Akshay (Kumar) is so fit.
Were you a sporty person growing up?
Growing up in England, sports is a huge part of your life. You have to take part in it, you don't have a choice. I played hockey, I had to learn how to swim and do a bit of gymnastics. But I used to love netball, which is a sport that people probably don't know here… It's kind of like basketball. I was the netball captain for years. I'm not usually sporty ubt I watch a lot of sports. I'm someone who watches everything from F1 to football to cricket to athletics. I love watching sports and I find them hugely inspiring.
What do you think are the biggest mistakes that people make at the gym?
I think believing that if they spent three hours they'll have a better body than someone who has spent 30 minutes. You know you could do a 100 s**t counts or you could just do 10 great counts. It's really about doing the counts properly and having great form and feeling every movement that you do. Also, lifting weights heavier than you're capable of is stupid. That's what causes injuries. And I think the biggest problem with everybody is the fact that they believe they actually need to go to the gym to get this. You don't. You have your body. You just need space, you need the willingness, the mental ability to work out. You can do yoga, you can just put a video on social media and watch it. You can watch Work It Up and follow some of our exercises. You just need yourself. Other than that, you could just run up and down the stairs. You can go for a walk, you can do anything. It's just about wanting to do it. It's just that we're always ready with excuses and that needs to stop.
What's that one workout that you love doing and one that you dread the most?
I actually love doing legs. Most people are scared of leg days but I love leg days and glute days. Those are my days! It's the upper body workout... oh my god, arms are the worst.
Dos and don'ts

Keep your dinner light and try not to eat after 8pm.
Never miss your breakfast. It's the most important meal of the day.
Carry healthy snacks in your bag so that you don't eat junk. Carry some dry fruits or carrot sticks.
Eat healthy. Eat as much ghar ka khana as you can. If you feel like having six rotis, stick to three.
Eat slowly. Chew your food, it makes a huge difference.
Drink herbal tea. They're great for you.
Cut down on refined sugar and dairy. Dairy is good only for kids, not for adults.
Whether it's dancing, zumba or anything that you love — find it and start doing it.
Do not go on any extreme diet.
Don't have fruit juices. Vegetable juices are good but fruit juices are only full 

of sugar, so avoid that.