Fiona Apple confronts her demons by constantly breaking the fourth wall in her music videos
We tune in to the new album that is getting rave reviews
---
---
In a 2006 interview to Sasha Frere-Jones, singer-songwriter Fiona Apple recalled a childhood memory when she was in "the fourth or fifth grade". She would walk home from school thinking in silence, open the door, see herself in the hall mirror and break into a song. "As soon as I saw myself, I would just be like... you know, whatever it was I had been thinking, it would have a melody to it," she said. "You were making little videos," said Sasha. "Yeah, kind of, like one-second videos," agreed Fiona.
The visual narrative forms a crucial part of Fiona's music. Fans have tried to make sense of it all by poring over the lyrics and following the visuals closely. They have described her as fragile, deep, vulnerable and beautiful. Of course, Fiona has poured her heart out in her songs, thereby offering a window into her life. "If I find a phrase or a word that I get excited about, it'll immediately have some kind of an association to something that is happening in my life," she had said in that interview.
What Fiona has also done is she's taken it up a notch higher. She is constantly breaking the fourth wall (an imaginary wall that separates the story from the real world) in her music videos, which is not unusual for artistes to do in music videos. But no one quite does it like Fiona. The way she interacts with the camera creates a powerful impact, which gives her music a deeper meaning and an added layer.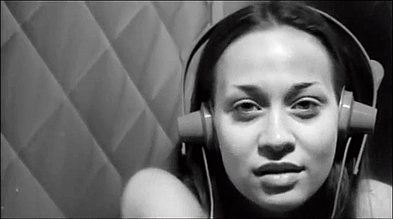 She speaks to you, looks at you, confronts you, almost invites you into her world and then makes you feel... the pain, the deception, the loss, the anger and the joy. With her new album Fetch The Bolt Cutters getting rave reviews, The Telegraph zooms in on some of her music videos and finds out how Fiona tells her story through visuals!
1. Criminal created a huge splash in 1997. From the first image itself, Fiona makes the viewers uncomfortable. She looks at the camera and then takes pictures, one lens pointing towards another, as if the viewer watching her is somehow involved in the events unfolding in the video, which shows people lying around, maybe after a party, in a room of a house. Looking into the camera, Fiona sings, "I have been a bad, bad girl." With her hair strewn around, she looks vulnerable but sings with a resolve. The video goes on to show Fiona in various parts of the house, which is shrouded in secrecy and shadows. Fiona sings from a bathtub, her head bobbing up above the water level, which makes for an arresting visual. In hindsight, it seems Miley Cyrus's vibrant We Can't Stop video pays tribute to Criminal through some of its visual cues. Criminal is a grim video for a piano-driven song where the singer talks about "a need to be redeemed". With a piercing stare at the camera, she makes the viewer actually feel a little guilty for seeing her in this vulnerable condition and viewing these deeply private moments.
2. Sleep to Dream seems like a confessional video. Looking intensely into the camera, Fiona almost grinds the words of the song in her mouth, all set to hurl the lyrics toward the person it is meant for.
She paces the room. At one point of time she looks at the camera and rebukes that person, who, we assume, is causing her all the pain — "Don't you plead me your case, don't bother to explain/ Don't even show me your face 'cause it's a crying shame/ Just go back to the rock from under which you came/ Take the sorrows you gave" — and then sings defiantly — "You got your head in the clouds and you're not at all what you seem/ This mind this body and this voice cannot be stifled by your deviant ways/ So don't forget what I told you don't come around/ I got my own hell to raise".
3. Auteur Paul Thomas Anderson directs this one and gives it a new layer. Paper Bag has a story to tell featuring a briefcase, which mysteriously reappears in the 2019 Netflix film Anima directed by PTA again.
Filled with tracking shots and whip pans (PTA signatures), the Paper Bag video is a visual delight, doffing its hat to classic Hollywood musicals. The visuals are joyous, finding Fiona in a happy space (FYI, she was dating PTA at that time!). The video starts with Fiona in a long shot and as she starts singing she turns to the camera. As if sensing her desire to address the audience, the camera moves around the table to where she is seated and frames her in mid-close-up. A few seconds later Fiona does something which makes us sit up and take notice. She smiles!
As dancers do flips around her, she articulates her lines and then breaks into a dance! The lyrics? "Hunger hurts, and I want him so bad, oh it kills/ 'Cause I know I'm a mess he don't wanna clean up/ I got to fold 'cause these hands are too shaky to hold / Hunger hurts, but starving works, when it costs too much to love."
4. Across the Universe, directed by Paul Thomas Anderson, is a masterpiece. PTA establishes contrasts in the visuals itself. From the moment a park bench smashes the glass window of a soda shop, it is pandemonium inside.
A mob ravages the place, breaking everything in sight. All of that forms the background as Fiona — an island of calm and peace — looks at the camera and sings the Beatles song: "Pools of sorrow, waves of joy/ Are drifting through my opened mind/ Possessing and caressing me/ Jai Guru Deva, Om/ Nothing's gonna change my world...." We also catch a glimpse of actor John C. Reilly in the video.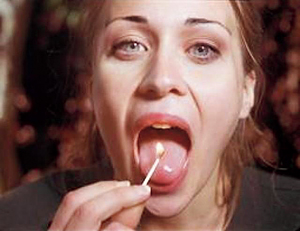 5. Fast As You Can starts with an extreme close-up of Fiona's eye. For the next few moments, Fiona is completely in your face. She is like facing off an adversary or engaged in a close-quarter combat with someone, the camera doubling up as that person. She also does something very interesting with the camera here. Once she moves her palm across the lens making it foggy. The second time she sticks her palm out blocking the lens, which then leads to a cut and a change of scenario. From inside a train, the scene moves outside. For the next one, she takes her time, trying to wipe the lens clean, all the while looking at the camera and singing, "'Cause I'm tired of whys, choking on whys/ Just need a little because, because/ I let the beast in and then/ I even tried forgiving him, but it's too soon/ So I'll fight again, again, again, again, again." The video ends with the iris shot where a black circle closes on her eyes — and her smile!
6. The video for Not About Love proves Fiona has a great sense of humour. It starts off by showing Fiona all sad and gloomy, lying on one side of a bed. The song comes on, and as she is about to sing it, a hand covers her mouth.
Actor Zach Galifianakis, who was lying next to her, gets up, looks at the camera and starts singing! The video goes on to show Zach lip-syncing the song as Fiona holds up the lyric sheet for him to read. Zach exaggerates, intentionally overacts and dramatises, and cracks up Fiona, who initially tries to hide her smile behind the sheet of paper but soon gives up. Zach tries to make sense of the lyrics and feel the emotional depth of the words as Fiona looks on, sometimes with a chuckle. The video has some really cool, snappy cuts timed to the beat.
7. Every Single Night gets surreal with Fiona wearing an octopus on her head! Moments later, she is seen with snails all around her in a dirt bed where she is lying; a giant monster pops up from the water as she walks on a bridge. Another visual has a skeleton, lying on a floor, wrapping its arms around her. She also feeds fish to an alligator.
But through it all she maintains eye contact from time to time with the viewer and mouths lines like, "Every single night's a fight with my brain."