Financing a film is never easy: Saptaswa
Director-producer chats about his next, Midnight Club, the 50-day run of his film Pratidwandi and the business of film-making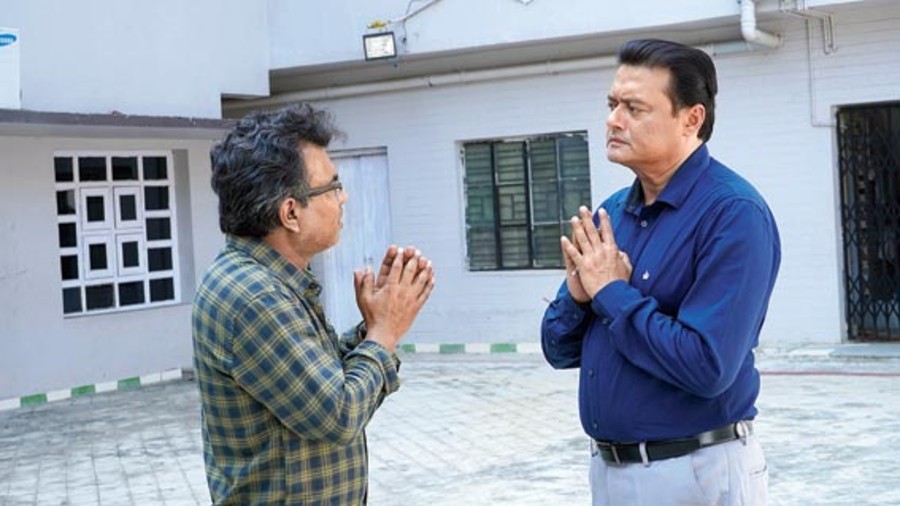 A moment from Pratidwandi directed by Saptaswa Basu
Sourced by the correspondent
---
Published 24.02.21, 11:27 PM
|
---
Saptaswa Basu's film Pratidwandi, a crime thriller — starring Saswata Chatterjee, Rudranil Ghosh, Saayoni Ghosh, Saurav Das, Maahi and Rini Ghosh — has completed 50 days in the theatres. A candid chat with Saptaswa on the success story...
What does the 50-day run of Pratidwandi mean to you as a film-maker and as the founder of the production company Neo Studios?
The journey from shooting to delivering the film on the silver screen has been quite a challenge. From budget limitations to Covid-related restrictions, theatre regulations, the whole process of cinema has never been so exhausting before. Therefore when we are receiving such praise and the 50-plus-day run in multiplexes and a few single screens seem quite an achievement and a success, specially in the current times. Our run started when the seating restriction was present and continued when the 100 per cent occupancy was allowed. Pratidwandi has held on to the buzz even with Hollywood films, other regional films and five to six other Bengali films running in parallel theatres. Point to be noted here is that we have not taken a single theatre on rent in this entire run and therefore the film is continuing on the screens completely on its own merit.
On behalf of Neo Studios, I can only thank the entire cinema-going community. We want to share this success with our associates and co-producers who joined the film and put their faith in releasing it on the big screen. Star Media Ventures, Kashish, G7 all have taken that risk and worked in sync with us to trust this decision of theatrical release at a time when Bollywood has been on-boarding films directly to OTT. I am sure our success will inspire many other production houses in the coming months.
How will you carry this forward in the future?
Our film is one of the very few films which released post lockdown and created a stir in the market and attracted the audience to overcome fear and visit theatres. In pre-Covid times, of course there have been loads of films with runs of many months, but initially we did not have any idea at all how everything will turn out in the present time. The film has spoken for itself and has pulled crowds on weekends and weekdays alike. We got Nandan after a few weeks of release, and we got almost houseful shows there as well. Our fourth, fifth and sixth weekend gave consecutive houseful shows in many multiplexes and we shared those data on our portals and social media handles as well. We contacted exhibitors directly and got positive responses from them as well regarding it. I consider this as a success for the team and in future people will remember this one as one of the foremost films after lockdown to have inspired people to visit the theatres.
Will the 50-day run make it easier for you to get finances for your next film?
Financing a film is never easy. After producing two feature films now, definitely I will be able to present that experience and statistics in the investor panel and share my success story with them. It's a learning curve always, for me and for the business associates who are involved in financing in arts. If a financier is interested in storytelling, in the creative dimension, they will have to bear a risk factor in mind and bear a share of profit and loss.
When I announce or start a project, I see to it that it's screened widely in theatres and its journey does not remain incomplete. I think this factor has helped me to slowly build a team of finance who are now streamlining their funds in various projects of our company.
I find this positive and consider myself lucky to have that in a time when many companies got shut down completely. Therefore, definitely a 50-day run of this film will seem lucrative for many business-minded people to associate with us and learn about our process. I have always encouraged such people to get involved with the process of film-making and not just stay as a financier from a distance. I do not treat film-making solely as a business as it has so many aspects to it. When and why did you decide to launch your production house Neo Studios?
I have been making short films and video clips since my school days and used to upload videos on YouTube, Vimeo and other platforms. Not even DSLR was there back then and only VGA standard consumer grade cameras were there. While making those short films, I received a few short film festival invites as well and from viewing and participating in those fests, I got the idea of a production house, equipment studio and so on. At the end of class XI, in the winter holidays I officially opened Neo Studios. I only had a basic edit set-up at my room back then. It has been quite a few years that I continued to work out of my home set-up and worked in professional ad films as well while completing my electronics engineering degree. It has been my determination and undivided focus to establish my production house and start making films independently. From shorts to ad films and then to feature films, the success curve grew and this has been a blessing.
What are the aims and objectives of your production house?
To produce content that's worth the time and money of viewers — that is the primary aim. I have worked as director-producer in the first two feature films but soon there will be multiple projects where I will only handle the production and experiment with different writers and directors to have a spectrum of different projects in my banner. I want to have a department for advertising and TVCs and another for music production as well.
What kind of challenges do you face every day to run Neo Studios?
Since we primarily work in a field that does not adhere to a routine, the challenges are quite dynamic. Selecting our next project is always the biggest one. We all are aware that if we misstep the very first thing, all is going to be downhill from there. Other than that, resource allocation and logistical challenges are needed to be handled daily. During lockdown, all of our work activities came to a standstill and I feared that probably our balance sheets will have to be closed and the company may not continue any more.
With great effort we started producing short web content during lockdown. Those lockdown shorts actually kept our will power alive and finally we embarked in the bigger projects.
What are your forthcoming plans for Neo Studios?
There is of course plans of expansion, not only in terms of manpower or technical prowess, but also planning content in other languages and associating with brands outside of our city and present a cross-cultural standpoint.
Besides feature films, we can venture into some non-fiction content and present documentaries on some very interesting subject yet unexplored. I want to have a strong research team for the same. Additionally and importantly, I want to mention that filmmaking or content creating is a profession like any other but a proper procedure is not present in this field.
Coming from an engineering background I can well understand why people tend to have a dilemma about focusing in these fields or take it up as a career.
So I have this aim to provide regular job interview sessions and practical workshops for interested people out there so that acquisition of talent can be done in a professional manner. There are so many departments in A/V right from storyboarding to graphics to social media content and we need to place skilled and educated people in each department. This will overall enhance the quality of any project that will come out of Neo Studios.