Films shot effectively in confined spaces
The primary action in 7500 takes place inside the cockpit of a plane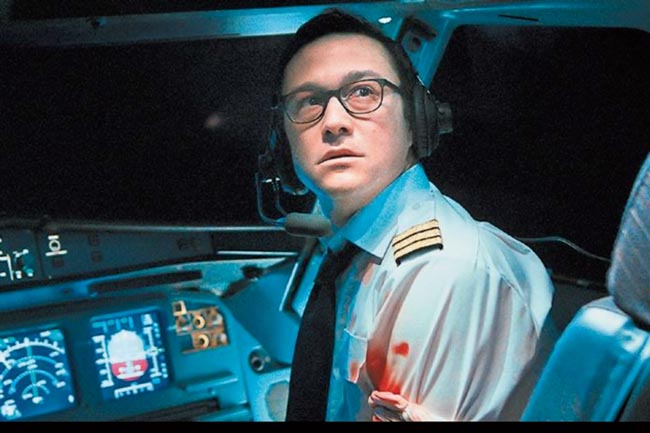 ---
---
1. 7500
Contained almost entirely within the confines of the cockpit of a German Airbus airliner on its way to Paris from Berlin where a pilot (played by Joseph Gordon-Levitt) pulls out all the stops to keep a gang of hijackers from invading the cockpit, this thriller may not win any laurels for novelty in story or screenplay but scores when it comes to delivering a taut and tense watch. 7500 plays it lean and mean, not cutting away to any other scene of action but keeping the proceedings wholly centred in the cockpit, its claustrophobic confines contributing to the feverish theme and treatment. The use of a single-angled video camera stationed above the cockpit door gives JGL's Tobias Ellias a narrow view of what is going on outside even as it traps the audience in a confined space from which the wider drama plays out.
2. All is Lost
Robert Redford is the only cast member in this 2013 survival drama about a man lost at sea. With very few dialogues and with all the action taking place on a boat struggling to stay afloat, the film was shot in the same tank that Titanic was filmed in, at the Baja Studios in Mexico. In an effort to create a claustrophobic 'first mate intimacy' between audience and subject, director of photography Frank G. DeMarco shot the film almost totally within arm's reach of Redford using a 32mm lens on his Alexa camera. That also contributed in keeping the tension alive. Director J.C. Chandor said in an interview that completing the film was "essentially a jigsaw puzzle", while Redford later revealed that shooting in such narrow confines and with a hose constantly spraying water at him had resulted in him losing 60 per cent of his hearing in one ear.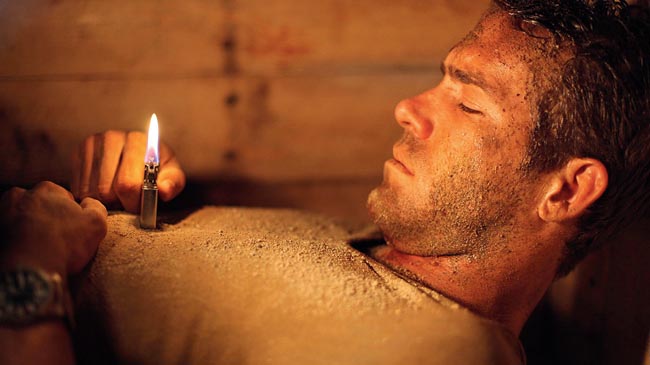 3. Buried
"Unlike anything I experienced in my life, and I never ever want to experience that again," is how Ryan Reynolds described his last day of filming for this 2010 thriller whose primary place of action is pretty unconventional: inside a wooden coffin. Reynolds plays an Iraq-based American truck driver called Paul Conroy who is attacked and then buried alive in a coffin, armed with only a lighter, flask, flashlight, glowsticks, knife, pen, pencil and a mobile phone. Much like the man he plays, Reynolds suffers from claustrophobia, which compelled director Rodrigo Cortes to keep a paramedic on standby during the shoot. As filming progressed, the coffin — the film rarely moves away from it, with Reynolds being the only person we see in the flesh, with the other performances being other voice-overs or calls on his phone — was gradually filled with sand, with the actor, just for a moment, actually being 'buried' while shooting the climax. What makes Buried a film-making feat is that the whole film is shot from the interior of the coffin, but not a single shot is repeated.
4. Rear Window
A classic example of one of Alfred Hitchcock's "single set" films, this 1954 thriller converted a one-line concept — that of a recuperating news photographer (played by James Stewart) confined to a wheelchair in his apartment who watches his neighbours through a telephoto lens and binoculars and believes that he's witnessed a murder — into an engaging film. Taking place almost totally within the apartment, the movie was shot entirely at Paramount Studios on a specially constructed set that took 50 men two months to build. Most of the scenes are recorded from the limited view of one single room, through the big bay window of Jefferies's (Stewart) apartment. Rear Window is, today, considered both a technological and storytelling marvel. Plus, it had the ethereal Grace Kelly popping in now and then to soothe our eyes whenever the single-set setting got a little monotonous.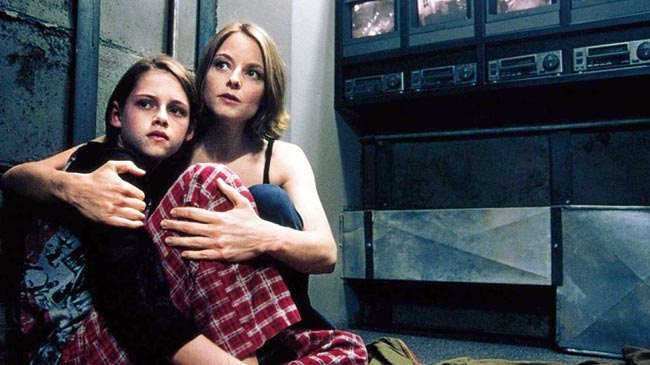 5. Panic Room
Twilight fans would give anything to be stuck in a room with Kristen Stewart. We aren't sure what Jodie Foster felt about that though in Panic Room, a 2002 David Fincher-directed thriller in which a mother and daughter, played by Foster and Stewart respectively, seek refuge in the panic room of their home after it's invaded by burglars. Fincher, who had just shot his iconic film Fight Club in 150 different locations, chose to narrow it down considerably for this film, keeping the action focused almost entirely in the panic room. But that doesn't mean that shooting this film was a breeze. Fincher and Co. took 120 days to shoot, with more than 2,000 set-ups and with each set-up having two cameras. Outside of the opening and closing scenes, everything else in the film is either set within the walls of the panic room or within the house.
6. Gravity
Creating zero gravity to mastering some mind-bending shots, Oscar winner Alfonso Cuaron invented a whole new grammar of film-making for his 2013 film that wholly focuses on astronaut Ryan Stone (Sandra Bullock) struggling to survive in space after an accident. For a major part of the film, Bullock is the only performer on screen (George Clooney slips away before we can say 'Gravity') and for most of her shots, the actor was placed inside a giant, mechanical rig. Getting in and out of the rig took a significant amount of time, so Bullock chose to stay in it for up to 10 hours a day, communicating with others through a headset. Pre-release, Cuaron said that his primary intention was to make the confined set look as inviting and non-claustrophobic as possible. The result was a film that took giant strides in terms of imagination, less sci-fi and more in the thriller space.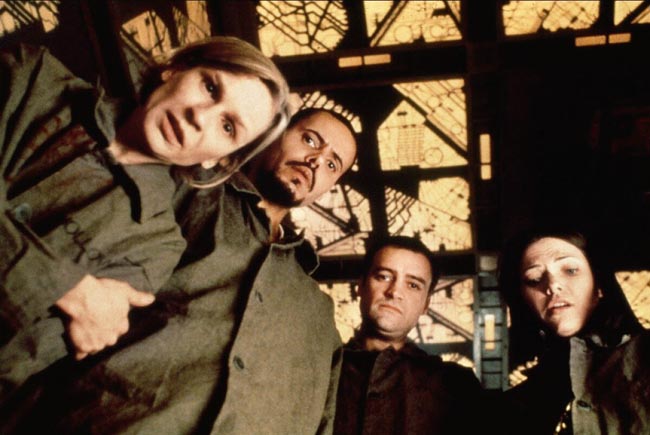 7. Cube
This 1997 independent sci-fi horror film has now acquired a cult following of sorts and shows individuals trapped in industrialised cube-shaped rooms, some of which are rigged with various traps designed to kill. Praised for its surreal treatment and Kafkaesque setting, the fictional 'Cube' device in the film was conceived by mathematician David W. Pravica, who also served as the film's math consultant. The film's entire action took place inside the cube, but the set contained just one cube, changed to different colours by means of gel panels. Since it was a time-consuming process to change from one to another, the film was not shot in sequence, rather colour by colour. Director Vincenzo Natali later said that he deleted a final moment from the film in which it's shown what is outside the cube to "keep the harmony of the film intact".
8. Room
The 2015 film that won Brie Larson a Best Actress Oscar had her character Joy aka "Ma" being held captive in a room for seven years, with her five-year-old son Jack (played by Jacob Tremblay) being born in captivity. The first month of shoot involved filming on a tiny 11x11 set with director Lenny Abrahamson and his crew working entirely within the confines of the limited space. To keep the claustrophobic feel intact, walls were never removed in order to facilitate filming. Abrahamson compared the experience to "playing a game of Tetris", with Larson isolating herself in her home for a month without a phone or Internet and following a strict diet in order to get a sense of what her character goes through.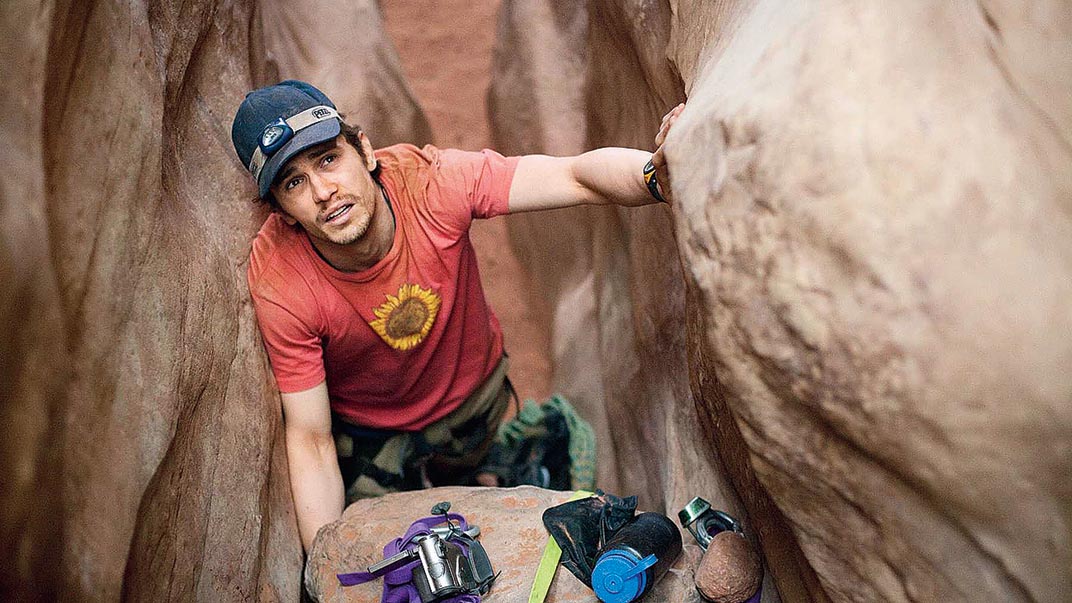 9. 127 Hours
Imagine not only being stranded alone in a desolate slot canyon, but having your arm trapped by a boulder that you can't free yourself of? Danny Boyle brought alive the real-life horror of canyoneer Aron Ralston in this 2010 film, the title referring to the time that Ralston (played by James Franco) was stuck before he self-amputated and cut himself free. With Boyle choosing to focus minute by minute on Ralston's excruciating struggle for survival and shooting on location in Utah, cinematographers Anthony Dod Mantle and Enrique Chediak chose to give the film a visceral and manic feel by keeping the camera as close as possible to Franco, who, despite the one-man premise and the bottle-episode treatment, made the film compellingly watchable.
10. The Ghazi Attack
This 2017 film, chronicling the events in which an Indian naval submarine thwarted the evil designs of its Pakistani counterpart to blow up INS Vikrant, almost wholly takes place within the confines of a submarine. The pressure of evading the enemy and the interpersonal drama that takes place within the submarine are accentuated by the psychological impact of being trapped under water and battling an unknown, almost unseen enemy.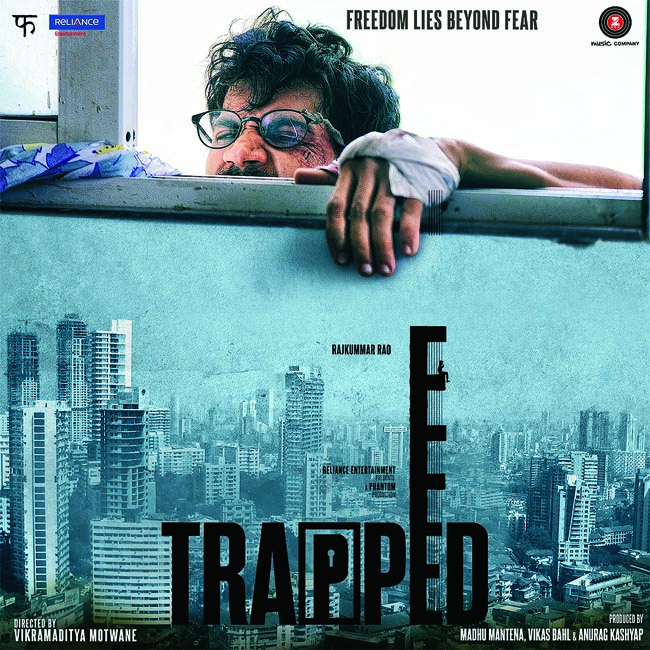 11. Trapped
Rajkummar Rao powered this one-man show of a young man inadvertently getting trapped for many days and nights in an apartment right in the middle of bustling Mumbai. This Vikramaditya Motwane film largely narrowed down its scene and setting to a sparse living room and its adjoining balcony with Rajkummar subsisting on a diet of just coffee and carrots to get his emaciated look, wholeheartedly embracing the film's central messaging of modern-day isolation in an urban jungle. A cockroach, a mattress on fire and a young man screaming out for help... Trapped made the most of its austere story and setting to tell a tale that still brings on the goosebumps.
12. Phobia
Deep-seated agoraphobia — the fear of unknown people and unfamiliar spaces — makes Mahek (played by Radhika Apte in the most Radhika Apte way) refuse to leave the confines of her apartment, which is where almost all the action in this 2016 Pavan Kripalani-directed psychological thriller takes place. What's interesting is that the apartment itself turns into a sort of character, with seemingly everyday objects and situations — the lamp left flickering because of a loose connection, the door left slightly ajar by mistake, the neighbour's black cat that crawls in looking for shelter — ending up being ominous and threatening.
Add to the list at t2@abp.in