If 2020 had a face, it would end up looking like Laxmii
Sadak 2 is no longer the worst film of the year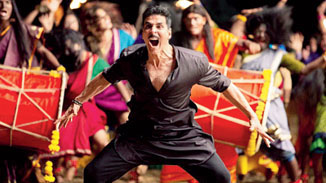 Akshay Kumar in Laxmmi.
Sourced by The Telegraph
---
Published 10.11.20, 10:37 PM
|
---
After weeks and months of debating whether I miss the magic of the big screen or I am comfortable watching a film at home in my pyjamas, I can now safely say that I am all for releasing films on streaming platforms. Because it's safe? Because I don't have to buy a ticket? Because I don't have to stuff my face with overpriced popcorn and cola? Because I can watch a movie without having to stare at a fellow film watcher's posterior who waltzes in 10 minutes after a show has begun? Well, all of the aforementioned are definitely clinching factors. But the one reason that's tilted the scales for me is that watching a film on a streaming platform comes with a fast-forward button. That's something that really comes in handy if and when you are feeling slightly masochistic and want to punish yourself with a show of Laxmii.
For all those who thought that Bollywood this year couldn't get worse than Sadak 2, there's news. Disney+Hotstar has upped its unwatchable game to 'home deliver' another unbearable film. Traversing the spectrum of tone-deaf and terrible, hammy and horrific, Laxmii is billed as a horror-comedy where the horror is laughable and the comedy is spine-chilling (neither of them in a nice, twisted way). Needless to say, Laxmii isn't quite the 'bomb'. In fact, if 2020 had a face, it would end up looking like Laxmii.
Over 141 minutes, this Akshay Kumar film  — whose only creative work has been in renaming it to Laxmii from 'Laxmmi Bomb', dropping an 'm' there, adding an 'i' here — takes the viewer's brain, churns it in a dishwasher and minces it to a point where even Jaani Dushman feels like 'ek anokhi kahani'. Wait a minute, didn't that also star Khiladi Kumar?
To be honest, I haven't watched Kanchana, the 2011 Tamil film that Laxmii is a remake of, save for a few scenes here and there while scouring Sony Max for a show of my favourite film Sooryavansham (as you can tell, Laxmii has already started affecting me). Kanchana, I have been told, wasn't a great film by any standard, but there was some fun to be had in the way it (almost) winningly brought together horror and ha-ha.
In Laxmii, the humour is largely 'slap' stick. Characters randomly slap each other and that is mined for laughs. Wait a minute, isn't that also a running trope in Khiladi Kumar's Housefull films? Well, there's a pattern, you see.
When it released, Kanchana was called out for being transphobic, and Laxmii, nine years later and directed by the same man Raghava Lawrence, not only reinforces many stereotypes but also adds to them. Akshay, the self-proclaimed flagbearer for the marginalised, shifts focus to the transgender community here, but Laxmii is so insensitive and reductive in its approach that it ends up doing disservice to the very people it makes a show of trying to champion. The film is also incredibly offensive on many levels, especially to women, with Akshay's Asif — who moonlights as a member of a group of myth-busters — proclaiming early on that he will start wearing bangles the day he spots a ghost.
That happens an excruciating hour later (by which time Laxmii has already made you rethink your Disney+Hotstar subscription more than a few times), when the spirit of a transgender, who was brutally murdered a couple of years ago, makes its way into Asif after he sips on a cup of lemongrass tea (come on, masala chai doesn't quite make the cut in a film as 'woke' as this).
And that means Asif struts around with a swing in his hips and drapes a sari while on a visit to a store, prompting a character to embarrassingly murmur, "Yeh auraton waali harkatein kyun kar raha hain?" At one point, three spirits make their way into Asif's body, and since Kumar's acting chops may not quite be the distinguishing factor, each of those spirits is given a different outfit to wear whenever any of them surfaces. Laxmii, the transgender spirit, ultimately turns out looking like a giant furry wig (we kid you not!)
What's even worse than Laxmii trying desperately to wring some laughs out of its audience through its largely physical comedy, is its Hindu-Muslim tokenism and its unabashed and needless display of religious iconography. The attempt at chills relies on the usual tropes of flickering lights and shadowy figures, with the real horror in the film coming through in its acting. Kiara Advani flaunts a collection of eye-catching shrugs, and even otherwise fine actors like Rajesh Sharma, Ayesha Raza and Manu Rishi Chadha ham it up like there's no tomorrow.
Akshay plunges physically into the part with all that he's got, but it's surprising that a superstar with influence and voice can lend his name to a film like this which is not only regressive and offensive, but also gets zero points for entertainment. Sharad Kelkar, in his brief role as Laxmii, is the only one who makes some sort of an impression.
Laxmii isn't quite the Diwali blockbuster that it hoped it would be. Some films are dead on arrival. This one 'bombs' on arrival. Safe to say, Bollywood's 'cracker-free' Diwali has started already.