Feluda speak
Sabyasachi Chakrabarty takes us on a trip down Feluda memory lane at Kalam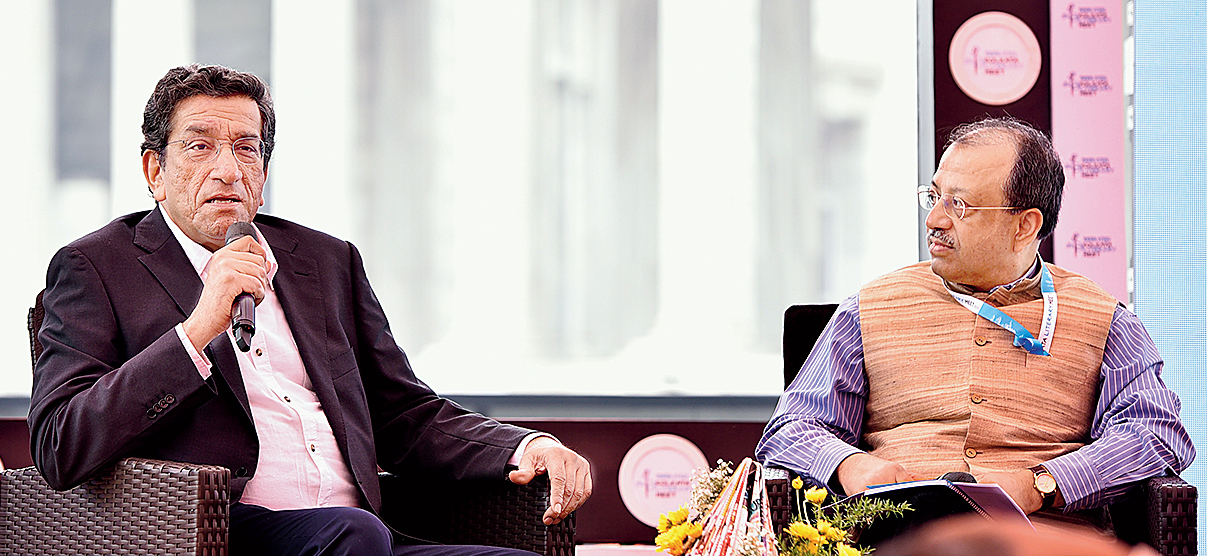 ---
---
Undoubtedly the most awaited session on the second day of the Tata Steel Kolkata Literary Meet, in association with The Telegraph and Victoria Memorial Hall, was Prodosh Mittirer Prithibi, where Sabyasachi Chakrabarty, who has portrayed the role of Feluda on different mediums like television, radio and big screen for more than 20 years, was in conversation with Jayanta Sengupta. From the time Sabyasachi got up on stage, the next 40 minutes was a riot as he shared stories from how he proposed playing the role to Satyajit Ray to the story of mishaps that has been associated with every Feluda film. Excerpts:
A FELUDA FAN

I read it as a kid like all of you and after reading it, I felt like after a long time I am seeing a character who can be considered international in many ways — his behaviour, his mannerisms, the way he speaks, everything. He also had a resemblance to my father, who was also a no-nonsense person. I used to think that I would grow up to be like my father. So then I decided that if I have to be like my father, then I have to be like this character who reads so much, is a strong person and is not afraid of anything. I know I can never be Feluda because it is a utopian character.

When I read this character as a child, I felt that this character has such a strong spine, he will never bend under any circumstance and can stand firmly on his feet. But I never thought that I could see him on screen. I fell in love with the character after reading Sonar Kella. And seeing him on screen felt like there cannot be anything bigger than this and this is the ultimate. But even then I didn't think that I would act out this character someday.
MEETING SATYAJIT RAY
Satyajit Ray was 6'4'' and I was 6'1.5'', so a lot shorter than him. At that time I was working for television and I wanted to make a series based on the stories of Upendrakishore Ray Chowdhury, Sukumar Ray and Satyajit Ray, so I went to meet him and expressed my desire. He asked me why I wanted to do so and I told him because those were good stories. So he said he will think about it. As our conversation proceeded regarding other topics, I mastered the courage and asked him if he would not do Feluda any more. He again asked 'why?' I said: 'Just because Santosh Dutta is not alive any more, will the Feluda series stop? This is a sad thing for the audience. Feluda should be continued.' He replied saying that without Jatayu, it is not possible. Then I suggested taking Rabi Ghosh as Jatayu and Soumitrada can make a comeback. He outright rejected him and said whatever Santosh did with that character, Rabi can't do. That's when I told him that I was actually asking so that I could do the role of Feluda next. He stared at me in shock and said he had seen my acting. 'It is not bad but I won't do it (Feluda) on screen any more,' he said. So I thought to myself that there is no chance for me. Then he said, 'You talk to my son if he does then you can try, but I will not do it.'

Then I said okay and I stood up to leave. He looked at me and said, 'How much?' I told him 6'1.5", he said I am 6'4". But Felu is 6'2" and if I wear shoes then I will be 6'2". 'You talk to my son' he said. And then I kept pestering Sandip Ray and then when he gave me the chance, I felt that I got heaven in my hands. This is one character I felt if I can do it then my life will be complete. Because I have been associated with Ray's writing and his literature in such a manner right from childhood that portraying this character meant a lot to me. I felt good about the fact that I could portray my favourite character on screen during my acting career.
BECOMING FELUDA

In 1995, I shot for Baksho Rahashya and it was shown in 1996. Sandip Ray called me one day and said that, 'I am doing Feluda. Are you still interested?' I said, 'What do you mean by interested, I am standing on one foot, if you ask me to come I will go right away. Should I come now?' He said, 'No no, not now. Come tomorrow.' The next day I went and saw that the make-up man is present there already and Bijoya Ray and Lolita Ray are also there with Sandip. He said, 'Can you sit once I want to test the make-up.' I agreed and then make-up happened. But when the make-up man was doing the make-up, I felt I am not even looking like Feluda, I am looking like me. Then I thought maybe this won't work, I will get rejected. When the make-up was almost over, the make-up man told them to have a look and all three of them kept staring at me for sometime, then mashima (Bijoya Ray) said it was looking good only. So look is done, now I have to do the acting. So then Topshe's role was given to Saswata Chatterjee and Rabi Ghosh was considered for the role of Jatayu.

Then after Baksho Rahashya I thought there would be some producer who would come forward to do it on the big screen but nobody came forward. So from 1996 onwards, I kept doing one television series after another. Then suddenly Ramoji Rao expressed his desire to produce it and then Bombaiyer Bombete happened. But from Bengal nobody came forward and that is a matter of sadness for me. It is such a beautiful creation in the world of literature that influences Bengali kids from a very young age yet no producer from the Bengali industry came forward to produce it.
PLAYING FELUDA FOR MORE THAN 20 YEARS
I did 10 on television, seven on the big screen and one I did on stage , which is called Apsara Theatre Er Mamla. I did the role of Feluda for so long that in Apsara Theatre Er Mamla, Topshe was my son. And when my son did that his friends told him, "You are calling your father, brother?"
But I am still game for playing the character by dyeing my hair, going to the gym and getting my physique ready. But only if the director and producer want me to. But when directors wanted suggestions I told everybody's name from Parambrata Chatterjee, Abir Chatterjee, Indraneil Sengupta, Tota Roy Choudhury to Anirban Bhattacharya. Sandip Ray took Abir in one film but said that the same person doing Feluda and Byomkesh was making people confused. So Abir had to be removed and I had to return. Even after telling so many people's names, Sandip didn't agree. He said, Felu has a strong presence, which I can't find in others. I told him they have this personality and they are all good at this but he couldn't find someone fit for what he wanted to portray on screen. But since I am back, I want to continue. Now I can't do as many stunts as I used to but there are stuntmen available who look like me. But the fear is constant about whether the audience will like it — fortunately they have not rejected me so far.
ANECDOTES FROM THE SETS OF FELUDA
One thing that has been constant with every Feluda film is that some sort of mishap always happens — there has not been a single Feluda film that was shot without any difficulties. I think this is a jinx. In Bombaiyer Bombete, for the train and the horse scene, when the train came, the driver said that he was told only to bring the train, so he won't drive it. When the horses came, then the dacoits didn't have the pagris. Then from the hardware shop, old saris were bought and dyed red. But it started raining and all the dacoits turned red (by leaking colour). So the shooting again got cancelled. In Kailashey Kelenkari, the temple where we were supposed to shoot was surrounded by scaffolding and for that, the shooting got obstructed. Then we told them that we had taken permission but they didn't allow it and we had to shoot with the scaffolding. In Tintorettor Jishu, the producer backed out last-minute listening to the budget of shooting in Hong Kong but then another producer came and agreed but while returning, the customs department at the airport stopped us and asked to see the films and we told them that it will get exposed if it comes in contact with light and air. So then we agreed to go through the X-Ray process but all our reels got exposed at places and we had to edit so much of it because re-shooting was not possible.
The session filled with fun and laughter and lots of behind-the-scenes stories for the audience to carry back home, shared by the man himself who successfully brought our childhood character alive on screen and radio for so many years, ended with the Feluda fan's curious questions, ranging from why Feluda is still not tech-savvy to what other detective roles were offered to Sabyasachi. Our Feluda sitting on stage solved all the mysteries of the mind and satisfied the curiosity of his fans as deftly as he solves his cases before the session ended on a happy note.