Faraaz, Omerta and Shahid are companion pieces: Hansal Mehta
The filmmaker's latest offering, Faraaz, stars Aditya Rawal and Zahaan Kapoor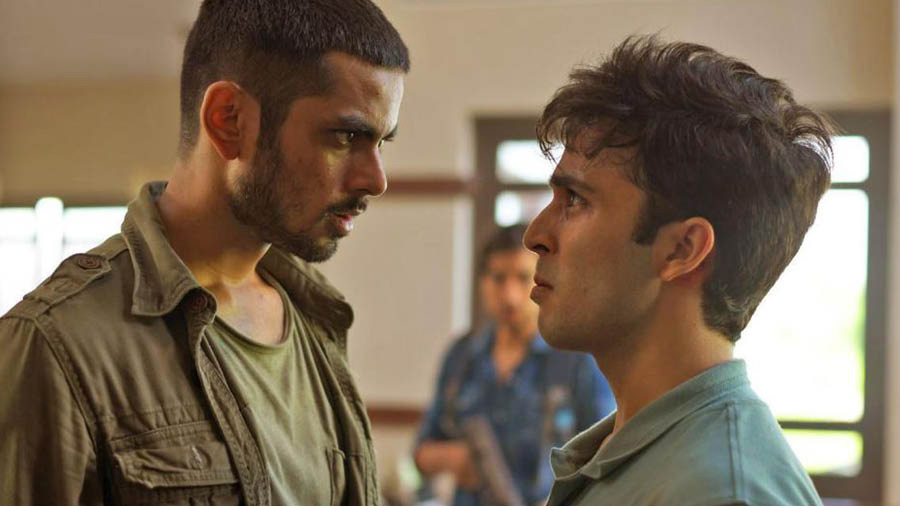 A still from Faraaz.
Twitter
---
Mumbai
|
Published 07.02.23, 09:42 AM
|
---
"Faraaz", "Omerta" and "Shahid" are companion pieces that explore "the world of radicalism", says filmmaker Hansal Mehta.
It was "Shahid", the 2012 biographical drama on lawyer Shahid Azmi starring Rajkummar Rao, that first brought Mehta acclaim after a string of forgettable films. They reunited for the 2017 film "Omerta", a character study of terrorist Ahmed Omar Saeed Sheikh.
Like its predecessors, Mehta's latest film "Faraaz" — based on the July 2016 terror attack on a bakery in Dhaka, Bangladesh — echoes the religion versus radicalism debate.
"It ('Faraaz') is a youthful film in a different way. Compared to 'Shahid', these characters are younger than Shahid Azmi too. They are companion pieces, 'Faraaz', 'Omerta' and 'Shahid'. Each of them explores this world of radicalism. It is my attempt to explore the world," Mehta told PTI in an interview.
The film views the conflict through the eyes of two characters — Faraaz (Zahaan Kapoor) and Nibras (Aditya Rawal).
According to the filmmaker, all three movies have one thing in common: Muslim youth being brainwashed into terrorism.
"Shahid" revolves around Azmi, a former militant operative, who goes on to become a criminal lawyer and fights to get justice for those who have been falsely convicted of terrorism.
"Omerta" is based on the life of British-born Sheikh, who was freed in exchange for passengers of a hijacked Indian Airlines plane in 1999 and was later accused of killing journalist Daniel Pearl.
According to Mehta, he is drawn to such stories as he is "disturbed by the misuse of religion". "I don't find the stories, the stories find me. I am troubled by bigotry, people misusing religion to justify riots," he said.
With hostage drama "Faraaz", his aim is to develop greater understanding of the times. Also starring Juhi Babbar and Aamir Ali, the film had a limited release on February 3.
"My intention is to gain a greater understanding of our world, of our times, to seek empathy for the people who suffer through this, through storytelling. The larger human empathy is for the people who go through this kind of ordeal," he said.
"I will continue doing it. I approach my films with utmost sensitivity. I don't judge my characters, I don't pass judgments through the film, I explore them as human beings," he added.
It is important to narrate all kinds of stories, said Mehta, adding that every filmmaker has a unique expression.
"'Pathaan' is as political as perhaps 'Faraaz', but the expression is different. The way it is done is different, the audience is different. All kinds of films need to be made. If my film has to be made then a Rohit Shetty film also should be made. A 'Pathaan' has to flourish for my film to breathe. The industry is interdependent," he said. 
"Faraaz" is backed by Mehta's filmmaker friend Anubhav Sinha and Bhushan Kumar-led T-Series.
Asked to comment on Prime Minister Narendra Modi cautioning his party workers to refrain from making unnecessary comments on movies, Mehta welcomed the PM's statement, adding a good film will eventually get its due.
"It is an important statement to make. Having said that, a good film is a good film and it will reach the audience. And that is what 'Pathaan' has proven. You cannot keep a good film and a good man down for too long. There are some really good films that didn't find an audience. But then they found an audience on OTT or somewhere. Times are changing," he said.
Post "Faraaz", Mehta has a slew of projects including Netflix show "Scoop"; a film with Kareena Kapoor Khan, which is in post-production; the second season of SonyLIV's "Scam"; an anthology with Pratik Gandhi and Rajpal Yadav, and the much-anticipated "Gandhi" series.
"I am excited about the anthology. It is something that I have not done before. It is a genre I have not touched. It is satirical, tongue in cheek," he said.
"The next season of 'Scam' is under post production. We will begin principal photography of 'Gandhi' towards the end of the year," he said.
Except for the headline, this story has not been edited by The Telegraph Online staff and has been published from a syndicated feed.