Fahadh Faasil powers 'Malik'
The 162-minute film is a compelling tale of loss, revenge and betrayal that mirrors the times we live in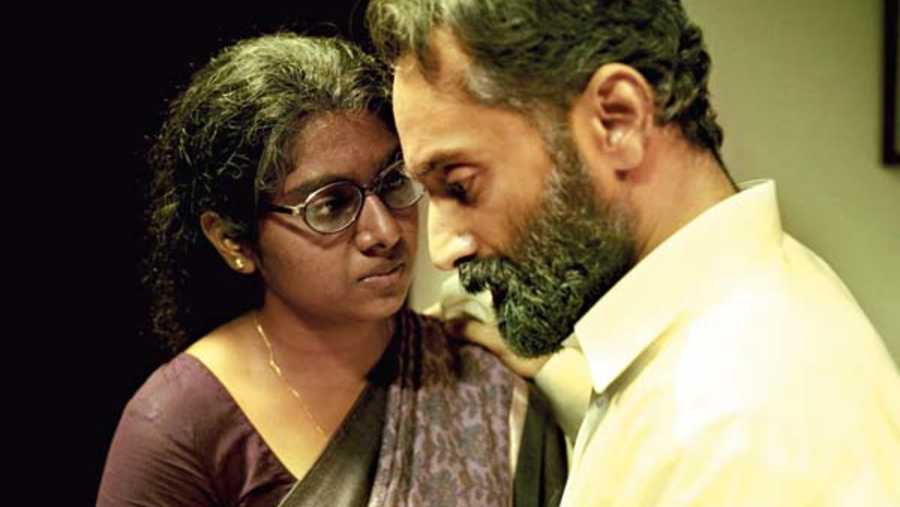 ---
---
A stunning 13-minute one-take sequence sets up the world of Sulaiman aka Ali Ikka, and also of Malik. The camera hovers voyeuristically, moving in and out of rooms in a sprawling house in the fictional town of Ramadappally in Kerala. An elaborate feast, which may well remind one of The Godfather, is taking place before Sulaiman walks into a car and vrooms off to the airport for his Haj pilgrimage. About to board the aircraft, Sulaiman is accosted by the cops, picked up and put in jail.
Contrary to our traditional notion of a mafia/ gangster film, a lot in Malik plays out quietly. Even when a young Sulaiman (starring Fahadh Faasil and his eyes, an entity in itself) loses his son Ameer in a shootout, his grief, shock and helplessness is palpable, but even as he screams, there's a certain quietness that sears through the screen.
Malik, now streaming on Amazon Prime Video, ticks all the boxes of the genre, but stands on its own. It follows the inter-generational, sweeping story-telling structure of a mafia man-cum-messiah over three decades, giving us a story rich in themes that follow the standard tropes of the genre, but also pack in elements that consistently challenge the genre.
Directed by Mahesh Narayanan and playing out over 162 minutes, Malik is a story we have seen on screen before. A young man's rise in the world of crime to eventually become a godfather to the community that he protects, and the day his past catches up with him. The trajectory of the plot is similar to Mani Ratnam's Nayakan. And not just in the use of the sea as a striking metaphor. But Malik, even within its familiar template, is a story that has its roots in the real, seeming to be loosely inspired by the Beemapally riots of 2009, when the police indiscriminately opened fire on locals and later claimed that it was done to control communal violence.
Religion, politics and a communal tightrope form the crux of the story in Malik. Young Sulaiman, initially smuggling in cologne bottles and selling them for a paltry sum, grows to be an overlord of sorts in this Muslim-dominated coastal town where he is revered as Malik. His quick rise witnesses an equally speedy increase in his enemy count — some of them within his own fold — setting up the film for a powerful and poignant tale of loss, duplicity and revenge.
In its portrayal of the relatively innocent days of its protagonists (Sulaiman and Roselyn, played by Nimisha Sajayan, exchanging glances while trying to sell their wares is a moment that stays on), the organic animosity created in this line of business and the betrayals that follow, the film finds roots in Vetrimaaran's much-celebrated 2018 Tamil film Vada Chennai.
Malik crafts a compelling story of the times we live in, where elections are fought and won by driving a wedge between communities and religious groups. The film also draws from current issues and incidents — land encroachments along the Indian coastline and the inevitable ecological damage caused and the hand-in-glove equation between politicians and law enforcers. The use of multiple characters telling the story from their points of view through flashbacks contributes to the richness of the narrative, but this is a film that demands that you remain invested in it every single minute.
Which, by the way, is not a tall ask, given that Fahadh Faasil arrests attention every single moment he's on screen. The actor bites into a fantastic part that has an overarching growth, transitioning from an eager young man looking to better his lot in life to a crime lord whose silences speak more than his words. He's supported by the equally fantastic Nimisha Sajayan, who is currently experiencing a purple patch, and a formidable Vinay Forrt who plays David, Sulaiman's best friend-turned-arch nemesis. The other heroes of Malik are Sanu Varghese with his camera and the background score by Sushin Shyam.
Malik is a film seething with rage, much of it directed at political players taking advantage of the fault lines in religious groups. It's a film of the times. Even when it's quiet, it's screaming.