Facing personal trauma to accepting one's destiny
Shonali Bose at 'Filmmaker In Conversation'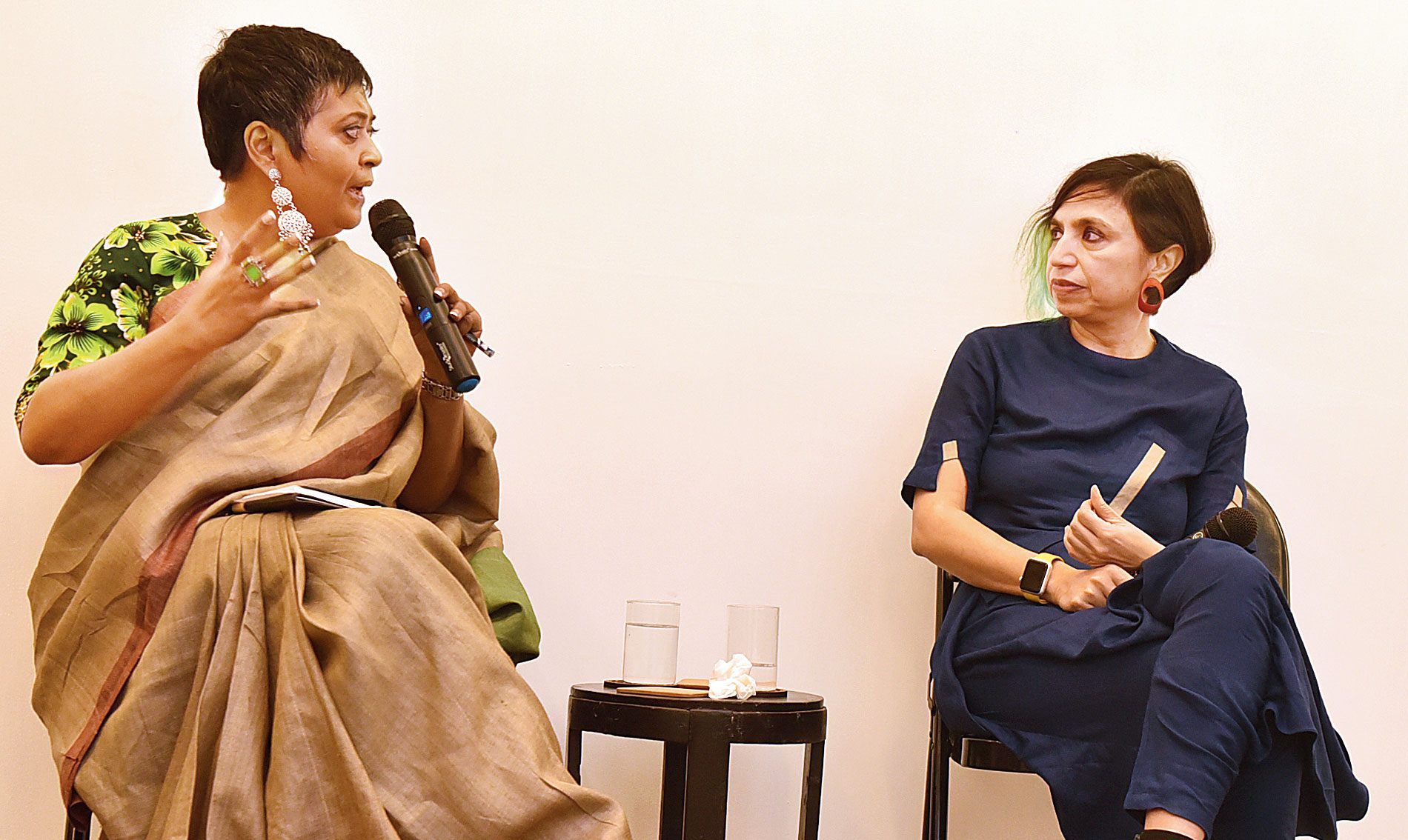 ---
Calcutta
|
Published 03.12.19, 12:45 PM
|
---
Filmmaker Shonali Bose has been an inspiration, not only through her films but also in the way she has handled personal trauma. The director behind films like Amu, Margarita with a Straw and the recent The Sky is Pink engaged in a chat on her personal journey, politics, death and learning to accept life as it unfolds. The hour-long session at Experimenter, an initiative of Phreedom4Ever and SPCkraft, in association with t2, was moderated by social activist Ratnaboli Ray. Excerpts:
Ratnaboli Ray: Shonali, your films compel us to look at ourselves and to find out who we are and in that process of digging and searching, you also talk about authenticity of self and that it's important for all of us to think about the self as unique. If you could tell us how you have processed the same within your body of work and as well as personally ?
Shonali Bose: Amu, Margarita with a Straw and now The Sky is Pink... it's really a trilogy of something very deeply personal. There are aspects of me in all three films. A big part of it is the mother-child relationship and death and also sexuality and disability.
When I graduated from film school, I was terrified to make my first feature film. I was scared, but I wasn't scared of failing. I was like, 'I need to try this and then if I fail, I fail'. In that quest of making my first film, I knew that you actually had to go deep within yourself and write from a place of honesty and from your own self because that is the biggest truth... when you can access your own self.
I knew very strongly that I wanted to make Amu on the '84 genocide against the Sikh community... nobody had made a film on that subject. It is a watershed event in our country and there the personal and the political combine because there is a political me who is very keen to make this film and when I started writing it, I chose the personal part of a mother-daughter relationship. My mother had died by that time and there was nothing biographical in the film, but I definitely explored my closeness with my mother. My own mashi, (politician) Brinda Karat, who is like a mother to me, plays the role of the mother in the film. So I was coming from an authentic place, both personally and politically.
Then when I made Margarita with a Straw, it started off with just wanting to tell my sister Malini's story. It was based on one remark — 'I just wanna have sex' — that she made to me. I remember having a chat with Jeeja (Ghosh, disability rights advocate). I remember telling Jeeja that she needs to play Laila (eventually played by Kalki Koechlin). Jeeja very honestly said, 'I won't be able to do the lovemaking scenes because I have to go back to that middle-class woman and my mother will just kill me!' (Everyone laughs). So this is why I had to cast somebody who is able-bodied... Kalki. As I was proceeding to write it, it became deeply personal. Without being conscious, it became a mother-daughter relationship and about death. When I started Margarita, it had been four months since my son Ishan's death. Ishan died in September and in January, on his birthday, I was able to celebrate with as much joy as though he were alive and on that night I just picked up a pen and I started writing and I took a month and finished writing the script and made Margarita with a Straw.
I always feel when life gives you lemons, you can either be bitter or you can make a margarita and that's the way I approach my son's death. By the time it came to Margarita, I think it became even more biographical because it is not just about death. I am a bisexual and I thought of exploring my own sexuality and my own relationships in the film.
The Sky is Pink is very directly about the loss of a child. When the Chowdhury family approached me to tell their story, I was extremely interested because I wanted to explore the loss of a child through cinema... to bring to it my own pain as well as my intense joy about death.
Ratnaboli: How do you process trauma?
Shonali: You actually go out and comfort people you don't know. First, you feel terrified, right? The act of giving and the act of receiving... it makes you feel amazing as a human being I think to just be in that place, to be just present for the people, to give your heart and soul to them. When I did Amu it was cathartic for my mother. People just need you to be there for them.
Ratnaboli: People are afraid to be vulnerable. Do you agree? In all your films, there is a kind of vulnerability which is shown in an extremely poignant way...
Shonali: Death is something we all fear, so much so that we shy away from pain and leave the subject alone. I think anything difficult, we just shy away from it and just escape to the time zone where we need a quick fix to be happy all the time.
Ratnaboli: There is also denial...
Shonali: I will tell you what I learnt from Ishan's death. When my mother died I was 21 and was unable to deal with her death. I resisted it and I was angry... because she was gone for negligence and I just felt anger. When someone whom we love dies, you sometimes blame yourself... you feel, 'I wish I had seen that person, I wish I had done something...' But it is so important for us to realise that we can't control anybody's death. You blame yourself and I really feel that it is important that you have self compassion. That's the best you could do at that time for your loved one. You have to let go.
When we don't deal with the pain that we experience, it gets embedded in our body and psyche. It comes back, not directly but in different ways. I didn't have that wisdom when my son died. 'I was like, 'Oh my god, I can't go for the next 25 or 40 years with that hole in myself'. Courage means facing your inside pain and not hiding it. When my son died, I just decided that I had to do the opposite of resisting. And the opposite is accepting. In Margarita with a Straw, the biggest thing I wanted to bring out was that one needs to accept whatever happens.
If you are disabled by birth, or it happens to you later in life... or you are gay or your mother gets cancer and she dies... whatever these things are, you can't control them and you need to accept them.
Disability, sexuality... these things you have to have the grace of acceptance because if you don't, then you are never going to find peace. On the day of Ishan's funeral, I was looking at his picture and I felt, heard or saw this sentence in my head — 'Mumma, I didn't need to be on earth any more' — and that was a really, really powerful sentence for me. It made me understand right at that moment that we think we need to live on earth for a 100 years. When a young person dies, it's impossible to accept. When Ishan was in hospital, it was impossible to think he would die... it was unacceptable. But when he died, I knew....