Enola Holmes: spunky young adult take on the Holmes universe
The role is played with a mix of freshness and feistiness by Millie Bobby Brown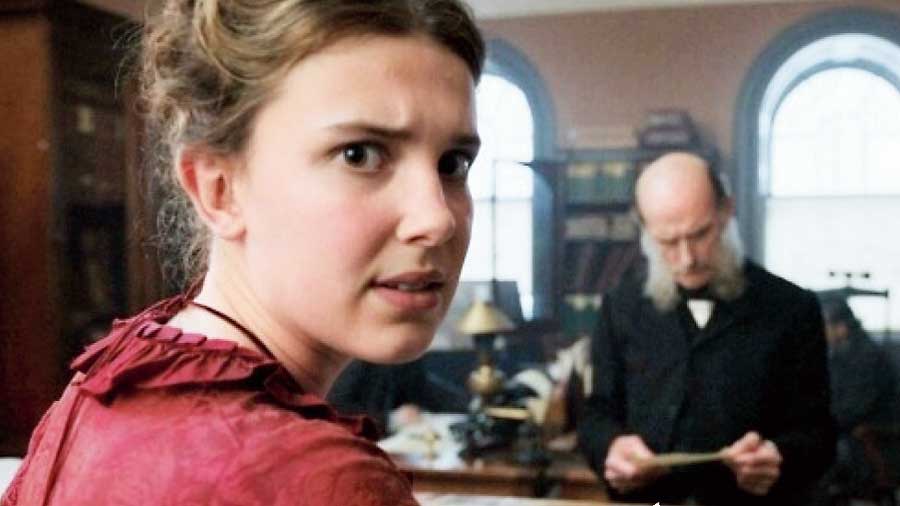 ---
---
In June this year, the Arthur Conan Doyle estate sued Netflix for certain copyright infringements in Enola Holmes, most notably for investing super sleuth Sherlock with "emotion and empathy". The argument is that Sherlock Holmes developed #feels only much later in the course of Doyle's writing, something that the new film — and by direct extension the novels by Nancy Springer on which it is based — don't have the liberty to portray. Well, did they really have to bother? Sherlock, played by Henry Cavill, has very little to do or say in the Netflix film, operating pretty much as a pretty boy personality. His brother Mycroft, though a unidimensional misogynist and essayed in this film by Sam Claflin, is invested with more colour.
But Enola Holmes, that drops on Netflix today, isn't really about the brothers Holmes. It's about their sister. Enola, a cheeringly rebellious and gutsy protagonist with a sharp sleuth-in-the-making personality is easy to root for. This Young Adult spin on the Holmes universe doesn't really focus too much on the mystery occupying a few pages of its script, or even on the solving of it. What truly holds front and centre is a deeply feminist take that challenges the world to see women of that time differently, courtesy a spirited and spunky Enola.
Enola, as we come to know pretty early in the film, is 'alone' spelt backwards, a name given to the young girl by her equally spunky mother Eudoria (Helena Bonham Carter). The name is prophetic in a way because Enola grows up to be a 16-year-old who marches to her own beat. Played with a mix of freshness and feistiness by Millie Bobby Brown — who brought Eleven to life in Stranger Things — Enola is a wild child (or a "wildling" as Mycroft spits out disapprovingly), preferring to cycle through the countryside, her hair wild and her clothes askew, than fit into a deeply uncomfortable corset, something that she considers as a symbol of repression.
In many ways, Enola — distinguished by a tomboyish aura that will instantly remind one of Keira Knightley in her earlier films — is a lot like Phoebe Waller Bridge's snarky and sassy Fleabag in the eponymous television series. Like Fleabag, Enola consistently breaks the fourth wall to speak to the audience, a trope that reminds us how effective and effortless a performer Millie Bobby Brown is. Enola Holmes, for the record, is directed by Harry Bradbeer, who won a Primetime Emmy last year for his work on Fleabag.
With her mother inexplicably taking off on her 16th birthday, leaving behind a trail of cryptic clues and prompting her brothers to return home to take charge, Enola Holmes may seem like a traditional Holmes mystery on the surface, but is in reality a feminist statement that has Enola — armed with some sharp jiu jitsu skills and an even sharper mind, and a rabble rouser of sorts — rebelling against everything that expects women to conform, even as the film sets itself against a socio-political fabric of the early days of women's suffrage and a time in British history when the winds of social change were gaining speed on several fronts.
What works for Enola Holmes — even as it gives its budding detective more than one mystery to solve during its runtime, one of which involves a charming young viscount (Tewksbury, played by Louis Partridge, and who Enola, in a telling gender spin, often rescues from sticky situations) — is that it imagines a place for a heroine in the world of Sherlock Holmes, but without having her conform to a certain type. Enola lands a few thwacks on an adversary even while trussed in a corset, and is a woman with both agency and agility, with the mental bandwidth to make life-changing, split-second decisions.
Though encumbered by its 123-minute running time with spells of nothingness in between, Enola Holmes zips along delightfully for the most part. When matters get a little mundane, there's the evocative production design to feast your eyes on, the Victorian era of 1884 gorgeously recreated in every prop, setting and costume. The film is certainly the start of a fresh franchise in the Holmes universe, even though we do miss some of the edginess that trademark a traditional sleuth story. But a beginning has been made — as Sherlock tells Enola, "Sometimes you have to dangle your legs in the water to attract the bloody sharks" — and our sights are set on more. Much more.