Dynamic Kate Winslet powers the slow-burn thriller 'Mare of Easttown'
The seven-episode limited series is a slow-burn thriller set in small-town America where the tension simmers below the surface to build a pressure cooker-like situation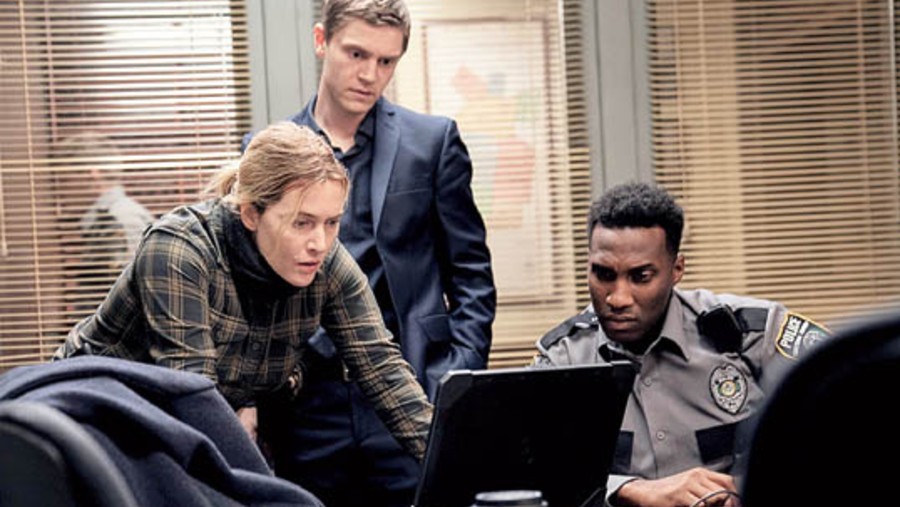 ---
Published 06.05.21, 02:36 AM
|
---
Mystic River meets Broadchurch meets Top of the Lake — with Kate Winslet leading the charge — in Mare of Easttown. This seven-episode limited series (of which three are now available on Disney+Hotstar, with a new episode dropping every Monday) is the quintessential slow-burn thriller set in small-town America where the tension simmers below the surface to build a pressure cooker-like situation, ultimately exploding in a turn of events that impacts almost every life in town.
Mare of Easttown is, well, set in sleepy Easttown, Pennsylvania, with Winslet playing a world-weary detective called, well, Mare Sheehan. A former high-school basketball star, Mare is now a divorcee with a dead son and a four-year-old grandson whose custody she's determined to keep at all costs from the boy's mother, who is just out of rehab. Fighting her way through a messy family set-up, Mare is forever at loggerheads with her straight-talking mom (a fantastic Jean Smart), does her best to navigate through the teenage-ey ways of her daughter (played with studied Nonchalance by Angourie Rice) and has to deal with her former husband not only shifting into the same neighbourhood with his new girlfriend, but also suddenly announcing his engagement.
Mare, prickly and bristly for the most part with the weight of the world on her shoulders, isn't having a great time at work either. A year-old case involving a young girl remains unsolved, something that she is reminded of time and again. Things come to a head when teenaged mom Erin, a peer of Mare's daughter Siobhan, is found dead at a local creek. With a fresh pair of eyes, in True Detective-style, accompanying her in the form of Colin Zabel (played by Evan Peters), Mare goes about putting together the pieces of what doesn't seem to be a simple homicide, even as she struggles to keep her family — and more importantly, the last dregs of her sanity — afloat.
There isn't much in Mare of Easttown which one hasn't seen before, or seen done better. The tropes are familiar, some of the twists are predictable, but the show grows on you because of how compellingly watchable Winslet — who has also executive-produced the show — makes her flawed protagonist. Mostly sour-faced and grouchy, Winslet turns in an act which is remarkably devoid of any glamour, the actor being unafraid to show off her wrinkles and zits. A bedraggled Mare looks like she hasn't had a proper shower in days, forever dressed in a loose flannel shirt and ill-fitted pants. The show's popularity has spurred online sales of Mare's 'look'. Mare's ever-dependable jacket is available online for $149. For perspective, replicas of the 'heart of the ocean' necklace, from Winslet's own Titanic, are being sold at $15.)
Mare plunges into the case like a maniac, obsessed with finding the killer, the small-town dynamics of Easttown — in which everyone knows everyone (at one point Zabel asks Mare, "Is there anyone in this town you aren't related to?" Her reply: "No") contributing to the show's exploration of the dark side of a close-knit community, much like Clint Eastwood's 2003 neo-noir crime drama Mystic River.
Winslet, who owns this series top to bottom and loses herself wholly in the character, powers her way through a show whose ambitions may often exceed its reach, but one which is anchored by a strong ensemble cast. It helps that the rakish Guy Pearce is parachuted in as a charming writer to add some romantic interest into Mare's life, their moments of reprieve providing some reprieve for the viewer.
As I mentioned earlier, Mare of Easttown, written by Brad Ingelsby and directed by Craig Zobel, sometimes ends up being no more than a collection of oft-used tropes, but the creators do well in keeping the interest alive by peppering the plot with a series of red herrings, some of which may even surprise you.
Even as the show is crafted as a mystery thriller, Mare of Easttown proves to be a terrific character study of its protagonist, a dynamic exploration of her own family problems and her inability to cope with the bottled up grief of losing her young son. Also, being a limited series works in the show's favour because both the characterisation and the plot seem self-contained, with the terrific atmospherics — Easttown seems in the grip of a never-ending gloomy winter — aiding the mystery aspect of the series.
There are still four episodes left to see whether Mare of Easttown manages to build on its foundational intrigue or squanders it. But with Winslet in the thick of things, we are leaning more towards the former.