Dostojee is a stirring tale of a friendship steeped in love and untouched by hate
Prasun Chatterjee's directorial debut about two young boys released in cinemas on November 11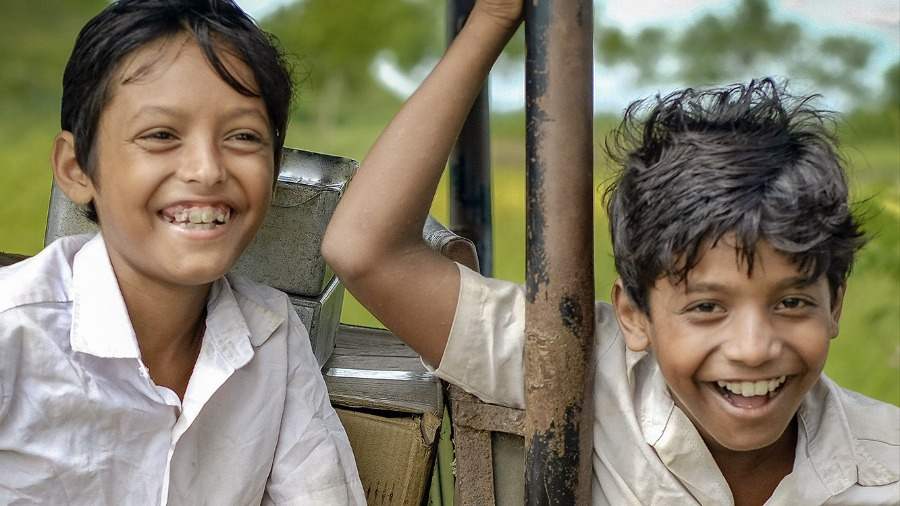 ---
Calcutta
|
Published 15.11.22, 02:37 PM
|
---
One remembers childhood in vignettes — pranks in school, orange stick ice cream, school excursions, fights with the best friend — and it seems to remain untouched by the complexities of adulthood, no matter how much time has passed.
Prasun Chatterjee's directorial debut Dostojee, a story about two eight-year-old boys living in a village near the Bengal-Bangladesh border, is an ode to that innocent time in life when you are cocooned in your own world, happily unaware of the world around you. It is also a powerful picture of loss and courage.
Palash (Asik Shaikh) and Safiqul (Arif Shaikh) spend most of their days together. They ride to and back from school together and on the way they get up to all kinds of mischief. Sometimes it is just skipping stones on the river as they wait for their ride, sometimes it is bunking school and going to a fair, sometimes it is practising Amitabh Bachchan's pose on the Deewar poster. Each goes back into their respective homes, separated by a temporary, makeshift partition. The significance of that partition becomes apparent as the setting of the film becomes clear. It is the early 1990s and the ripples of the Babri Masjid demolition and Mumbai blasts have reached even this remote Muslim-dominated village.
Even as tensions mount in the village, on grounds as flimsy as the partition between the houses, Palash and Safi, who call each other 'dostojee' (a term of endearment), remain blissfully unaware. Safi's father might prevent him from going to watch the jatra performing the Ramayana and Palash's mother might want to move to Nadia because she feels unsafe in the village, but to both the children it's nothing but fodder for casual conversation. They are more interested in buying tok-tokis and having their picture clicked. Safi is the outgoing one with absolutely no interest in studies. Palash is his opposite, studious and quiet, but never holding back from all the escapades his friend gets up to.
The first half of the two-hour film will leave a silly smile on your face brought on by the innocence of the children's friendship, their fight — over a kite, not religion — and their making up. But underlying it is that dread that something will go wrong, something created by the subtle presence of the looming communal unrest. And things do go wrong, but not in the way one would expect. The second half of Dostojee is a poignant portrait of loss and how individuals cope with it, made more impactful by the earnest performances of the cast. It is doubtful that the film will leave the audience dry-eyed. 
The fact that most of the cast, especially Arif and Asik, are non-actors, mostly works to make the film more authentic. Their emotions feel genuine and not scripted. Arif steals the second half of the film. Both Jayati Chakraborty and Swatilekha Kundu, Palash's mother and Safi's elder sister, deserve a mention for their nuanced performances. 
Dostojee is also a gorgeous film with landscape shots of the river, fields and meadows and close-ups of objects and faces that are very reminiscent of Satyajit Ray's Pather Panchali. A lot of the shots, taken by first-time cinematographer Tuhin Biswas, look like photographs come to life. In fact the feel of the film is a lot like Ray's seminal work given its rural setting and the socio-economic context. 
But the socio-political commentary in Dostojee sometimes lands like a hammer, affecting the narrative and disrupting the immersive experience. The film, which feels more like a documentary than a feature, is at its best when it is focusing on the boys and their friendship. And the images that stay with you — whether it is a hat decorated with fireflies or feeding a caterpillar in a jar or using a tok-toki to communicate or calling to the kokil in a mango orchard — all belong to that friendship.
Dostojee apparently took eight years to make and faced many hurdles before going on to show at numerous international film festivals. It has managed to eke out one show at some of the multiplexes and standalone theatres for a week, so you better get going now.