Don't waste your paisa on Total Dhamaal
Total Dhamaal has some big names but there seems to be no reason why they would be a part of this buffoonery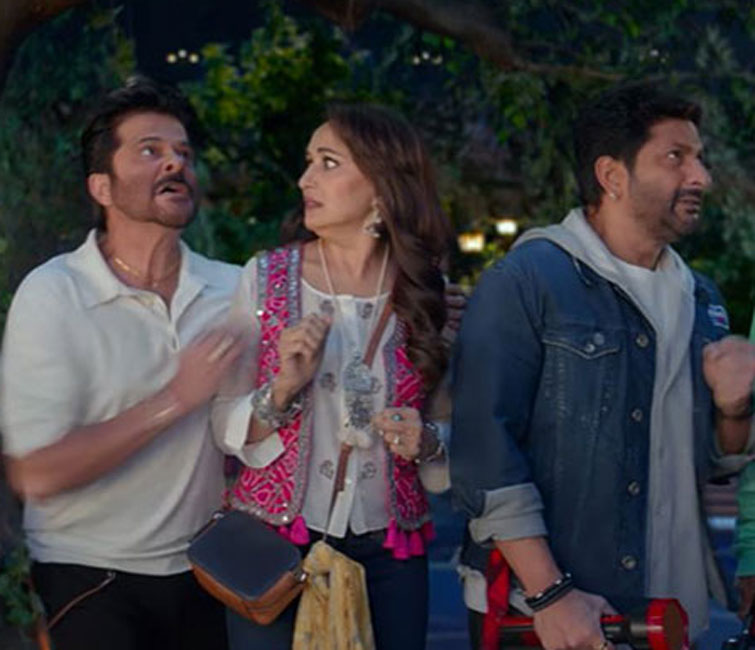 Anil Kapoor, Madhuri Dixit and Arshad Warsi in a scene from Total Dhamaal
A still from the film
---
Published 22.02.19, 02:37 PM
|
---
In Total Dhamaal, a motley group of dimwits try to outsmart one another in the race to get hold of a treasure buried in a zoo. Wait, wasn't this the plot of Dhamaal, the first film in the comedy franchise, that released 12-odd years ago and which itself unashamedly copied from the '60s comedy caper It's A Mad, Mad, Mad, Mad World? Director Indra Kumar takes the trend of remixes a step further and 'remixes' his own film, peppering it with infantile jokes, brainless gags and CGI on steroids.
Total Dhamaal manages to assemble some big names — Ajay Devgn, Anil Kapoor and Madhuri Dixit — and brings back series staples Arshad Warsi, Riteish Deshmukh and Jaaved Jaaferi, but there seems to be no reason — apart from "Paisa yeh paisa" — why they would want to be a part of this buffoonery.
Having suffered the film on Friday morning, we've lined up 10 reasons why you shouldn't waste your paisa on Total Dhamaal.
The film relies on physical comedy that brings on very few laughs. Characters constantly ram into trees, walk into lamp posts, hang from buildings, fall off rickety bridges and willingly smash car doors on their own faces. While all of this works in a Chaplin film or in a Tom & Jerry cartoon, you just wince — in pain, both mental and physical — through the unapologetic asininity here.
Comedy in Total Dhamaal means screaming at the top of your lungs. Even normal conversations happen at decibel levels that could potentially render you deaf if you are watching this film in a Dolby-powered theatre. At one point, the characters scream into each other's ears through rods emblazoned with the name of a popular TMT bar brand. Don't get us started on the rest of the jarring product placements in the film.
Anil Kapoor and Madhuri Dixit, coming back together after many years, play a bickering couple on the verge of separation. Madhuri's Bindu compares Anil's Avinash to a donkey, dog and monkey while pleading with the judge to grant her a divorce while the husband gleefully confesses that he's often fantasised her as being dead. The man next to me in the dark audi nodded and laughed out loud. Yes, he looked married.
Save for a stray reference to Dhak dhak — the iconic number picturised on the two — Total Dhamaal makes no effort to mine nostalgia from the Anil-Madhuri jodi. The two are made to mouth some terrible lines — "Tere pehle ke paanch sense toh kaam nahin karte aur tu sixth sense ki baat karti hai?" and "Tumhara naam Avinash nahin, Satyanaash hona chahiye" — are examples. Even remaking Beta and making them go "Ku ku ku ku" to the embarrassingly bad Koyal si teri boli would have been more welcome.
Riteish Deshmukh and Pitobash Tripathy's introduction scene has them as firefighters who conduct an auction below a blazing building and invite bids on who they will rescue first based on the money offered. When a crying man about to cop it in the fire confesses he has no money, they laugh and say, "Tu garmi ke mazey le."
As if rehashing the first film wasn't bad enough (the laugh-out-loud plane scene is turned into a helicopter here, but the jokes don't land), Total Dhamaal copies scenes from Holly films like The Hangover and Baby's Day Out. Even after being copy-pasted frame by frame, they aren't funny.
Ajay Devgn tries to pass off facial gymnastics as comedy. Sanjay Mishra, playing his sidekick who mouths "Bro" at least twice in every sentence, is even worse. Boman Irani, playing a corrupt cop who wants to lay his hands on the money first, is dressed like a clown throughout, but comes up with no laughs.
Despite Devgn's presence, Dhamaal is not a part of the 'Rohit Shetty extended universe', but cars are almost a character here. They bang into each other, there's pile-up after pile-up and there's even a GPS in a car that's programmed in Jackie Shroff's voice. It speaks in 'Chindi' — that's 'chaalu Hindi' for you — and spouts 'Bhidu' in every sentence.
No one is spared. A 'Madrasi' is threatened with "Main iss naariyal pani ka lungi phaad doonga" and Johny Lever plays a Bengali who perpetually sings Ekla cholo re and is made to say "Tum kidhor jota haai?"
The second half plays out almost entirely in a CGI-created zoo with CGI-created animals. The animals turn out to have more facial expressions than Esha Gupta who puts in a cameo as the zoo owner.
Besides the Karz hit Paisa yeh paisa, the film remixes Mungda, with Sonakshi Sinha not even coming close to Helen's original. A lion features in the number called Speaker phat jaaye and looks quite perplexed at lyrics like 'Oh meri Lady Gaga/ Dil tere peechhe bhaaga'.
To quote Gaga, 'Eh, Eh (Nothing Else I Can Say)'.