Doc Martin is not high art but more of a long dunk in the bathtub with a side of hemophobia
The ITV show has all the ingredients of a very English comedy verging on soap opera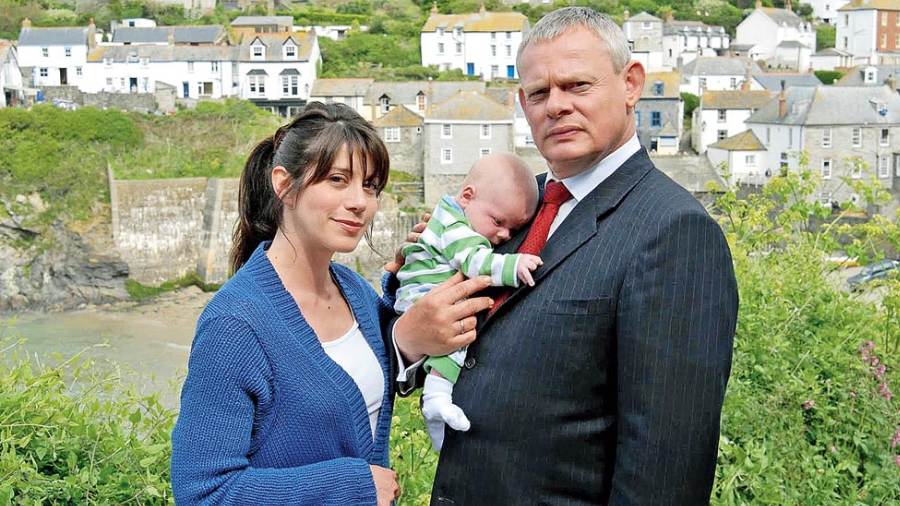 Martin Clunes as Dr Ellingham and Caroline Catz as Louisa in Doc Martin.
Picture: Acorn TV/Apple TV+
---
Published 05.11.22, 05:13 AM
|
---
The good Dr Martin Ellingham has just hung up his stethoscope after 18 years but I got to know about him only a few days ago by sheer luck. He is the man who ensures the members of the seaside village of Portwenn are healthy enough to keep the beer flowing at the local pub, the school buzzing with laughter of children and farms running at full capacity. He is to Portwenn what druid Getafix is to the indomitable village of Gaulish warriors in Asterix.
The ITV show Doc Martin has all the ingredients of a very English comedy verging on soap opera. It's the kind of show that is becoming rare in the era of streaming because nobody expects a title to run for close to two decades and that too to a captive audience.
Dr Ellingham (played by the excellent Martin Clunes) is not an ordinary man. He has excellent diagnostic skills minus bedside manners, but his kryptonite is blood. While some people may feel uneasy looking at blood from time to time, the doctor here suffers from hemophobia or an extreme fear of seeing the "red stuff", to the point that he had to give up his career as a promising surgeon in London to drive down to the village where he had spent his childhood.
Further, he doesn't have the suaveness of Dr Doug Ross (George Clooney in E.R.) or Dr Gregory House (Hugh Laurie in House) or Dr. Derek Shepherd (Patrick Dempsey in Grey's Anatomy). Consider him more like Mick Jagger preparing for a fight at the pub.
His tongue, caustic. His behaviour, odd. His people skills, non-existent. Yet, the doctor managed to be a hero for millions of viewers in Britain over 10 series and at one point the show had almost 11 million viewers. Winning the hearts of the TV audience is the fact that Doc Martin is never too dark or melodramatic. It's just good understated British humour meant to be enjoyed over chilled beer or hot tea.
This and other British shows are finding a place in India via Apple TV+, which also presents Acorn TV, the American subscription video streaming offering TV programme from the UK, Australia, New Zealand, Canada and other countries. Coming at a monthly charge beyond the subscription of Apple TV+, it is something that slowly grows on you.
Keeping Clunes company over 18 years are a few characters, like Louisa Ellingham (played by Caroline Catz), who is the doctor's love interest, Bert Large (played by Ian McNeice), the village entrepreneur, Al Large (played by Joe Absolom), who is Bert's son and Sally Tishell (played by Selina Cadell), the pharmacist with feelings for the doc.
You guessed it right, this can well be a soap opera but the acting and script are far more nuanced than what we have seen on TV. Martin is unable to stop himself from diagnosing people, even if they aren't his patients. He does have a child with Louisa but the early phase of their relationship is fraught with "how is the weather" type of scenarios.
It wouldn't be giving away anything if we mention that a happy ending has been offered in the last season, the moment that Martin realises that Portwenn means everything to him, it's a place where he managed to make friends, build a family and successfully practised his skills on a never-ending flow of patients with quirky ailments.
The character of Martin Ellingham shows that a crusty hero with zero social skills has as much a place as a high-flying cop on TV. For Ellingham the superhero power is his compulsion to tell the truth, even if that means telling Louisa to get her oral health checked seconds after their first kiss. Of course, that creates a slight problem. This is Portwenn. Here people do get offended but they don't judge a book by its cover. Doc Martin is definitely not high art. It has been a cosy offering that people always long for, something like a long dunk in the bathtub.
At the same time, long-running soap operas like General Hospital (on since 1963), The Bold and the Beautiful (on since 1987) and The Young and the Restless (on since 1973) are trying hard to cling on to viewers in an era of snackable content. The other notable afternoon show, Days of Our Lives, has moved from NBC to Peacock streaming service after more than 57 years and 14,000 episodes, replaced by a news programme.
As for Doc Martin, there is one more hurrah left as a Christmas special is in the offing, titled Last Christmas in Portwenn. So one more chance to hang around with the Doc.
Doc Martin can be seen on Apple TV+, which presents Acorn TV offerings