Zoya Akhtar goes down ZNMD memory lane
Travelling back in time with the director 10 years ago to the shoot of the film that's now become cult in more ways than one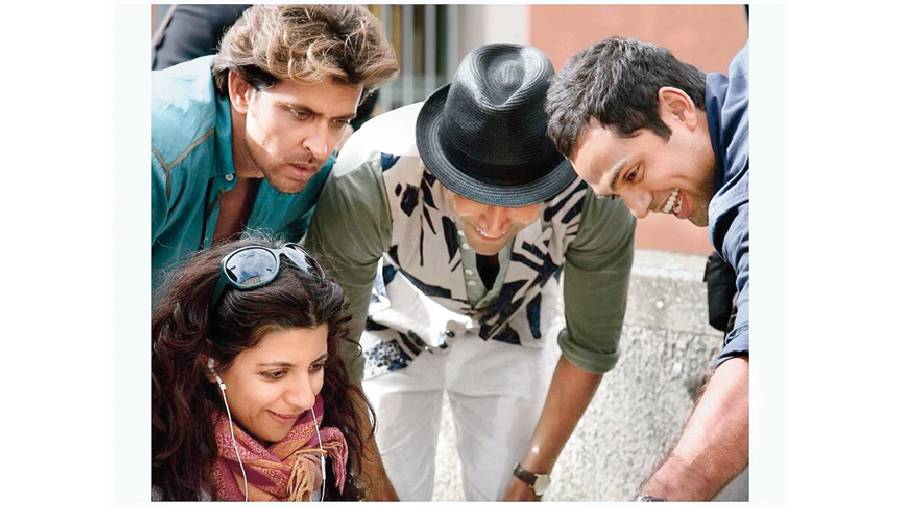 Zoya Akhtar with Hrithik Roshan, Farhan Akhtar and Abhay Deol on the sets of Zindagi Na Milegi Dobara
Sourced by the correspondent
---
Published 14.07.21, 11:48 PM
|
---
Would you believe it that I watched Zindagi Na Milegi Dobara 10 years ago and haven't even once since?!" is the first thing Zoya Akhtar tells me when I catch up with her early one morning this week. We travelled back in time 10 years ago to the shoot of the film that's now become cult in more ways than one.
It's been 10 years since Zindagi Na Milegi Dobara. But the film is still so fresh that it doesn't really feel it's been that long...
It's crazy to think that it's already been a decade! Time really flies fast. And you are right... the thing is that it still feels like yesterday because people have never really stopped speaking to me about the film.
Almost every line, scene, mood and moment is cult. When you made the film, did you have any idea about the phenomenon it would become?
No, no! When Reema (Kagti) and I were writing the film, we had absolutely no idea! (Laughs) It's also weird because initially when we were writing it, a lot of people asked us whether a large part of the audience would actually relate to it? We were told things like, 'It's very experiential, there's nothing much that happens in it', as opposed to having a completely plot-driven film.
We were told that the film may not cut much ice because it's very character based. We just turned around and said we liked it because we loved going on road trips ourselves. It's as simple as that! (Laughs) I said road trips are cathartic for me and something that I wanted to put on film because I love the genre, and I personally liked the experience of road trips myself. So that's where it came from.
But having said that, you never know ya... what works and what doesn't work. I was definitely aiming the film at the youth. I was aiming the film at a generation where things like this matter... where a thought like 'seize the day' matters. When I was growing up, 'Carpe Diem' in Dead Poets Society had such a strong impression on me. And that poured itself into Zindagi Na Milegi Dobara in a philosophical kind of way. I did aim it at the youth, but I didn't realise that the adult population would take to the film in the way they did.
Was a particular road trip the trigger point for the film or was it the wholesome experience of one that made you want to make it?
All road trips are different, they are all special... and I have done many of them, both in India and abroad. I have done extensive driving in India and it's such an incredible way to see the country. You can just stop anywhere, start anywhere... on a road trip, you experience a lot of things that you wouldn't quite come across if you opt for another mode of transport. There's something very therapeutic about being in a car, listening to music and watching the world go by. On a road trip, you tend to be quiet and spend a lot of time with yourself.
This is a rare film that successfully brings together so many diverse threads. Did all of it come together organically? I know you and Reema wrote the whole script in just three months...
This is the fastest script we have ever written! Reema and I like ensembles... we enjoy the genre and we write a lot of them and hence we kind of are well-versed about how to put a lot of threads together. We are still learning, and both of us are still a work-in-progress, but we enjoy multiple threads and multiple characters.
Why did you choose Spain?
Well, it was meant to be Mexico, initially. And we decided on it because we just wanted to go to Mexico! (Laughs) But when we started developing it and the adventure sports angle came in, we wanted the climax to not be something modern. We wanted it to be primal, with the three boys just running. Running with the bulls came up because a very close friend of Reema's had just done it... she had gone to Pamplona (in Spain) and run with the bulls.
Much before the film, we had visited Spain for a vacation for two weeks and fallen in love with the country. And then we decided that shifting it to Spain made perfect sense because we had everything there... we could do the running with the bulls, we could do various adventure sports... and that country is a beauty, you know.
And your film put Spain on the tourism map for so many Indians!
I know! I know! And I am so glad, because it's such a beautiful country. They are also like Indians on certain levels. It's a warm and hospitable country. Even though it's a different language, you never feel alien there.
Ten years on, what do people talk to you the most about the film?
There's Bagwati, there are the jokes.... But I think what really resonated with everyone was the thought that if you really want to do something, then do it... and that it's okay to screw up. I think there was a sense of liberation that the idea of this film gave to the audience.
Has this been your toughest film to shoot?
The toughest was actually Dil Dhadakne Do. In Zindagi Na Milegi Dobara, we were in a car and we had complete control over it. In Dil Dhadakne Do, we were on a ship and we had no control over it! (Laughs)
ZNMD was actually the most fun experience I had on set. It was easy, we were on the road, the vibe was very chilled out.... Seventy per cent of the crew was Spanish and some of my best friends were working on the film. Reema, Arjun Bhasin (costume designer and stylist), Avan Contractor (hairstylist), Carlos (Catalan, cinematographer)... they are all such good friends of mine. I made some amazing connections in Spain, some really close friends who all worked with me again on Dil Dhadakne Do.
I made a very close friend in Katrina (Kaif), we became very tight buddies on set. Kalki (Koechlin) was a solid connection I made. Abhay (Deol) and Hrithik (Roshan) I have known since we were all kids. There was absolute comfort with the boys.
Since everybody was on the road and since we had only five-six principal characters, this film was very simple... there were no complications. Every two-three days, we would be in another city or another terrain to discover and explore... we would go out for dinner after pack-up. It was so much fun!
Was there a particular part you enjoyed shooting the most?
Most of it was fun. But some parts were also sheer torture... imagine doing Tomatina for two days! We had tomatoes all over us! I think one of my most precious memories was shooting underwater in Egypt. To get to the diving spot would take 45 minutes by boat, and at the end of the shoot for the day, I won't forget those moments when all of us would lie on top of the boat in silence... we watched the African sunset and it was heaven.
How much do you think Shankar-Ehsaan-Loy's music and your father's poetry contributed to the texture and experience of the film?
Massively, massively! The poems are still there. What I loved about what he (Javed Akhtar) did with the poems is that they are really short and personal. They seem like a young man's thoughts... they are deep and yet they are very accessible to a larger audience. They hit home.
I love all the songs! Der lagi lekin, Dil dhadakne do... I really like Khwabon ke parindey. I like all the songs... I know I am sounding crazy! (Laughs) Shankar-Ehsaan-Loy are my comfort zone.
If you had to pick any one of the three dares in the film, which would it be?
I have a fear of heights... I can't even wear high heels! (Laughs) I would run with the bulls or dive, but never jump out of a plane! Never!
Which of the three friends are you?
I think Reema and I are in all of them, including Laila (Katrina) and Natasha (Kalki). When you write, part of you is in all your characters. They won't ring true otherwise.
Where do you think Arjun, Kabir and Imran are now?
They are hitting their 40s, so it's an interesting time in their lives. Let's just say it's time for another catharsis....
And hence time for another ZNMD film?
Let's see. Maybe. Haven't planned it yet! (Laughs)