Director Manish Gupta is back with a new courtroom drama
In an engaging chat he tells why his films are inspired by real-life incidents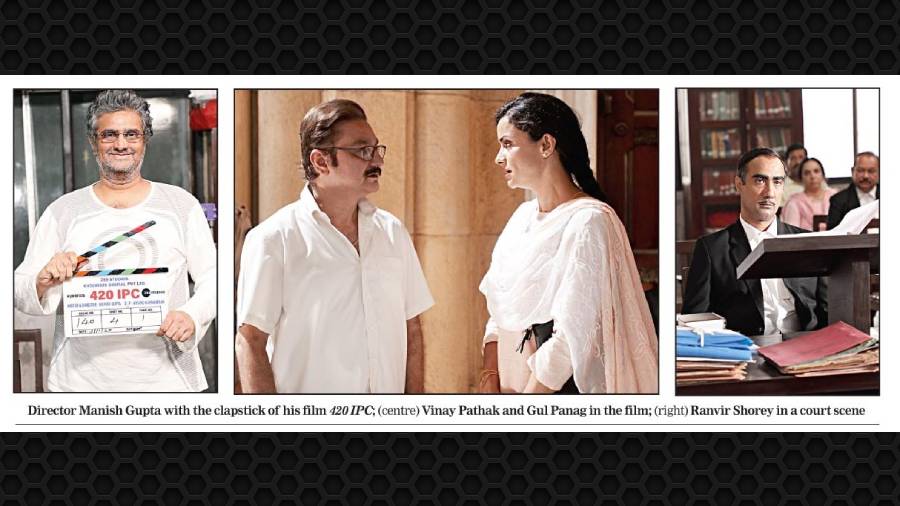 ---
Published 04.01.22, 04:15 AM
|
---
Are you calling from Kolkata?" Manish Gupta asks. The director of 420 IPC, currently streaming on Zee5, wants to visit the city to see "the colonial architecture which is also there in south Bombay" where he grew up. He also wants to shoot a film in Kolkata, he adds, before the conversation turns to the Vinay Pathak-Gul Panag-Ranvir Shorey starrer.
Section 375, Rahasya, The Stoneman Murders and now 420 IPC… are you a law student?
Rather than student, you could call me a master of law. (Laughs) I have thorough knowledge of law and legal procedure. For each of these films, I have done a lot of research. Most of my films are on real-life incidents. Section 375 was inspired by the Shiney Ahuja rape case, Rahasya was inspired by the Aarushi Talwar murder case and The Stoneman Murders was on the stoneman killings in Bombay. I have created my own genre where I take details of a real incident and mould it into a rivetting and gripping suspense story. But 420 IPC is a fictitious story though I have taken the court procedures from real life.
What made you pick the subject?
It is a courtroom drama that revolves around an economic offence case. I had the idea in the three years I spent in researching for my previous court procedural drama Section 375. It was an unexplored premise. Each document shown in the film is authentic, even the search warrant the CBI officer shows. I have used an actual warrant and changed the name on it to the character's, Bunty Keshwani.
You have a strong cast in Vinay Pathak, Ranvir Shorey and Gul Panag.
Ranvir and I were in college together. We met after 20 years at an awards night in 2020 where I was nominated for best screenplay for Section 375 and he for best supporting actor for Sonchiriya. He could not recognise me as I looked different. I told him the story and he instantly said yes. For the character of Vinay Pathak, a chartered accountant, you can't make out if he is good guy or bad guy and his behaviour is a bit funny also. So Vinay Pathak was my first and last choice.
Did you shoot before Covid?
The film was planned before Covid but we shot right in the middle of the pandemic. The indoor shots in the courtroom were difficult as there had to be 40 junior artistes present. The actors were very scared as they were all in a room. Luckily, nothing happened.
Did you plan this for OTT?
No. It was supposed to be released in the theatres. But we decided for OTT when the theatres shut. Of course, they are open now but by this time, the planning had been done. It is story-driven film, not a visual spectacle-driven one. So it works well on OTT also. 
Will the Kolkata story be your next?
My next film is in post-production. It is a suspense film, starring Raveena Tandon. It will be a theatrical release.
What will the Kolkata film be on?
I had made a film in 2009 called The Stoneman Murders about the stoneman killings in Bombay, with Kay Kay Menon and Arbaaz Khan. Now I am planning a sequel about similar killings which took place about three-four years later in Kolkata. I had referred to that in the end in three-four lines in Stoneman Murders to give that film a closure. But I had no plans for a second film then. Now I am thinking of one.