Director Kartiki Gonsalves and producer Guneet Monga get candid
The duo in a chat with The Telegraph talk about their shortlisted film The elephant whisperers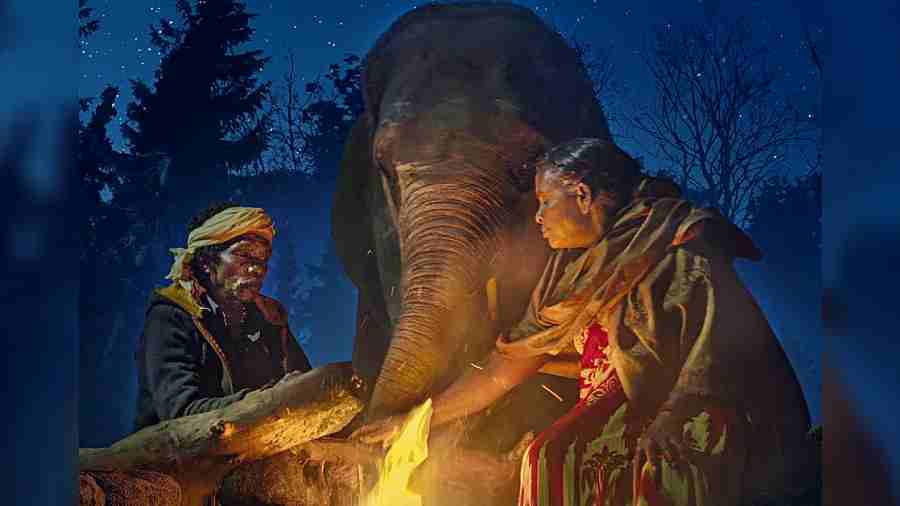 A moment from The Elephant Whisperers, in contention for a Best Documentary Short Film nomination at the Oscars
The Telegraph
---
Published 24.01.23, 12:28 PM
|
---
Today is the day of reckoning. The 2023 Academy Award nominations are to be announced this evening (India time), and waiting with bated breath, along with its Indian peers, will be The Elephant Whisperers. Shortlisted in the Best Documentary Short Film category, the film — that is now streaming on Netflix — captures the heartwarming bond between elephants, especially Raghu, with his carers Boman and Bellie.
The Telegraph caught up with the documentary's debutant director Kartiki Gonsalves and its producer Guneet Monga (Guneet has already won an Oscar in 2019 for co-producing the documentary short film Period. End of Sentence) on the remarkable journey of The Elephant Whisperers. The Oscar nominations will be announced today. What are the nerves like?
Guneet Monga: It's absolutely nerve-wracking! We keep sending 'fingers crossed' and 'prayer' emojis to each other. We wake up in the middle of the night and call each other and say, 'Praying, praying... okay, bye!' (Laughs) That's what our lives have been over the last few days.
Kartiki Gonsalves (director) is in the US, running a campaign, doing screenings, speaking to voters.... This is her debut film and she has been there ever since the shortlist came in in end-December. I keep telling her that if we get nominated, it is going to be a hundred times more intense! (Laughs)
Kartiki, how is it going for you in the middle of all the madness?
Kartiki Gonsalves: It is a lot of madness! I have been travelling non-stop all across the US, going to screenings and just meeting people. It's been amazing, and there are so many beautiful documentaries out there. All the documentaries in contention have a very strong message and I think the competition is very stiff.
Kartiki, I know you lived with the story of The Elephant Whisperers for five years before you filmed it. What was so compelling about this theme that made you want to make it? Also Guneet, what made you back it?
Kartiki: Most documentaries have focused on either humans being cured by a bond with an animal or mankind being harmed by wild animals; or even wild animals that are suffering from human expansion into their territory. The Elephant Whisperers lets viewers understand both the elephants and the human carers, with very little outside interpretation. It also portrays the dignity of the elephants and also the indigenous people who have lived with them and cared for them for centuries.
It all originated with me wanting people to stop seeing animals as the other, and to start seeing them as one of us. It started off with a very personal relationship with Raghu (one of the elephants in focus in the documentary) — I first met him when he was three months old — and spent a lot of time with him before I picked up the camera and started filming. That was the time when I got to really understand the bond between Raghu and Boman. We had this small vulnerable calf which depended so much on a human. Boman took the place of a father, a mother, a friend... he was everything to Raghu, and the bond was really deep.
It progressed and then I met Bellie and she brought in a more maternal side to the story. It's a story I have been with for five years, and it's getting into its sixth as we speak.
Guneet: Kartiki, of course, discovered this story and reached out to Netflix. Both Netflix and Kartiki reached out to me. I fell in love with the story from the get-go. And who can say 'no' to baby elephants, right? (Smiles) Kartiki has this talent for stunning visual representation... she comes from a background of wildlife photography. I was just fascinated by her visual strength of telling a story, and absolutely wanted to back it. We have been on this journey for three years. And it's just been adorable... how many times can you use that word for a film?
Kartiki, how important was it for you to spend so much time with Raghu in order to organically capture this story?
Kartiki: In the case of a documentary, and when you are looking at an indigenous tribe, it is extremely important for them to be able to trust you. To begin with, the reason why they opened up and let me into their lives was because I built a certain amount of trust. You just can't go and get that... you need to earn it. It started with the entire process of spending time with them and getting them to understand who I was and why I was there. I wanted to represent their culture and their people and what they stand for, instead of putting it all through my perspective. That's something that's really important when you are looking at communities that don't have any public representation. So it just boiled down to trust, finally.
What's been the most heartwarming piece of feedback that you have met with for the documentary?
Kartiki: The documentary focuses on many sub-stories. There are quite a few levels which can touch people in different ways. The feedback has been extremely overwhelming. A whole group of people came back and wrote these personal messages about how they didn't know how similar elephants, especially baby elephants, were to humans. That was really touching because that was one of my core points of getting the audience to see elephants in a different light... and I hope that translates into other animals as well.
We have had a whole bunch of fan art that has come in from all across the world. People have been painting pictures of both the elephants and Boman and Bellie, and reaching out to us from countries as diverse as Ukraine and New Zealand. It's really touching.
Guneet: Having your work on Netflix is really like putting a hoarding on the moon. The fact that it's in 190 countries and reaches out to 223 million viewers is huge. The Elephant Whisperers released just a month ago, but the impact and the love we have been getting since then is just very overwhelming.
Kartiki: The film has made an impact on two-year-olds to 80-yearolds. It's also reached out to people who have lost a family member or even parents whose children have gone off to college and left them alone... it's reached different audiences on different levels. I have had children come up to me and actually ask, 'Why are elephants on roads?!' It's really hit them that elephants shouldn't be on roads. It's touched them in a way where they have felt that this isn't right. People have sent me paragraphs on why they liked the movie and how it touched them personally. Irrespective of how the Oscar nominations play out, the movie will have its own life and will continue to impact people.
Guneet, starting off with the RRR phenomenon, we have so many Indian films this year making a huge impact on the West. You are the one who really started it all... taking Masaan to Cannes, backing The Lunchbox, and, of course, winning an Oscar for Period. End of Sentence. Do you feel that all the hard work you put in all these decades to build this foundation is being validated now?
Guneet: It's a great question. Years of work is finally culminating and we are beginning to be noticed on a large scale. It's amazing the kind of journey that RRR and All That Breathes and The Last Film Show have been having. To be able to win a Golden Globe for an Indian song (RRR's Naatu naatu) is epic. I hope people will go back and discover more of (SS) Rajamouli's work.
A lot of credit for this also goes to the digital platforms which have broken the boundaries and made the world inclusive. India itself has become inclusive... the north is consuming Tamil/ Malayalam films way more and we are also consuming Korean cinema, with everything so easy to access from the comfort of our living rooms.
We have just got started. India is beginning to get praise and our world is being seen much more now. This, as I said, has been brought on by years of work from many quarters. Now is our time and we are here to stay.