Diljit Dosanjh on Jogi and its emotional challenges
Based on the anti-Sikh riots after Indira Gandhi's assassination, the film, tells a horrific tale of fear and violence but tempers it with a message of hope, love and friendship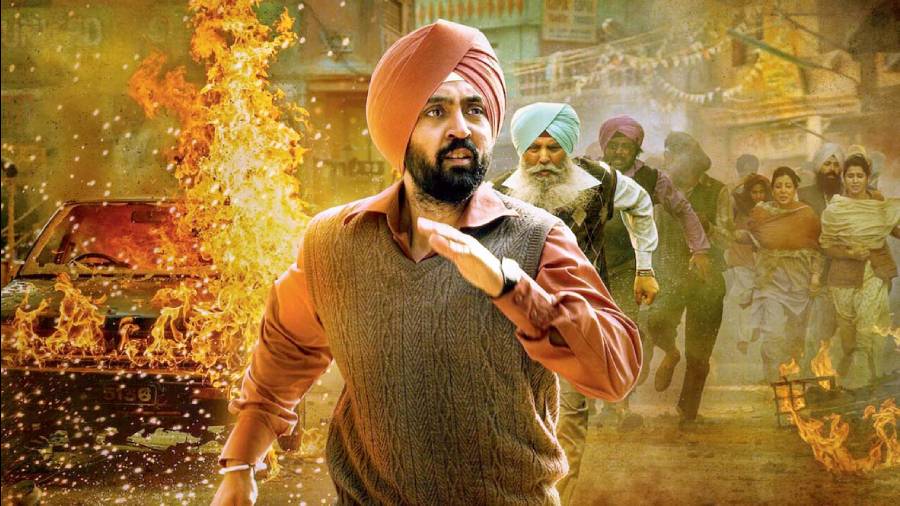 ---
Published 16.09.22, 02:10 AM
|
---
Diljit Dosanjh displays both power and pain in his portrayal of Jogi in the eponymously named film that streams on Netflix today. Based on the anti-Sikh riots that shook the nation shortly after Prime Minister Indira Gandhi's assassination in 1984 and is a major blot in India's history, Jogi, directed by Ali Abbas Zafar, tells a horrific tale of fear and violence but tempers it with a message of hope, love and friendship. The Telegraph chatted with Diljit over a Zoom call to know more about Jogi and its emotional challenges.
What were the primary reasons for wanting to be a part of Jogi?
The film is on the specific subject of the 1984 anti-Sikh riots, but its emotions are very universal. When Ali sir (Ali Abbas Zafar) and Himanshu sir (Mehra, producer) came to me with the subject of Jogi, they told me that the film would stream on Netflix and that was a big factor in me saying 'yes' to the film because I knew that it would have a huge release globally. A wonderful team has made the film and I had no reason to not do it.
You had made a Punjabi film named Punjab 1984 on the same subject a few years ago. How painful was it for you to relive this dark phase of India's history once again for Jogi?
I was happy about the fact that we were being able to talk about this incident on such a global platform. I was born in the year 1984 and I have grown up hearing so many things about the riots that took place that year and the lives that were lost. My childhood years were full of these stories.
No matter where I am or what I do, yeh sab baatein mere back of the mind mein chalti hi rehti hain. So whenever I get the chance to bring forth and make the world aware, the new generations aware of this phase of our history, I feel an instant connect. As you have watched the film already, you know that it deals with an extremely sensitive topic. I feel that Ali sir has managed to convey that sensitivity very well.
What I liked about Jogi is that it doesn't sensationalise history and holds out hope even in the middle of so much chaos and gloom. Was this also a factor that appealed to you?
Bilkul! We never wanted to sensationalise this story because subjects like this often fall prey to over-the-top treatment. We have concentrated more on the emotional aspect of the story and we have a story that is universal in more ways than one. Yeh cheez hamesha hamare dil ke andar toh hain... yeh kahaani aur jo hua uss waqt pe.
Without giving away the story, there are a few scenes in Jogi where your character has to give up his religious identity for a larger cause. That must have been very challenging emotionally....
Definitely! Before Jogi, I had never done a film before where I have had to take off my turban, and I had ever even thought I would have to do it one day. But this is something that has happened to the Sikh community... yeh koi mann gharat kahaani toh hain nahin. What I did on screen was essential to tell the story and to portray the pain that was felt by the people of the community at that time. But it was definitely a big step for me.
The good thing is that Ali sir and his team created such a comfortable atmosphere on set. They told me, 'Aap hi toh kahaani hain... aap hi ki toh baat hain.' That convinced me to be able to take that step.
Then there is another scene where I have to give up another key aspect of my Sikh identity. That scene takes place in a few seconds, but the implication of that stayed on in my mind for a very long time because the emotions were overwhelming. Like Jogi, when he sees people he's known all his life, turn into his enemies in an instant, he thinks, 'Achanak se yeh logon ko kya ho gaya hain?' That trauma grows and festers within Jogi.
Was there even a moment's hesitation in doing those scenes?
Hesitation pata nahin... lekin emotion bahut zyada tha. The subject in itself is very challenging emotionally. Poori kahaani viewer ke saath reh jayega.
Jogi is an ordinary man who becomes heroic in extraordinary circumstances. Are there any commonalities between the two of you and did you have any references to play him?
Unless one is put into the kind of situation that Jogi finds himself in, it's difficult to predict what one's actions are going to be like. I do relate to the subject but I don't really think I have the kind of courage that Jogi does. Unless one is tested, one really can't tell whether one has that strength or courage or willpower to be heroic or extraordinary.
A lot of it must have been in the script but given that this subject is so close to your heart, did you improvise on set or pitch in with inputs?
Ali sir has made some very larger-than-life films. But the best thing about him is that he was always open to suggestions, not only from me but from every member of the team that's worked on Jogi. Aur phir collectively decision hota tha ki, 'Haan yaar, yeh sahi hain. Yeh karna chahiye.'
What do you think needs to be done to apologise to the Sikh community for 1984?
We have grown up with a feeling of love and positivity. Koi bhi gurdwara jaa ke, maatha tek ke langar mein baith sakta hain... one doesn't need to be only of the Sikh faith to be able to do that... we welcome people from all religions. We all sit and eat together. This has been the message from our religion and we expect the same.
You have been working non-stop, be it movies or music. After Jogi, you have a Punjabi film releasing in the first week of October and you have just wrapped up your music tour in the UK. Have you thought of ever pausing for a bit or is life on a treadmill the only way in which you can thrive?
I don't think I am part of any race. This is my daily work and I enjoy doing what I do. I like singing and so I do it. Aisa nahin hain ki meri job lagi hain aur mujhe apne boss ko khush karna hain aur uss wajah se main kaam raha hoon (laughs). So when you enjoy your work, you don't really need to pause or take a break.
You are a riot on social media. I absolutely loved that video of you 'conversing' with Alexa. Why aren't we seeing as many fun videos from you these days?
I do my social media on my own. I don't have a team to handle it. I am not so well known that people will promote me. Social media is my only way of reaching out. I keep promoting myself on it with the fun stuff that I do....
You are being very modest. You are a rage globally, especially with the Indian diaspora....
No, no I am not making it up (laughs). I need social media to make people aware of me. I have no team to tell me what to do and what not to do. Main har roz social media pe apni image banata hoon aur har roz usko tod ta hoon. Aur next day phir bana leta hoon!